Painter Ann Marie Coolick describes her career path, her work, and the challenges of working while raising young children.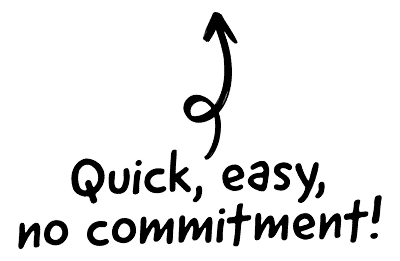 My Italian-American grandmother always says my art career began as a little girl doing sidewalk chalk drawings on her front steps. However, I knew that painting was it in my high school art class in my hometown of Manassas, Virginia. My first oil painting had three underlying elements: colour, texture, and geometry. These components remain prominent in my work even today.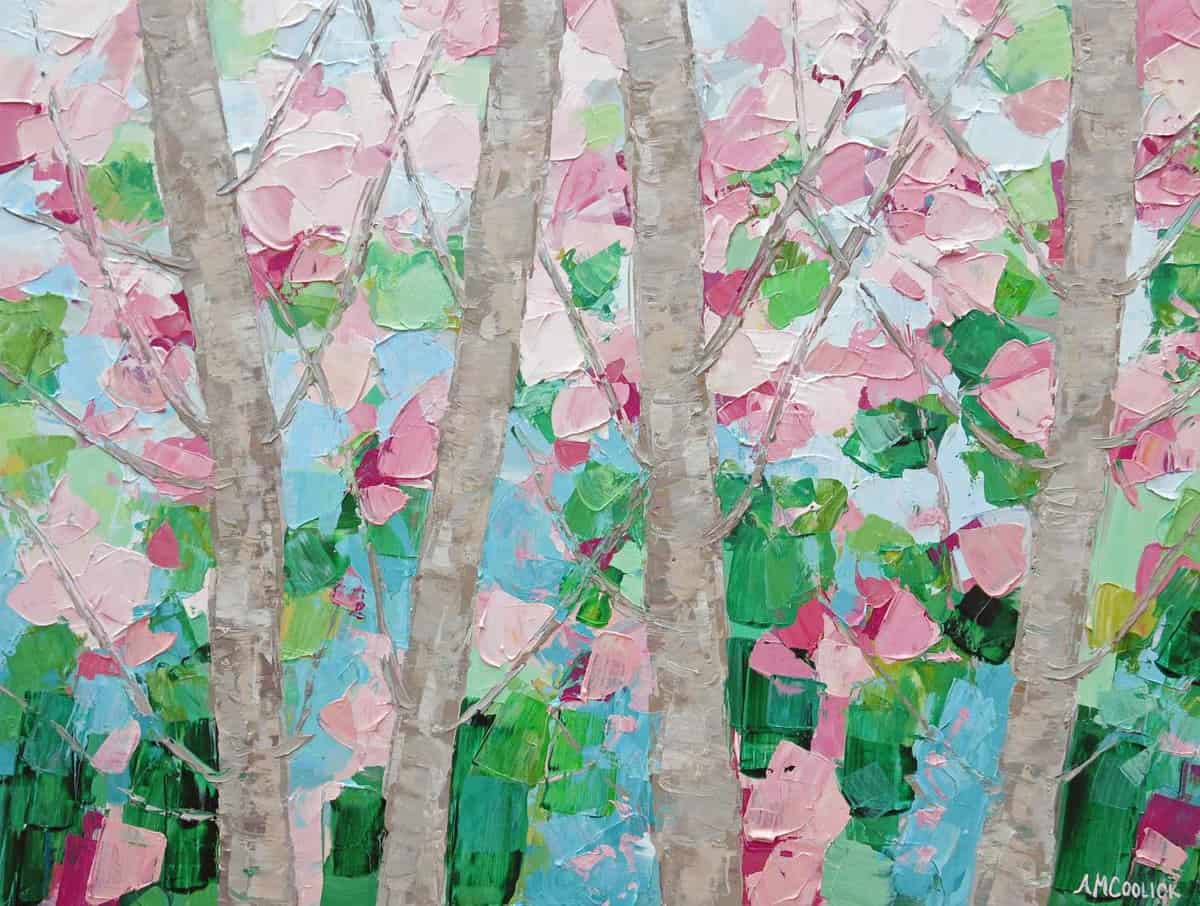 The CRM platform to grow your business
Great for entrepreneurs
Powerful data analytics
Manage sales and data

Seamlessly connect data, teams, and customers
Cutting-edge marketing
Ideal for teams or solo use
Measure sales conversions

Powerful web builder and advanced business tools
Great for startups
Powerful web page builder
E-commerce available

Supercharged content planning
Great for marketing
Better than lists or sheets
Manage social media

Create a new website in 10 minutes. Easy.
Launch your website fast
Powerful data intuitive
No coding skills needed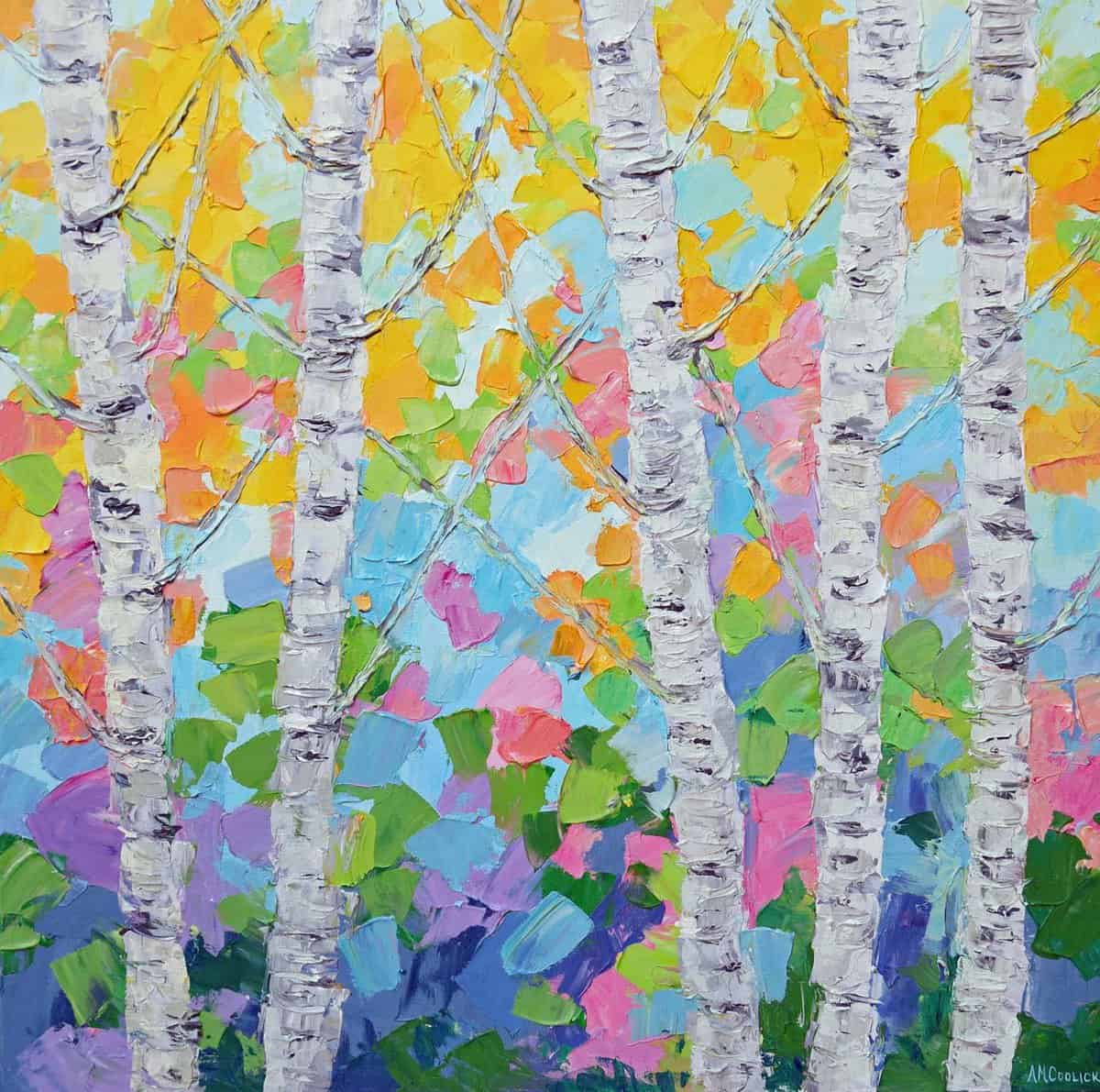 I attended Virginia Tech and studied with Ray Kass, an internationally acclaimed artist who introduced me to modern art and the depiction of processes of nature as abstraction rather than pictorial representation. In the summer of 2000 I visited the Tate Modern in London and saw Frank Auerbach's The Origin of the Great Bear, deepening my love for texture and aggressive mark-making. I graduated first in class with a Bachelor of Arts in Studio Art (painting concentration) in 2002 and a Bachelor of Science in Marketing Management in 2003.
After graduating, I was selected as a Resident Artist at the Arlington Arts Center (AAC), the premier contemporary arts centre for emerging artists just outside of Washington, DC. While in the group studio I learned a tremendous amount from my studiomates, most notably, Connecticut artist Matthew Best, who introduced me to intense geometric abstractions of the human form. I maintained a studio, exhibited, and volunteered at the AAC until my first son was born in 2009. In 2010 we gutted our old WW2-style home about a mile from the Pentagon and added an upstairs studio loft. It's a bright, sunny, and quiet space for me to paint.
I then proceeded to have more baby boys! Three boys in four years, all born in November, two with the same birthday! My first two pregnancies left me zapped of energy and napping at any moment possible, but with my third I had a renewed sense of energy and creativity. This is when I took the greatest creative leaps and found a true definition of geometric abstraction emerging in my work.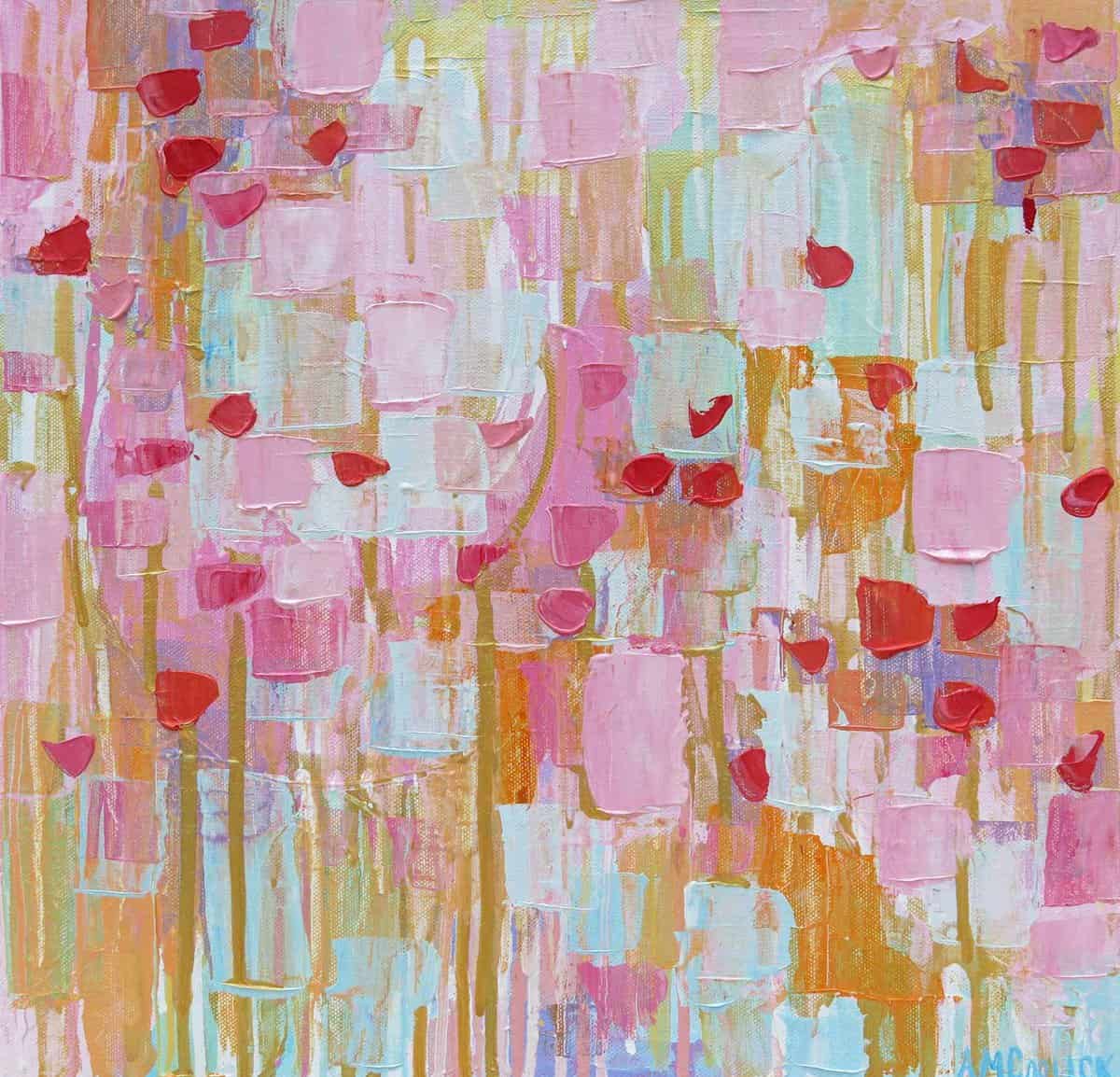 I'm represented by five brick-and-mortar galleries across the mid-Atlantic region and online by Saatchi Art. I have work in private collections across the US and Europe. I work about half on commission and half on personal projects. I used to have an aversion to painters "selling out" to the print world, however, last year I had a revelation that I don't need to be a starving artist! I signed up for Society 6 last year and have become a top seller, using royalties to pay for my art supplies. My audience expanded rapidly and I have since signed with a fine art publisher and have had work placed in Home Goods.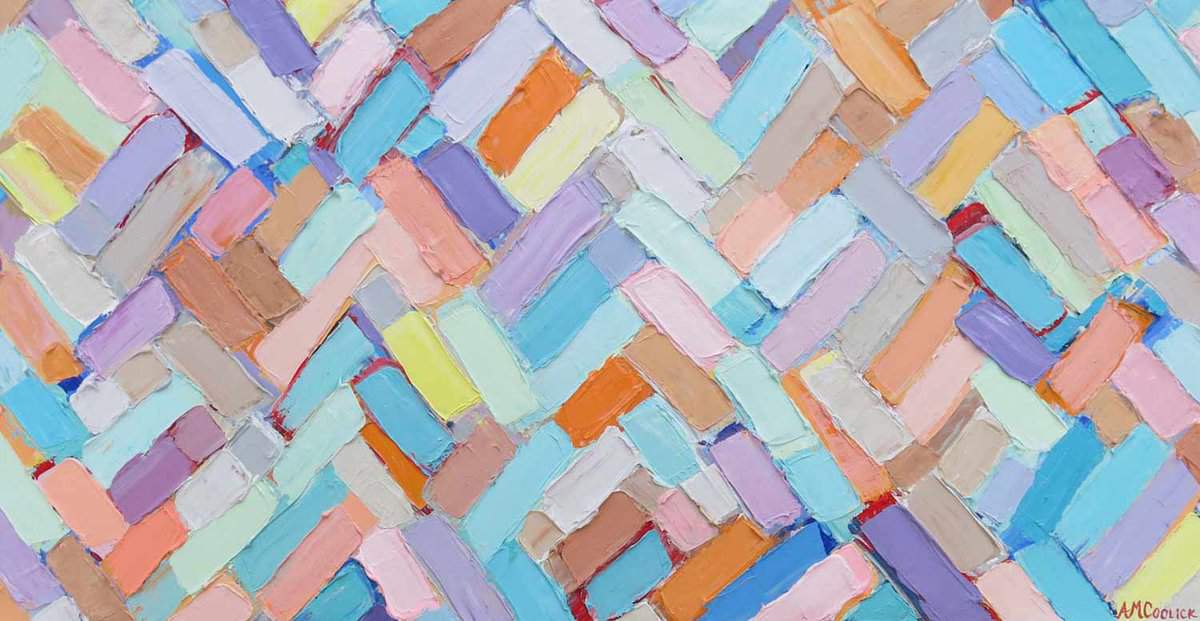 I work largely from memory and intuition and am inspired by natural and scientific processes, geometry, aggressive applications, and bold colour. I find inspiration in the natural and man-made, from the patterns found in our backyard bamboo forest to everyday items like beach umbrellas. I usually have 2-3 canvases in-work at a time. Being extremely indecisive, it's difficult for me to know when a piece is finished. Usually my husband steps in and says "are you still working on that one? It's done!" I always like to include my sons in my critiques as well; my favourite is an ongoing commentary about an imaginary underwater train in one of my landscape paintings.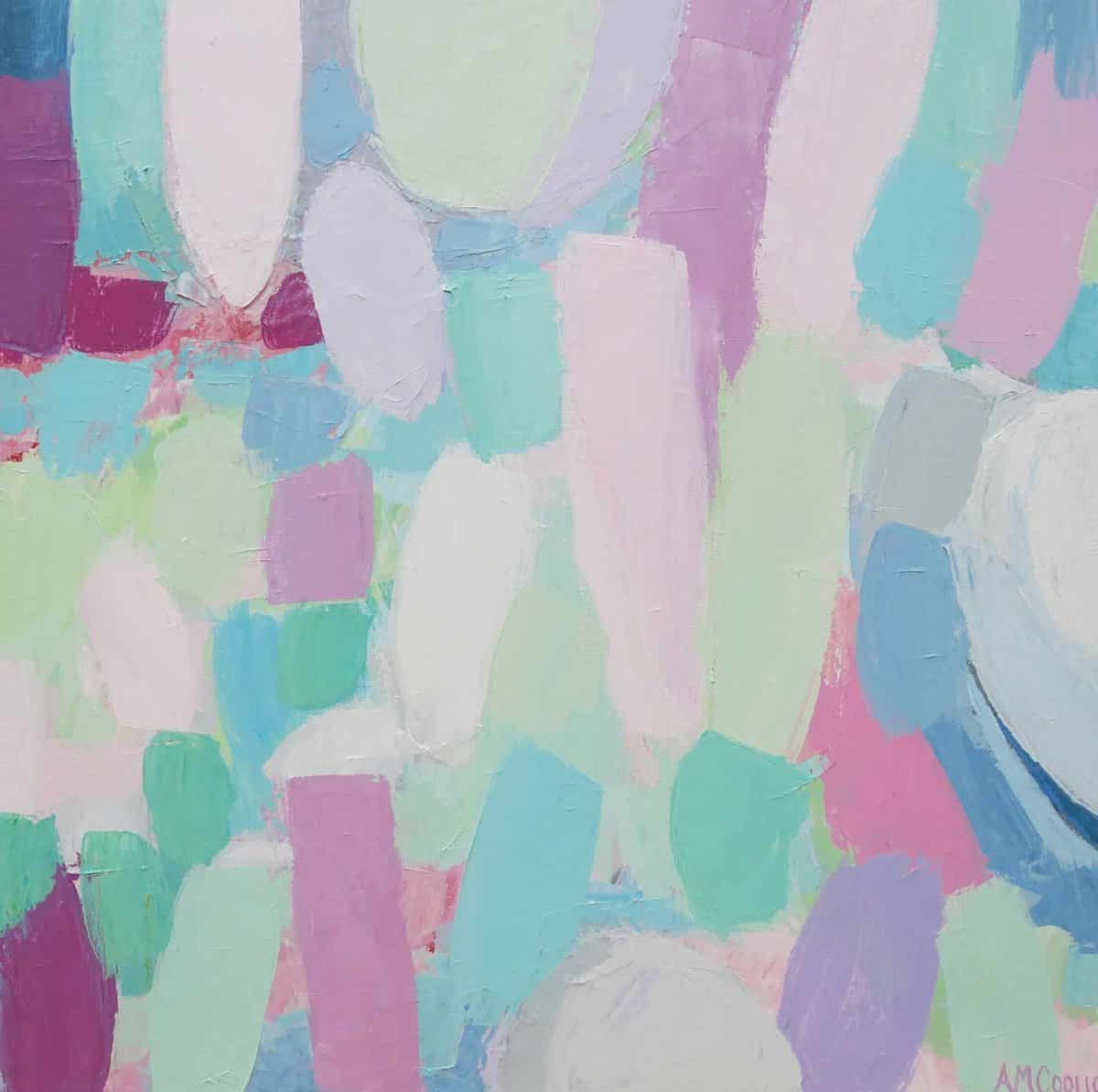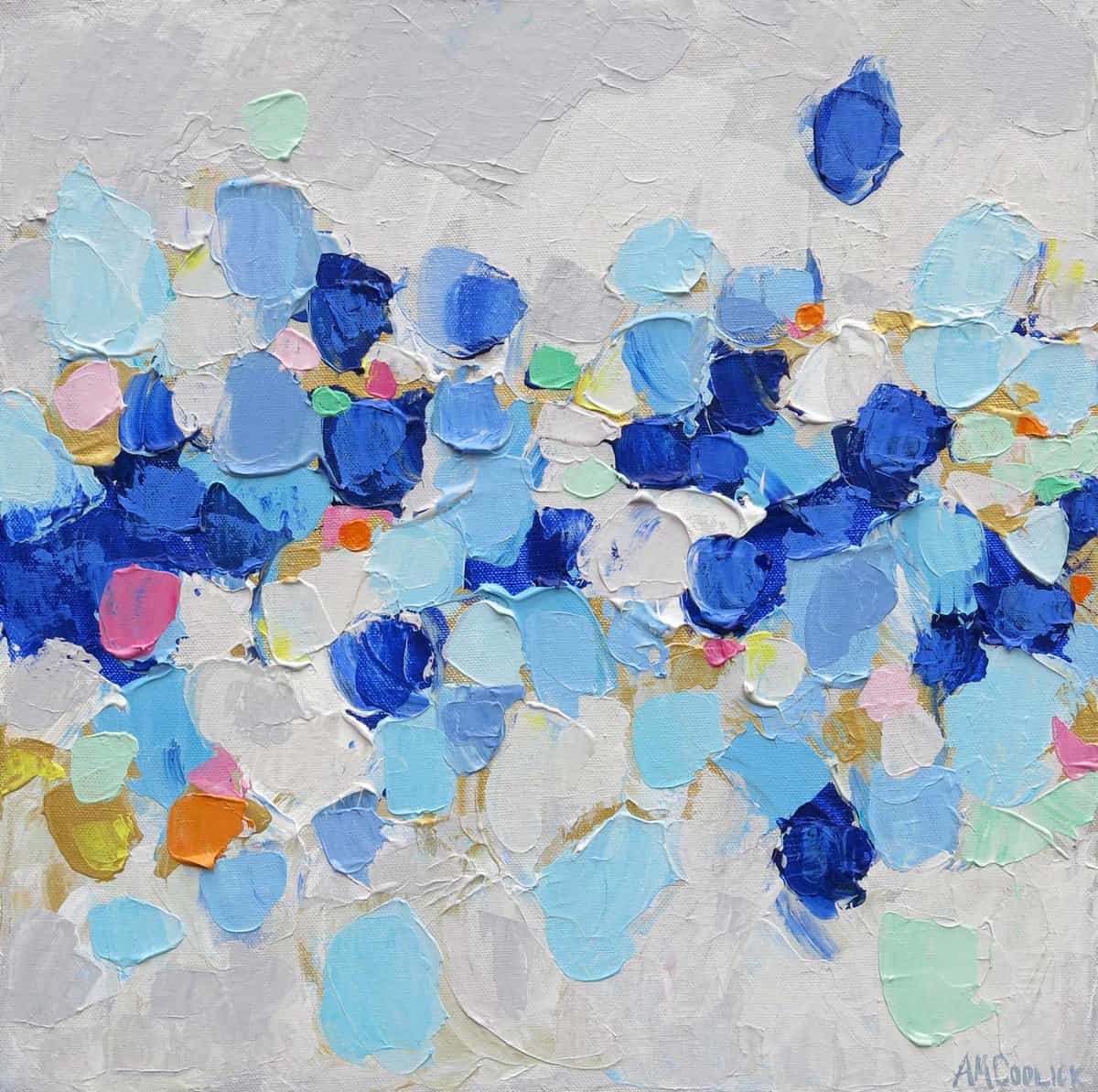 I paint only with palette knives and heavy body acrylic paints. I'm extremely messy and hate cleaning brushes. I think that's why I slowly moved towards a knives-only mentality! I haven't used a brush in over 5 years except to sign my name. The quick drying time of acrylics allows me to build up tons of texture, with frosting-like, sculptural applications and increasingly aggressive mark-making. My old workhorse is a used wooden easel given to me by my painting professor at Virginia Tech upon graduation. It's not completely functional but it's branded with the history of my life as a painter.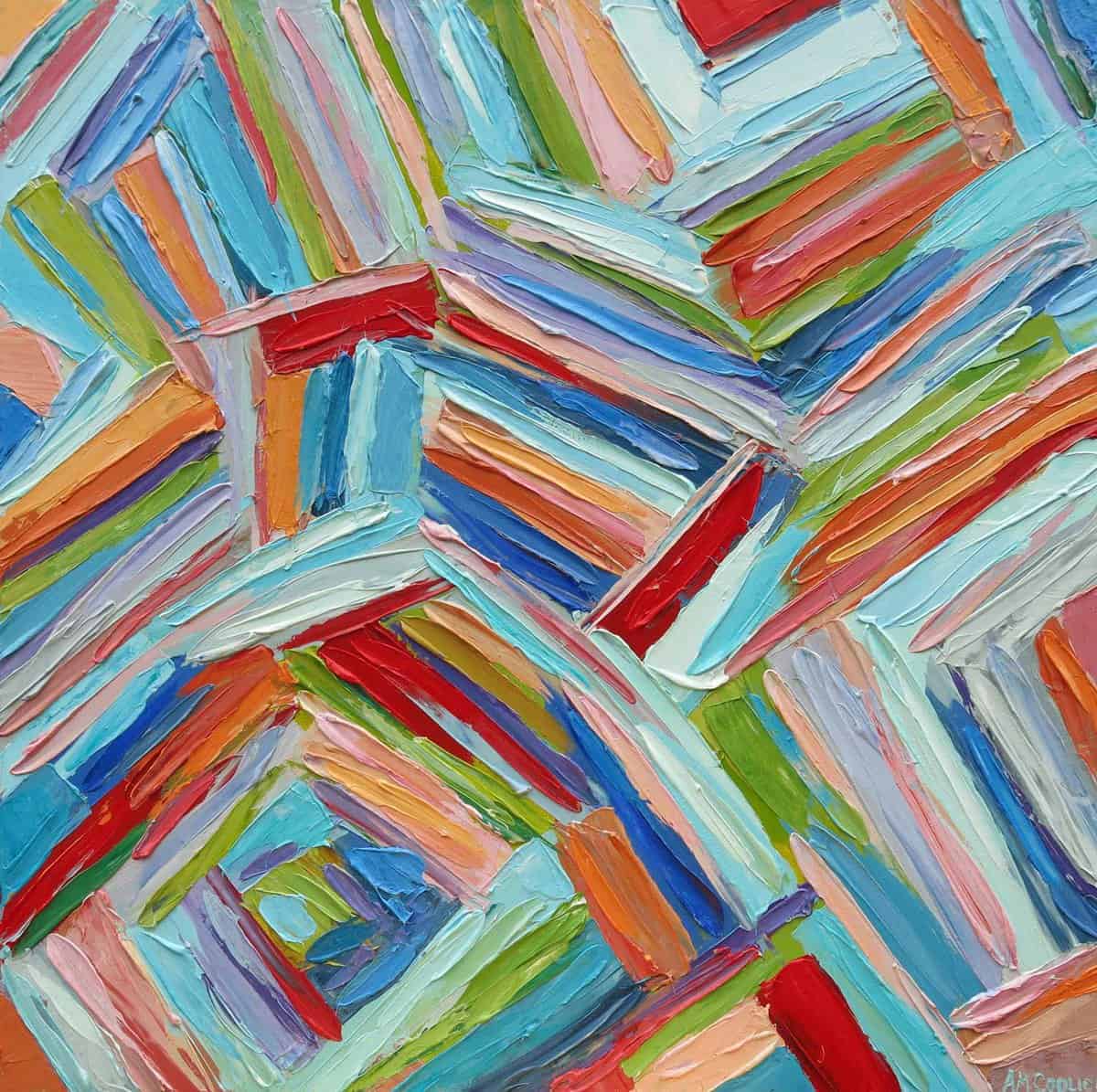 Working from a home studio is crucial as it allows me the flexibility and freedom to paint whenever I have a free moment. My day involves extreme measures in time management and multi-tasking. It usually starts with my boys shouting to the rooftops that they're awake. I then quickly get the older two ready for preschool while juggling breakfast and emails. My days of long-distance running are over, but I do my best thinking while piddling around on light jogs, often with all three boys smooshed into our double jogger, sometimes topped with a boxed painting en route to the local FedEX. It's a bit of a circus. During nap times you'll find me drinking lattes while painting feverishly, however, I always get the most painting done at night. Every night.
Being an extreme introvert and an INTP, I live inside my mind and overthink possibilities and outcomes. I am guilty of extreme indecisiveness but art allows me to be indecisive; it has a calming effect. My favourite pieces are my geometric abstractions, which are conversations of certainty versus indecision; often my favourite work emerges from extreme frustration resulting in something totally new and unexpected.
I'm constantly struggling with the label of Artist. At what point does one become an artist? Have I always been? I constantly try to qualify what has or will make me an Artist like my idols Joan Mitchell and Maya Hayuk. My husband constantly reminds me that I am an artist, but is there ever a defining moment? My initial goal as a student was to show my work in galleries and my life-long desire has always been to have the capacity and mindfulness to create paintings that challenge me and interest others. Hopefully along that path I can reach a wider audience and assure others struggling with the pressures of life and family that it can be done!
Learn more about Anne Marie on her website.