Bethany Wade is a new and quirky illustrator just emerging out of the education system and into the competitive world of creativity.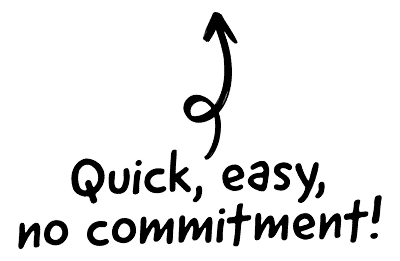 After leaving university three months of uncertainty debating which direction to take with my degree passed. I applied for creative jobs and was rejected repeatedly. I moved onto jobs I didn't want and got offered interviews… which I immediately turned down because I wouldn't have time for creativity. I was stuck in limbo until I received a motivational talk from my Dad and decided to dive deep into Freelance Illustration. I'd avoided the idea after graduating due the reality of not having an educational safety net set. Thankfully my family support me and I began cold emailing possible clients in hope someone would enjoy my portfolio.
A week into my endeavour I have emailed approximately one-hundred event co-ordinators, musicians, magazines, blogs and nightclubs. I am currently working with 'Off the Radar' producing promotional material for their music event and have more opportunities underway. I believe my illustration is best suited to the music industry, as I have a lot personal experience from my university years and it's reflected in my illustration studies.

The CRM platform to grow your business
Great for entrepreneurs
Powerful data analytics
Manage sales and data

Seamlessly connect data, teams, and customers
Cutting-edge marketing
Ideal for teams or solo use
Measure sales conversions

Powerful web builder and advanced business tools
Great for startups
Powerful web page builder
E-commerce available

Supercharged content planning
Great for marketing
Better than lists or sheets
Manage social media

Create a new website in 10 minutes. Easy.
Launch your website fast
Powerful data intuitive
No coding skills needed
Currently, I am building my clients and connections, expand my industry experience and learning about the industry to better myself. I believe if I am dedicated I will grow as a freelance illustrator and my clients will return.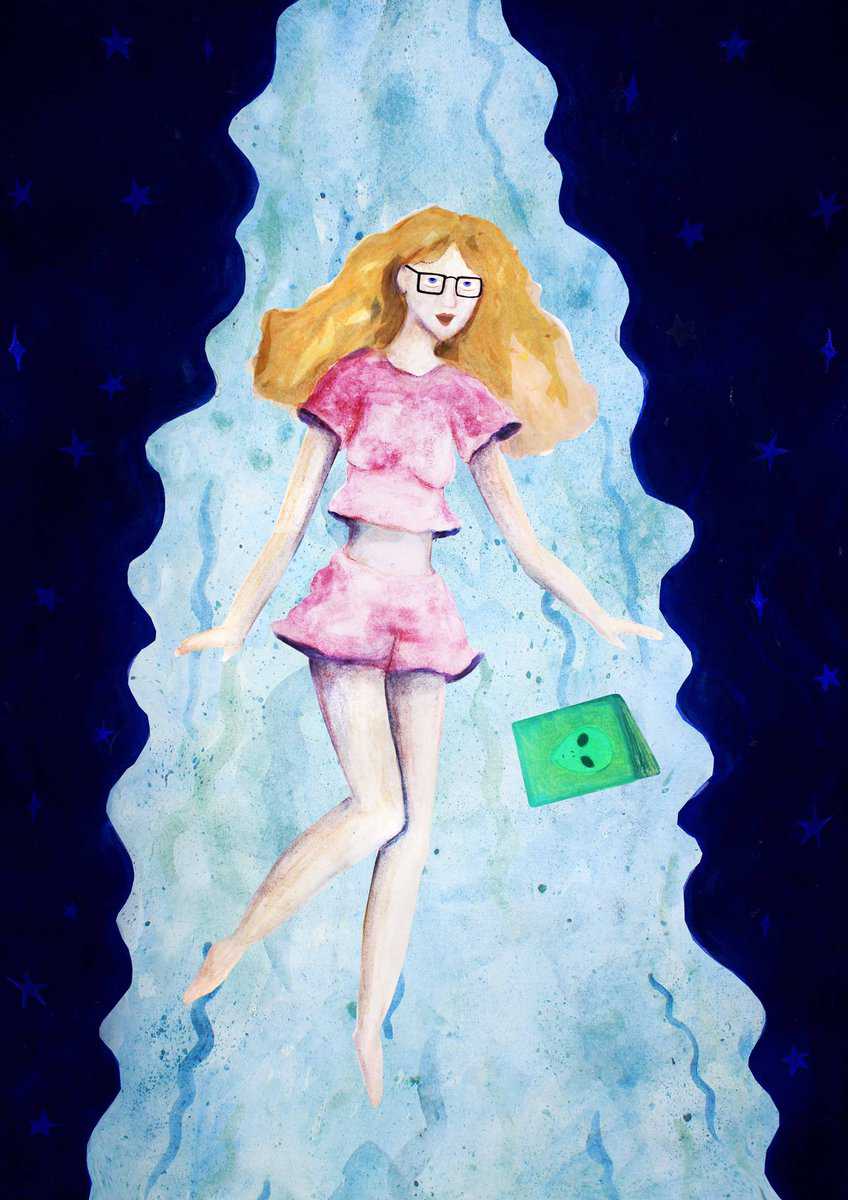 I believe the path to my career began the first time my parents bought me a one pound set of plasticine. My imagination went wild creating all sorts of colourful creatures and quirky worlds. My creativity kept growing but my skill level was only average up until Art Foundation. It didn't bother me as I loved to create and I don't believe technical skill is the most important element of being a creative.
During high school I had a Graphic Design teacher called Mr Brooks – one of the most passionate beings I have met. He gave me the confidence I needed to pursue my career path. I didn't get onto the Graphic Design GCSE, I was placed in Classics instead. Mr Brooks sorted this and I returned to his class within a week. I often wonder where my path would have taken me if I had never met him. I passed with an A and went onto study A-level Graphic Design, Art, Photography and Film Studies. Initially the interviewer told me it would be too much work and advised BTEC Art and Design, I refused. She was wrong… it was intense, a lot of coursework and very difficult to balance, but not impossible like implied. At this stage I'd studied four completely different art directions and I couldn't settle on one, so I did Art Foundation.
After further experimentation and practice my skill level improved dramatically and my teacher made me aware of the Illustration practice. I applied to universities but expressed to my mum I wasn't sure if it was right for me. She responded with ' Go, if you don't enjoy it you can come home, but you have to give it a go.' My Dad added 'Go to Manchester, you will be in your element.'
They were both right. Studying at Manchester School of Art was intense, mentally draining and challenging but very eyeopening and character building. I had received so much constructive criticism I felt like I was never going to discover my style or be ready for the creative industry. Yet here I am, taking advantage of my eighteen years in education and putting it to the test.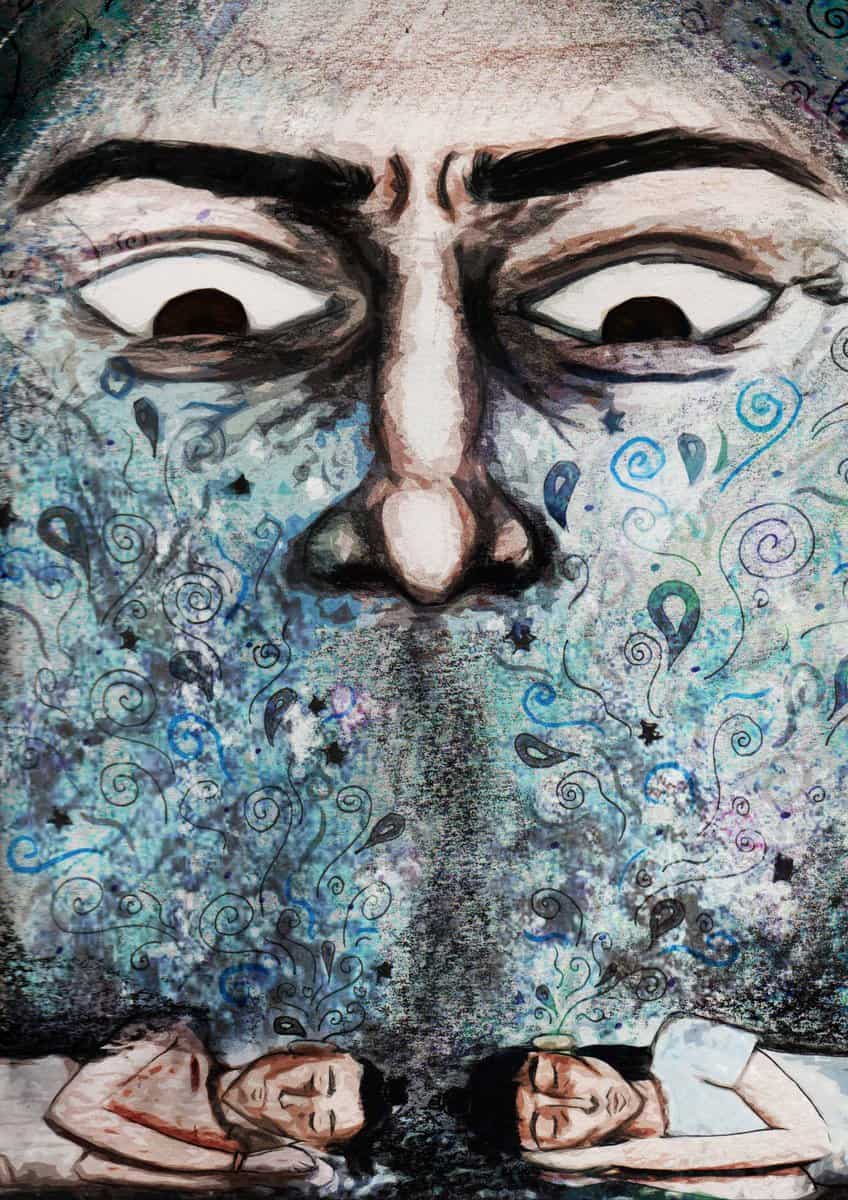 Rejection and failure is normal and I have to be prepared to receive it and pick myself back up from it. The illustration industry is competitive and demanding, a thick skin is important. Mistakes are essential for development. Never stop experimenting techniques, I set myself a new personal project each week to improve and practice.
I am now my own boss, its my responsibility to wake up early, plan my day and set deadlines. Just because I'm no longer in education it doesn't mean I stop learning – there is a lot tutors cant teach. I will only receive what I put into the world – don't expect clients to come asking for illustrations when you're sat at home in your pajamas applying to work night shifts as a cleaner. It is important to love what I create and be proud of what I share.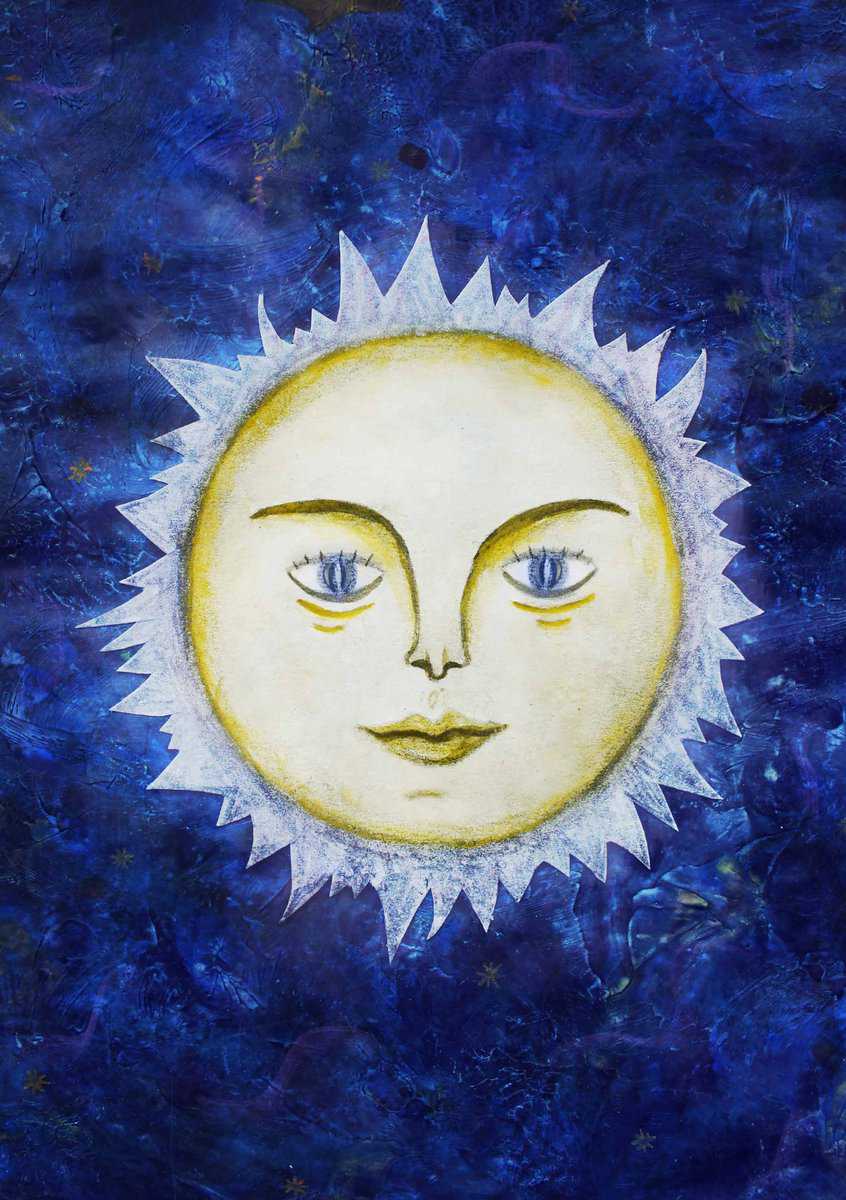 I like to let an idea brew like a cup of tea (of which I consume an unnecessary amount) so it is strong, nobody likes a flavourless cuppa. A fruitful foundation of research is needed before expanding from the brief set. After research I layout a range of possible outcomes with quick thumbnail sketches.
Next, I send these to my client and give a basic understanding of possible directions. Communication with you re client is extremely important otherwise you have a risk of misinterpretation and at later stages might have to take steps backwards to move forwards. It is always best share a choice of possible directions so you can agree on an outcome which best reflects both you and the client. From here, I create a refined sketch to confirm we are on the same page and finally bring the work to life.
My creative instinct kicks in and I experiment with compositions, typography, colour schemes and mediums until I find what works best. Once the physical design is complete I refine it in Photoshhop and my graphic design element shows. Finally I share this with the client and see how they feel before completing the exchange.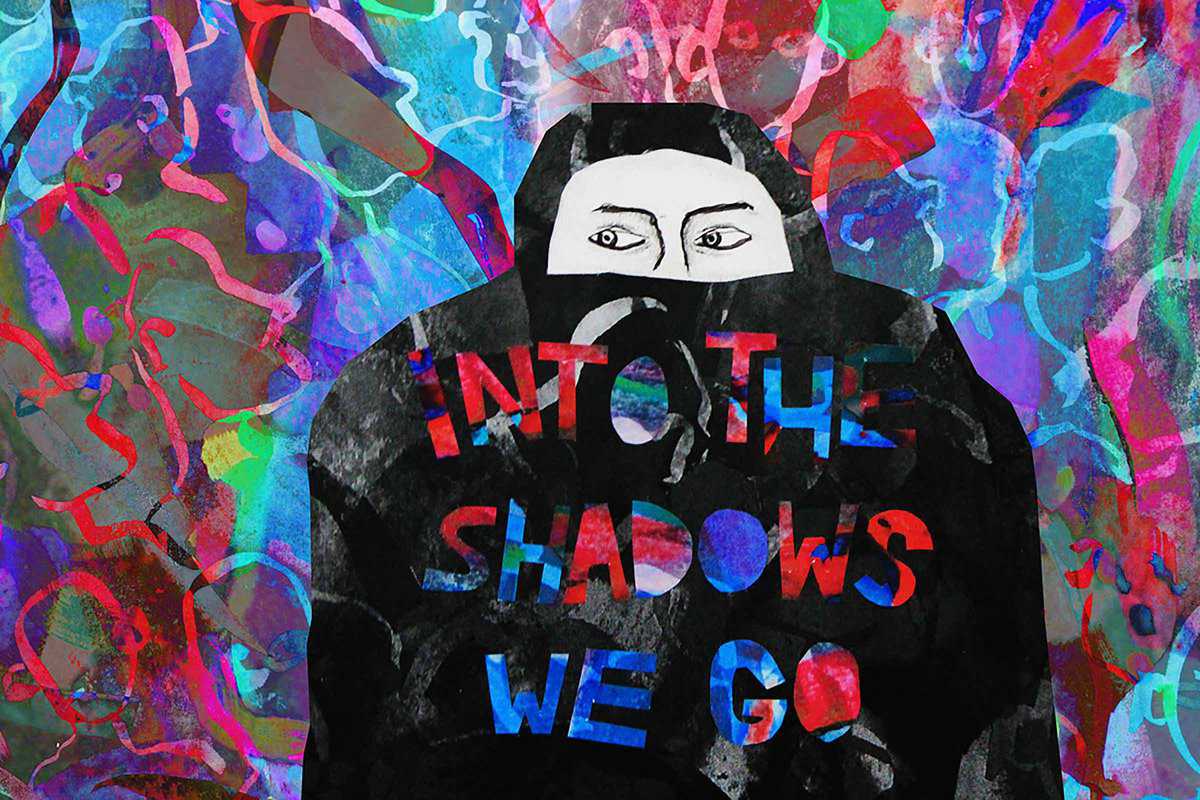 I like to use a wide range of materials and never stop experimenting with new ones. At the moment I prefer to work with mixed mediums – watercolours, coloured pencils, acrylic paint and graphite. I also use handmade mark making tools to add texture. All my previous experience in the education system play a role in my current process. You can see an essence of my graphic design background, which is very important to embrace when creating promotional material.
Symbolism such as eyes are Incorporated into my personal projects. I believe this is due to my fine art and film studies background. In the future I plan to familiarize myself with the animation and dabble in sculpture. I am an organised but messy worker so I usually have to tidy my work up in Photoshop before they are complete.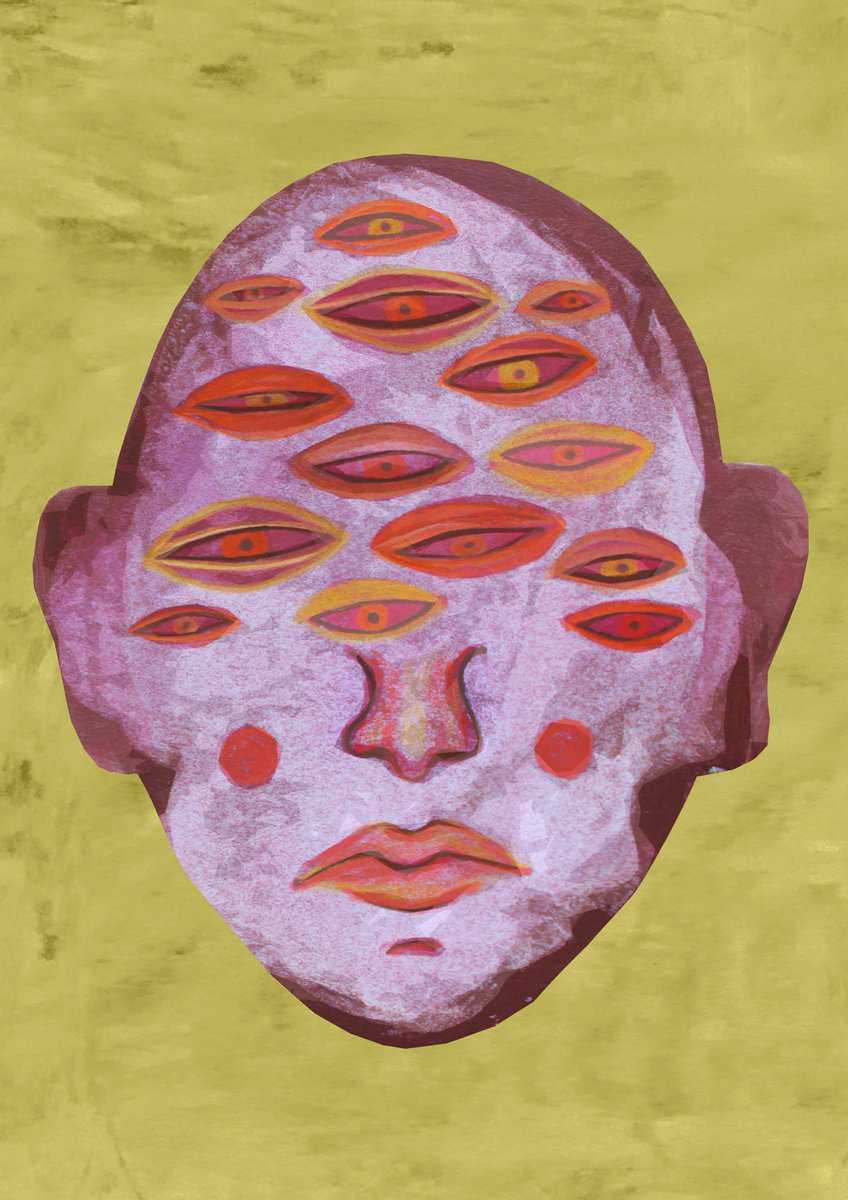 I work in my bedroom, it isn't ideal as I tend to procrastinate and is too tempting to trot downstairs three times an hour to make a fresh brew. Working from home means focus is essential. Especially when you are in a family of six, own two cats and a a very excitable lurcher.
A usual working day for me is staring at the computer screen or a piece of paper, so its important to keep healthy both mentally and physically. I make sure I allow myself to have breaks. I go for a walk with Benji (the excitable lurcher) which allows me to get some fresh air, rethink my work, and return to my desk with a clear head.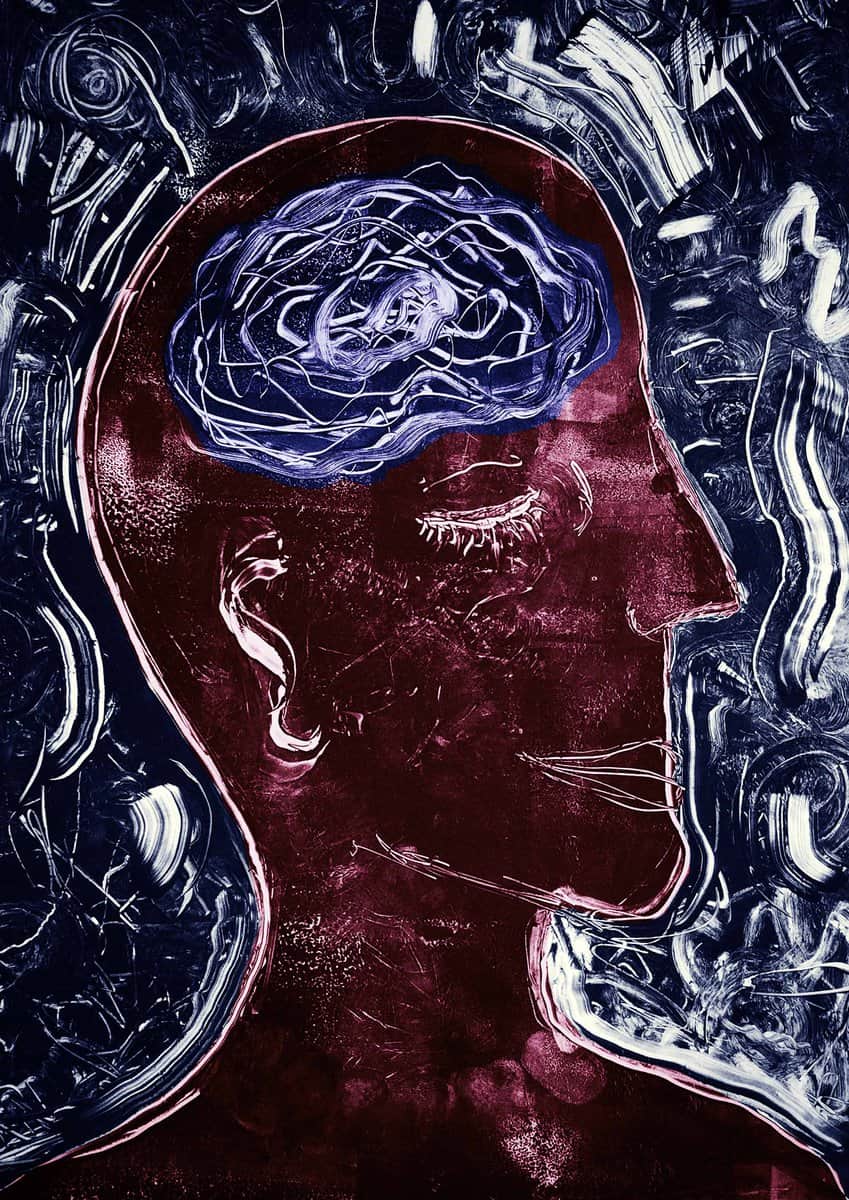 My advice for others is: just go ahead and do it, don't hold back or make excuses. Go in with full force, be passionate, confident, proud and very determined. Continuously educate yourself, and don't stop reaching out to potential clients – consistency is key.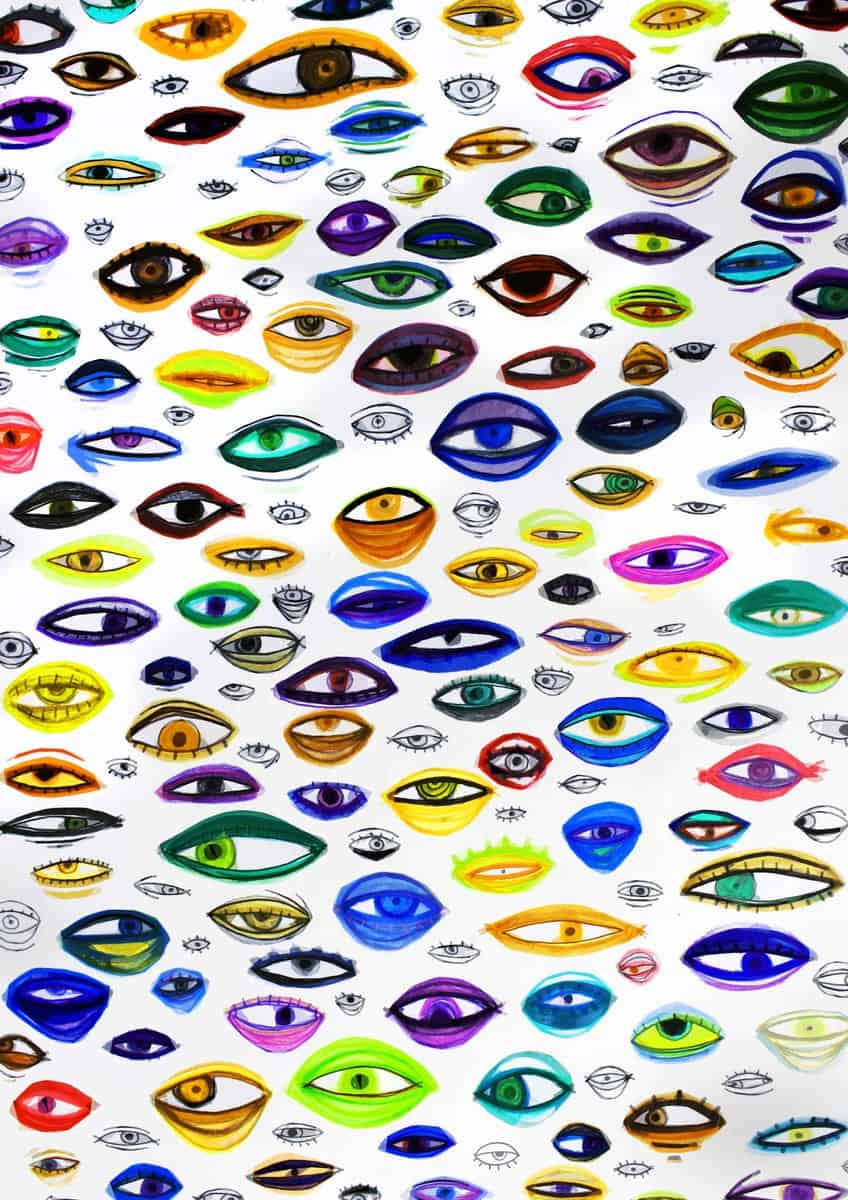 I am still finding my place in this industry, I have no set direction with where I want to end up in my career but I do like the idea of working in collaboration with the music industry. I plan to move onwards and upwards and stay persistent.
The next stage is to earn a steady income and save up towards my own studio space to avoid all these home distractions. Ill keep educating myself to improve my business skills and become more familiar with the freelance industry.
I aim to keep building my connections and maintain strong client relationships to achieve a steady and realistic flow of work. My number one goal currently is to work with my first major client – exciting stuff!
Learn more about Bethany on her website.