Before settling on a career as a medical illustrator, Alex Baker worked at a vet school, an ecology lab, and as a creator of medical legal exhibits. She later moved to New Orleans to join the Department of Fine Arts at the University of New Orleans and was also adjunct faculty at Dillard University in New Orleans. Most of the last twenty years have been spent as a freelance illustrator at DNA illustrations. Her background includes extensive experience in creating editorial art and illustrating surgical volumes.
Compare prices for graphic design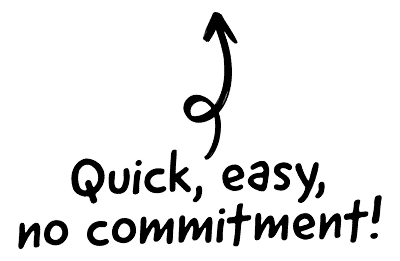 I work overwhelmingly with medical based publishers. My contracts could be anything from single editorial images for a magazine or journal to hundreds of illustrations for surgical and anatomy textbooks. My dad worked with electron microscopes and my fascination with scientific imagery definitely started there. I can remember seeing pictures of butterfly proboscis, and leaf surfaces and grains of salt. In school I bounced around between art and science trying to find my fit. When I first heard about Medical Illustration it was like a light when off. I studied Scientific and Medical illustration at the University of Georgia, and at the Medical College of Georgia (now Augusta University) in the US. I took a lot of science and studio courses all through school. This field demands rigor in both.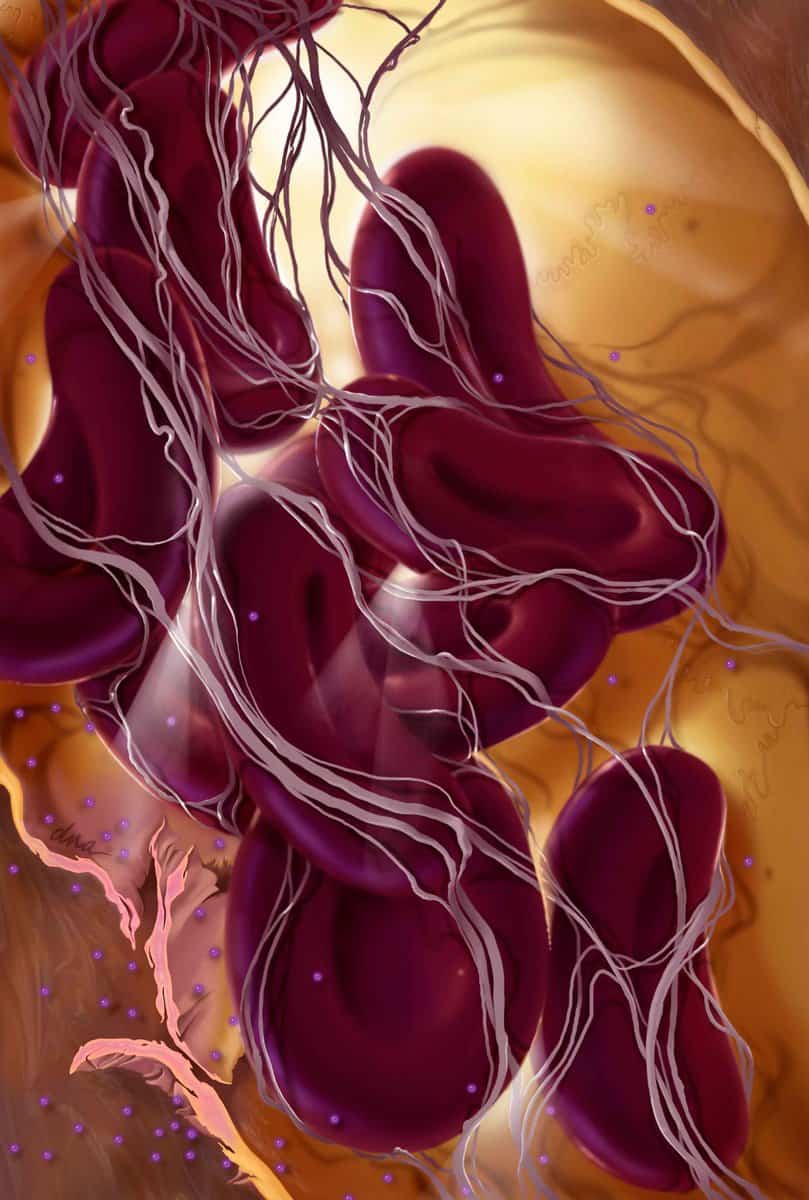 The CRM platform to grow your business
Great for entrepreneurs
Powerful data analytics
Manage sales and data

Seamlessly connect data, teams, and customers
Cutting-edge marketing
Ideal for teams or solo use
Measure sales conversions

Powerful web builder and advanced business tools
Great for startups
Powerful web page builder
E-commerce available

Supercharged content planning
Great for marketing
Better than lists or sheets
Manage social media

Create a new website in 10 minutes. Easy.
Launch your website fast
Powerful data intuitive
No coding skills needed
I worked for a medical legal company right out of school making exhibits for trials to explain surgery or disease processes to the jury. I later took a job running a computer lab in an art department in New Orleans. While there I started freelancing in the evenings to build up a client base. Eventually I had enough long term work to make the leap and become a full time freelance artist. I love learning about the body, and figuring out how to show a complex concept clearly to a audience. I've always enjoyed the challenge of breaking down a surgical procedure into a series of images. It's like a logic problem.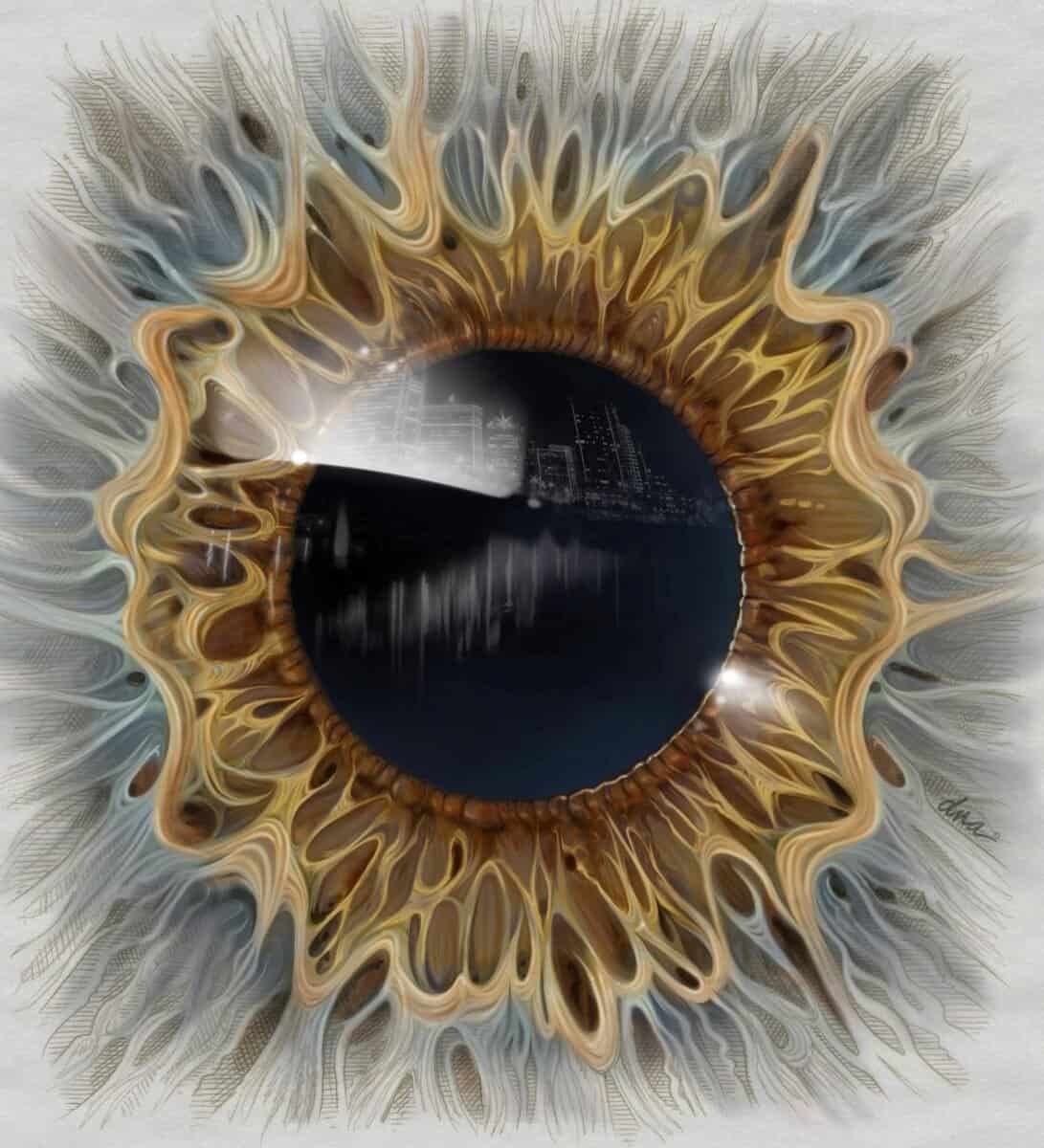 The biggest lessons that I've learned are the obvious ones. Always do your best and take pride in your work. Once you finish a job it's out there with your name on it long after you finish the work. Make sure you read your contracts carefully, and don't be afraid to walk away from the bad ones. Be nice. Meet your deadlines.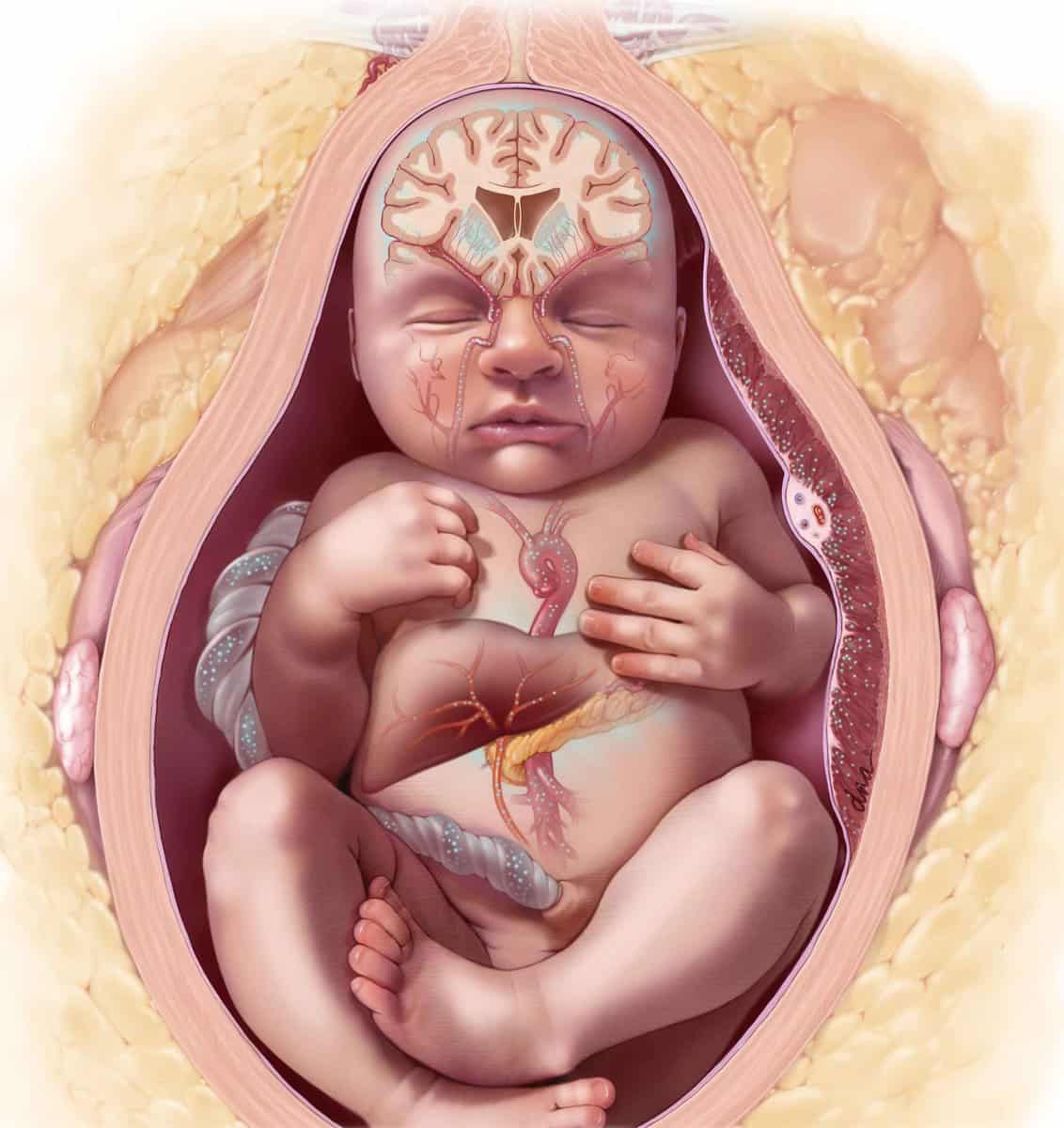 Each job starts with an article, or written chapter from the client. I research the topic and usually try to build time in my work flow to let ideas knock around in my head for a while. It helps me to firm up a concept if I can leave the office and go for a run. When your body is busy, it leaves your mind free to wander and that's when images will start popping into my head. From there I'll work through rough sketches trying to capture what I can see in my head. I work on tracing paper so that I can overlaying pieces of trace on top of the rough sketch and keep drawing rather than erasing to clean up the sketch. Erasing will slow you down. Once the client and I have decided on a direction for the piece, I will do a clean finished drawing with a tech pencil to scan.
From there, I use Photoshop to color the final drawing. I cut down the levels in the scan so that I start with an overall grey tone to the painting. I'll build up dark tones using layers set to multiply, and then work towards highlights. My office set up is pretty basic – a drafting table and some lamps, a Mac with a large screen and a pressure sensitive tablet. I hated using the airbrush in school and the computer has been something I've gravitated to from the beginning. There are people who can go straight to the screen, but that is something I've never been able to do. I need a plan before I start.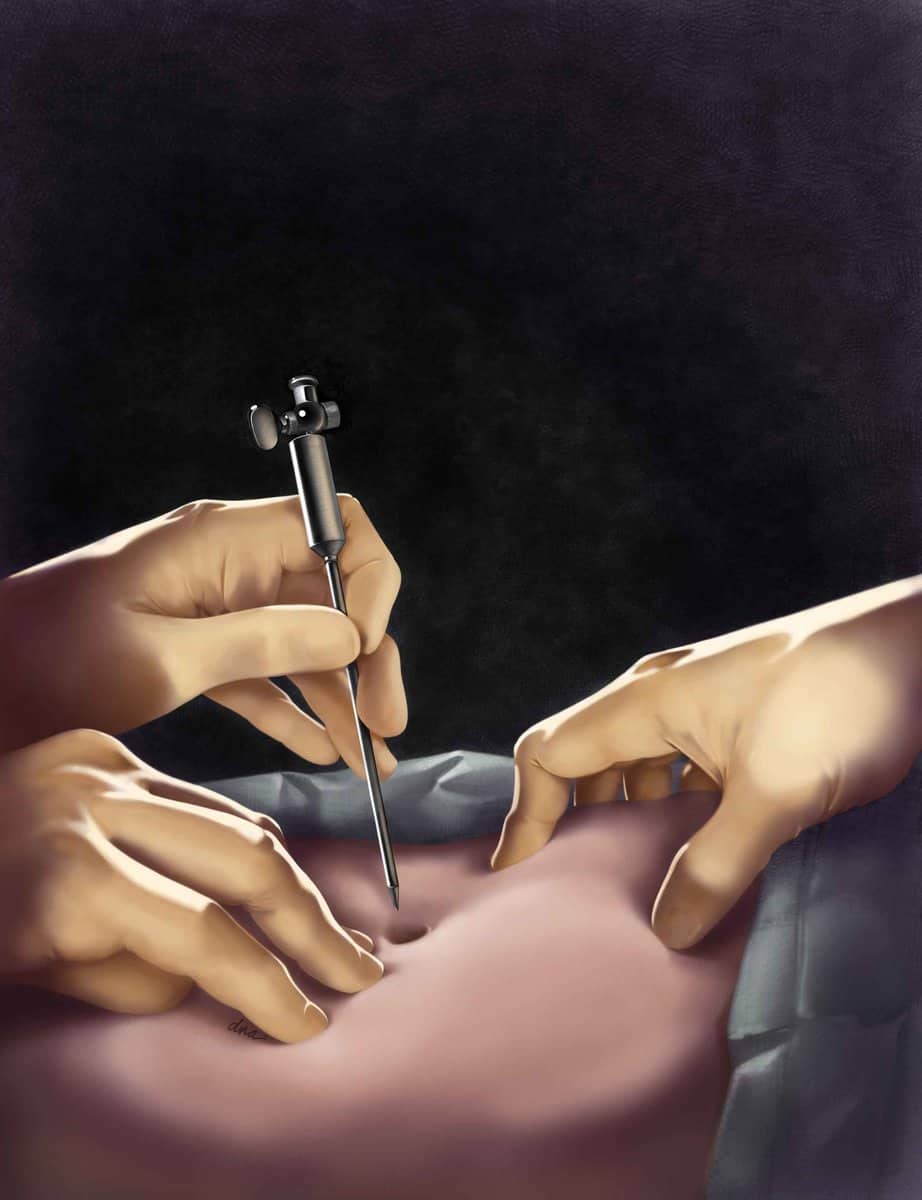 My husband Dave is also a medical illustrator. We have an office/studio in our house and started our company, DNA Illustrations in 1997. Our daughter is now a teenager, but in the early days it was great to have the flexibility when we needed it.
There's always something interesting going on around here. We've recently been working on such varied topics as obstetrics, acupuncture, allergy and immunology, and basic anatomy. I can honestly say I'm never bored. The daily routine is a bit intense at the moment. Like any freelancer it's a feast or famine situation. We're always longing for that mythical state of 'steady' but it's hard to meet that equilibrium when you are in a deadline driven industry. The best you can do is push hard when there's lots of work and enjoy the lulls.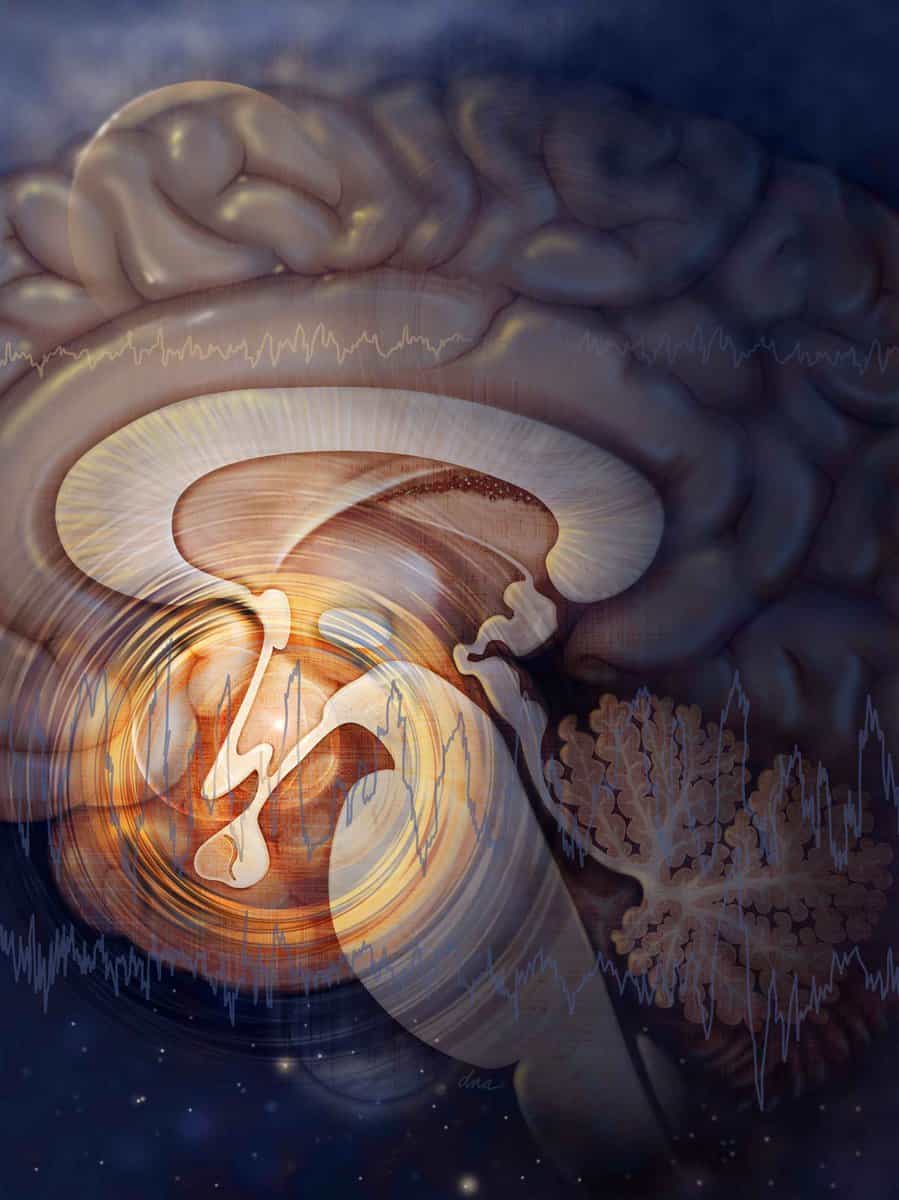 For those interested in pursuing a similar career I would definitely look at the websites for the Association or Medical Illustrators, the Association Européenne des Illustrateurs Médicaux et Scientifiques or the Guild of Natural Science Illustrators.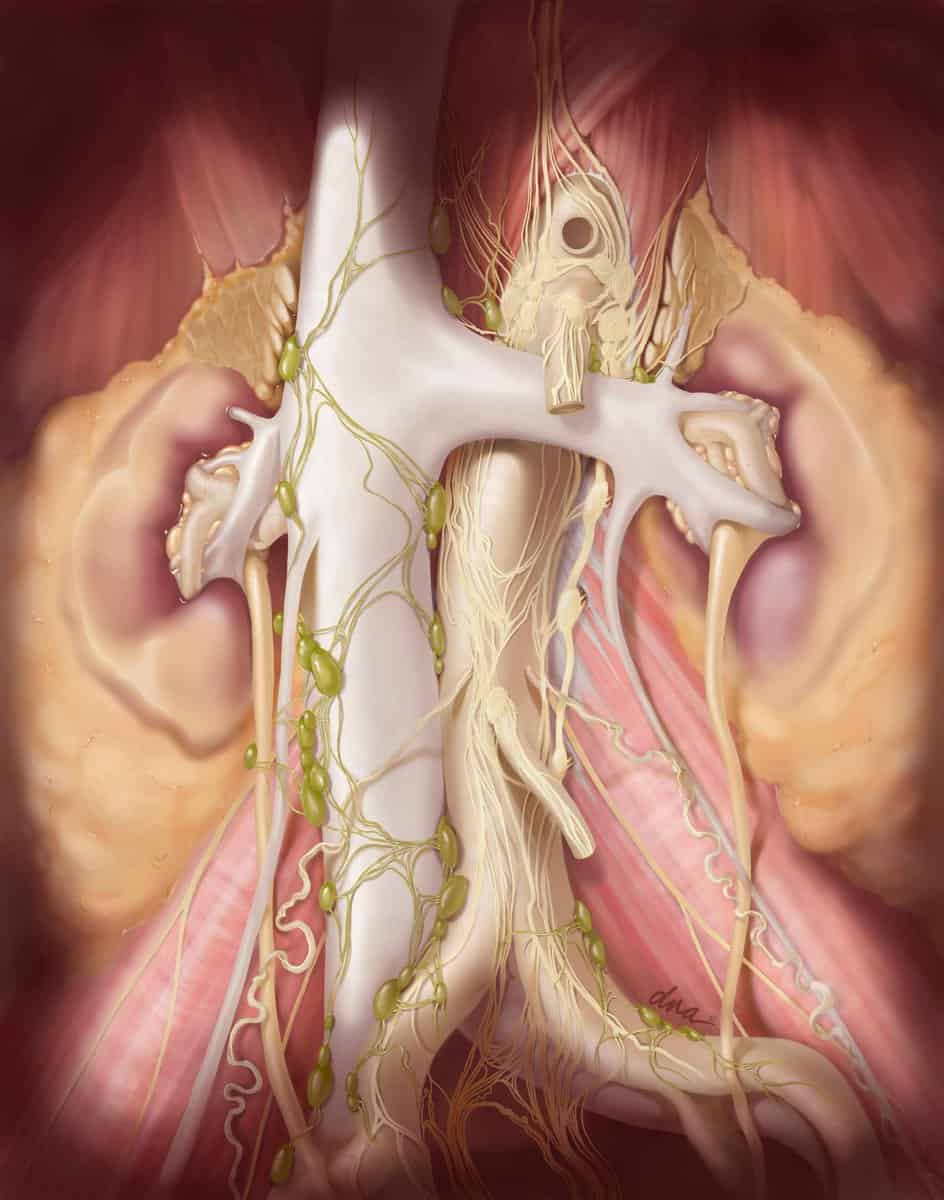 Just as any piece of medical art should always start with research, a career in this field demands the same. I interned with several wonderful illustrators when I was started out and they were instrumental in helping me frame what sort of career I wanted. I'm happy with the career that I've built and I'd like to carry on until I'm too old to see what I'm doing.
Learn more about Alex on the DNA Illustrations website.