Rebecca Bagley is a freelance illustrator who left a job in children's publishing (and another selling carpets!) to launch her career creating and selling her work.
Compare prices for graphic design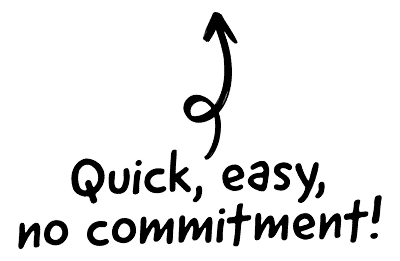 I really love working to the guidelines of a brief, so can settle pretty easily into most kinds of work. I've never really made work just because it looks nice, there's always been a concept or idea to it, so working with different kinds of briefs and other people's ideas can be refreshing and challenging. Because I like the work to communicate an idea, and because it's the kind of work I make for myself, I've been focused primarily on illustrating fiction as well as editorials for magazines. I enjoy working with these formats because I find the relationship between text and illustration really exciting.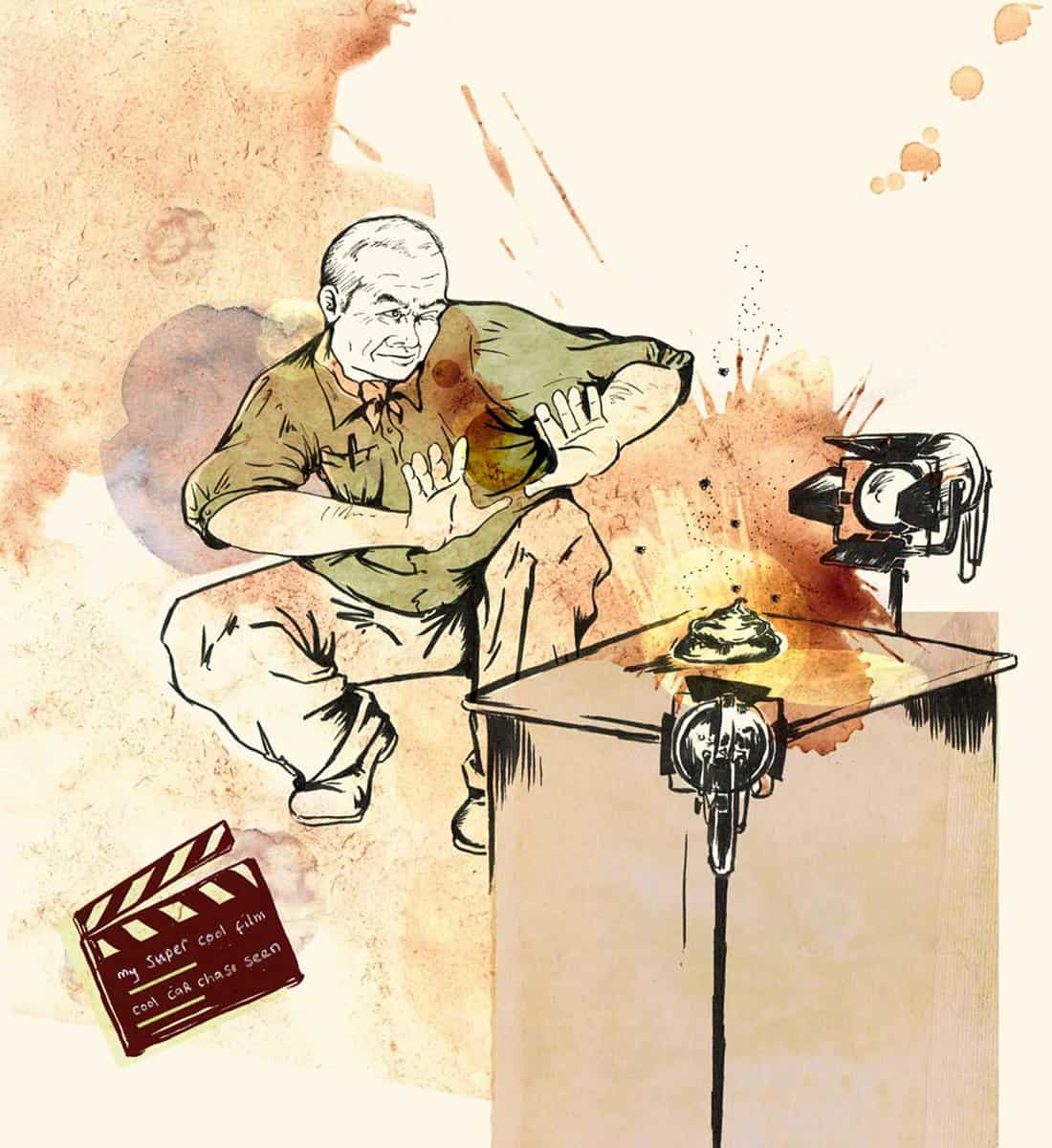 The CRM platform to grow your business
Great for entrepreneurs
Powerful data analytics
Manage sales and data

Seamlessly connect data, teams, and customers
Cutting-edge marketing
Ideal for teams or solo use
Measure sales conversions

Powerful web builder and advanced business tools
Great for startups
Powerful web page builder
E-commerce available

Supercharged content planning
Great for marketing
Better than lists or sheets
Manage social media

Create a new website in 10 minutes. Easy.
Launch your website fast
Powerful data intuitive
No coding skills needed
If I know people have read a few lines, I can use their expectations of this or written tone of a piece to develop a concept even further. A few words can really open an idea up to be developed, or even played with and contradicted, in imagery. Pictures and words are good friends, they can really be bounced off of each other, which is key to illustrating to accompany a piece of text.
It was the word and image relationship that really started everything for me. I discovered graphic novels two years before I started university to study Graphic Communication and became fascinated by the dynamic between the text and illustration. I was working in a shop that I hated, selling carpets and trashy knickknacks and started writing and illustrating my own graphic novel in the evenings and night. I had it printed and self published it, selling in independent comic book stores, at conventions and art fairs and through my website.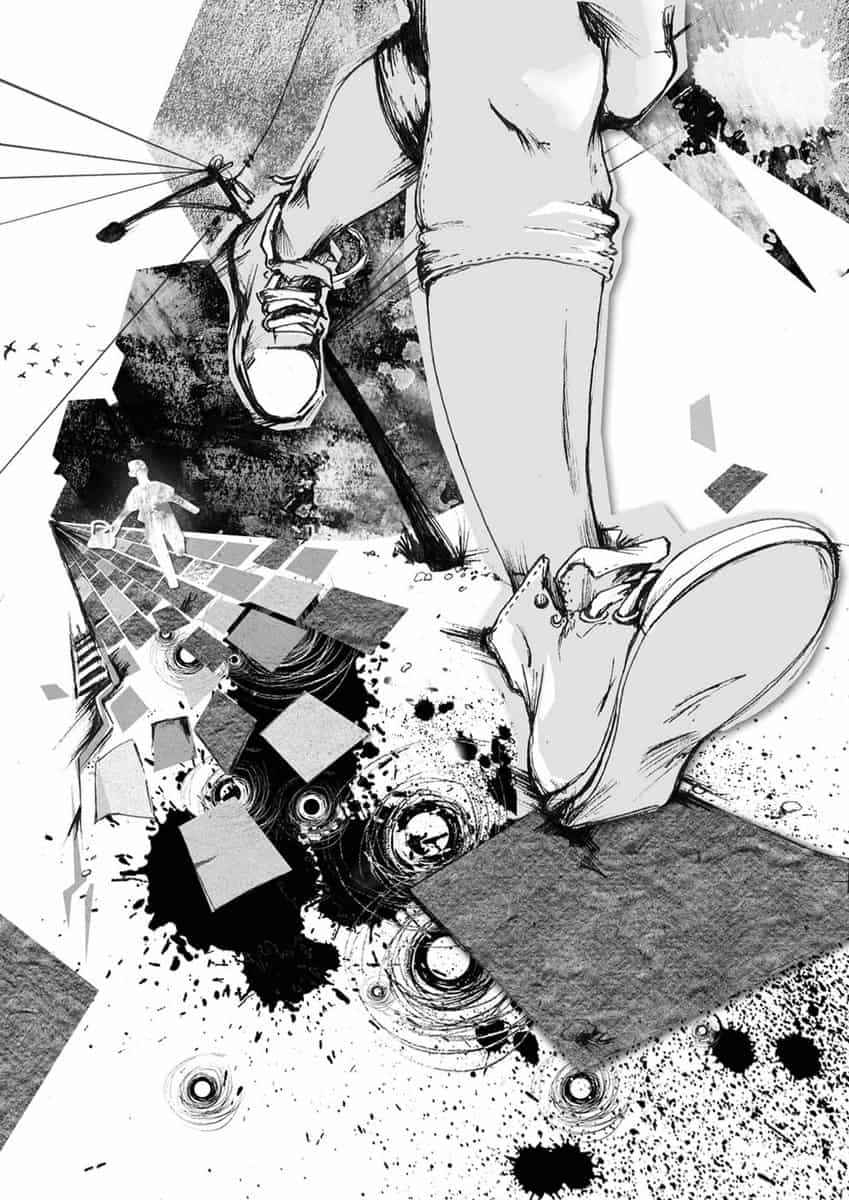 I carried on making and selling like this right through my degree and the money went towards living expenses. It was a neat job, way more fun than selling carpets! Originally I planned to do a two birds, one stone deal, where I'd sell my school work at the conventions, but actually I used uni as a platform to examine and learn about things I didn't already have any understanding of. I didn't want to keep doing the same thing just because I'd been successful at it before, so I tried a lot of different approaches from within illustration as well as testing the waters with graphic design.
Basically I just doubled my workload, did uni in the day, and made comics, quite literally through the night but I don't doubt my illustrations are better because of it. I think it helps illustrators to consider their work from a designers point of view. Maybe I design illustrations? Is that a thing?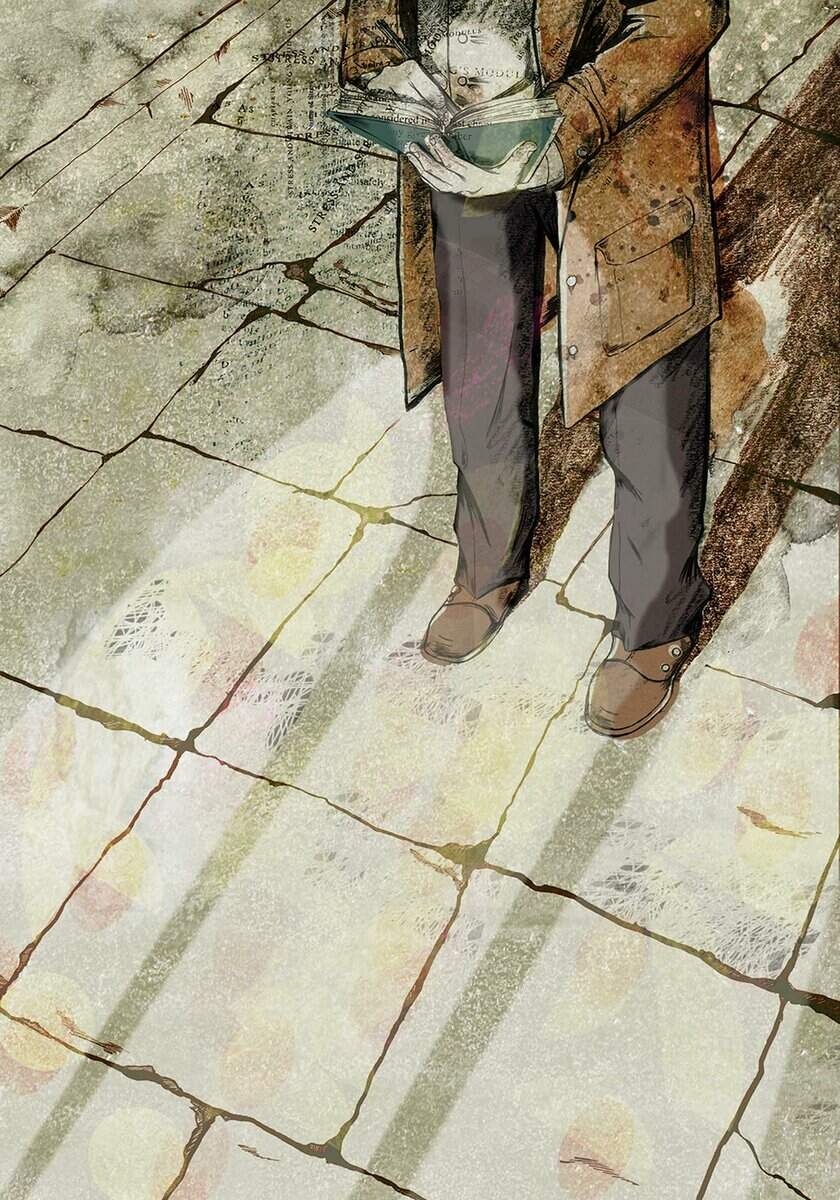 After uni, I started working in children's book publishing as an assistant designer. That was fantastic, seeing how designers and illustrators fit in the publishing process and all the stages and commercial pitfalls an idea has to go through on the large scale before becoming a story. I couldn't have asked for a better or more relevant experience and being a designer was a lot of fun, but I knew I didn't want to leave illustration behind, which I think is all too easily done. It was the right field, but the wrong job and being surrounded by beautiful work has made me more determined to make my own, so I took the leap of faith into freelancing.
That is probably my biggest motivator with it all, seeing the kind of work I want to make, being made by other people. Every time I see an illustration in a magazine, it gives me a kick. There are so many incredible artists in the world, I want to work at their standard, in their fields. I surround myself with it. My bookshelves are bulging with beautiful and quirky picture books and graphic novels. I collect nicely designed menus too. And anything printed on nice paper.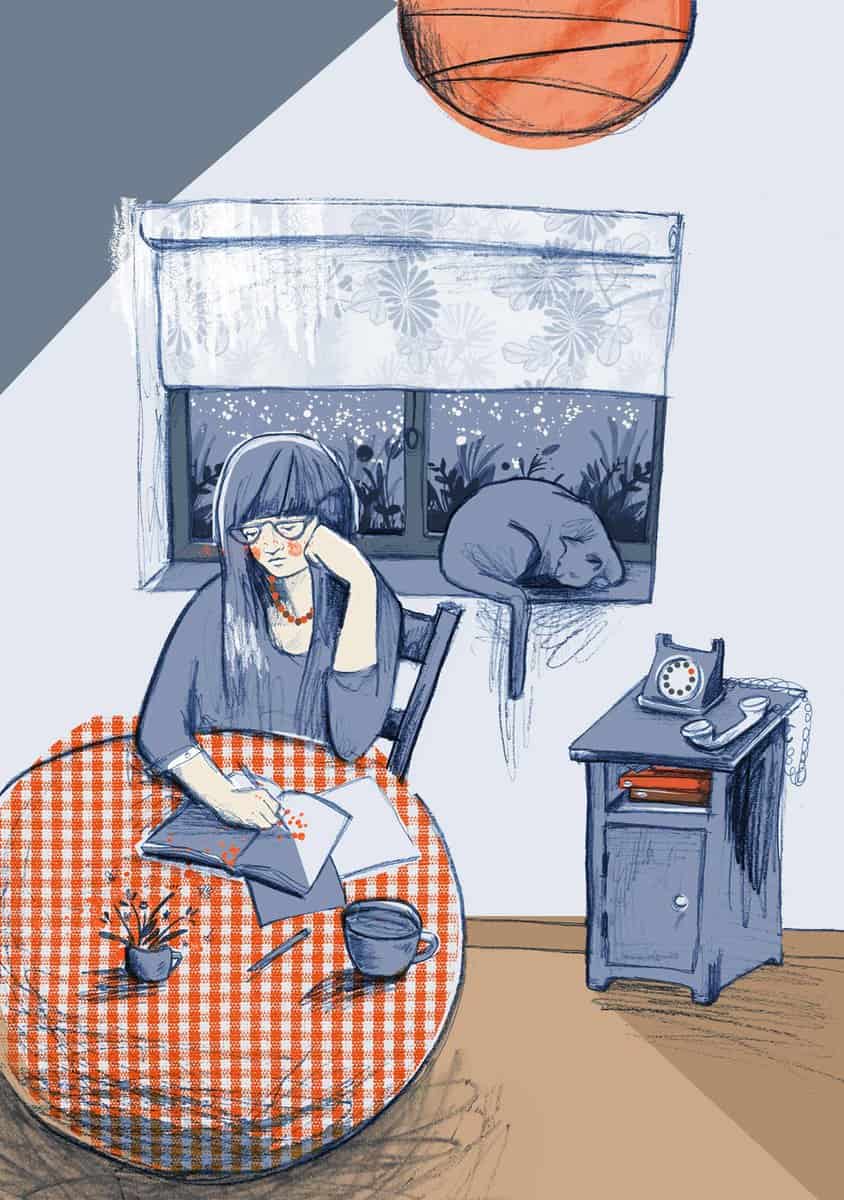 I'm lucky and have a studio room in my flat so I can really lock myself away and into the work. The publishing job taught me a lot about how much I can get done in a day, so I adopted my working hours from that. A normal day is up early before an hour of yoga, followed by breakfast and a coffee…or two before I start my working day. I'll check, write and send emails and general self admin in the mornings, break for lunch and usually get on with making through the afternoon.
I'm strict with myself, I like to know that I'm working as hard as I can so I always work at least 9 to 5…and sometimes a bit more if it means I can get a job finished. My partner is great, he's really understanding and knows if the door is closed, it means I'm in the zone. Then I try to have free time in the evening for hobbies and general life things. I like to cook a lot, one of the hardest things about leaving work was having less people to make cake for. I'm also learning German. 'Cause why not?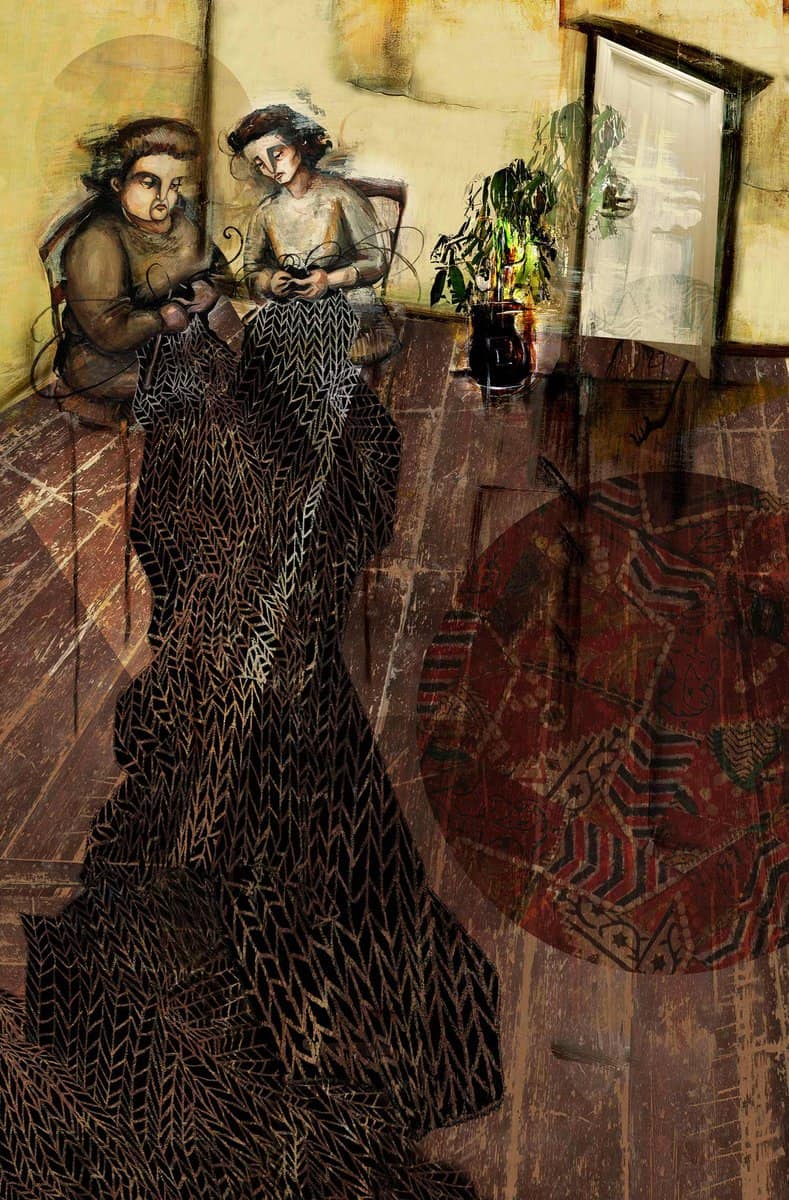 When I do work, it's a pretty straightforward process, fuelled by caffeine and various teas. I start always with words. I write everything, brainstorms of ideas, restrictions and end goals, often with thumbnail sketches and scribbles. My sketchbooks aren't at all beautiful, they're very functional and make no sense to anyone but me.
I then refine ideas, cull a few old ones, make links and lists of possible imagery and cliches I can use or abuse. More scribbles, more plans and more coffee. Then a sketch or two to really shape the image that I'll work into. This usually becomes the handmade part of the work which I then scan in to play with in Photoshop. I might have added a few odds and ends of colour on paper, but most of it comes at this stage. I have a digital archive of textures, scribbles and scanned things which I use to collage the piece on screen until I'm happy with it.
I like to work in layers, I think of it a bit like a digital screen printing process, although don't always know exactly how an image is going to look coloured, this can be a bit of a trial and error. It's the more spontaneous part of my process as I've usually got everything else panned pretty meticulously. I enjoy it though, I find the whole process really cathartic. And there is nothing better than that feeling of completion; of knowing you've finished an idea and it does what you wanted it to. That's real love.
I think I'll always welcome editorials and external briefs. It's nice to work with people and collaborate on ideas and it's easy to get stuck in a rut when it's only me, myself and I to turn to for criticism, but without a doubt my end goal has always been to tell my own stories. I'd like to write and illustrate picture books, I'm not too fussy who for. I don't believe in strictly dividing adults and children's books. I'd be a hypocrite if I did, given how much I enjoy books I'm told are made "for kids". I have a few book proposals up my sleeve that I work on in between commissions so I guess we'll see how they develop. I think really, I just want to tell stories. Be them long or short, self initiated or for someone else, as long as there's an idea, I want to make pictures for it. So I suppose that's just what I'll keep doing!
Learn more about Rebecca on her website.