Illustrator Marja de Sanctis describes her love for illustration, and the energy she puts into building her business while working part time jobs.
Compare prices for graphic design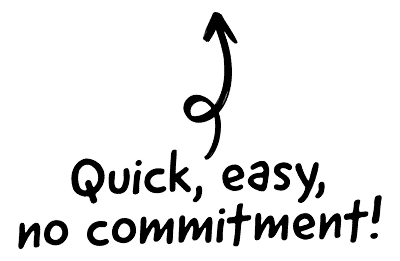 I have collaborated with some independent record labels and I have also done editorial illustrations for magazines and campaigns. Another source of income is coming from my personal / sketchbook work. I usually post them on my Instagram and Facebook and I have been receiving a good number of emails from people contacting me to buy them. This was a good and unexpected surprise. My illustration job does not pay for all my bills though, so besides that I work part time at the UAL and I also do some video editing work and translations to support myself.

The CRM platform to grow your business
Great for entrepreneurs
Powerful data analytics
Manage sales and data

Seamlessly connect data, teams, and customers
Cutting-edge marketing
Ideal for teams or solo use
Measure sales conversions

Powerful web builder and advanced business tools
Great for startups
Powerful web page builder
E-commerce available

Supercharged content planning
Great for marketing
Better than lists or sheets
Manage social media

Create a new website in 10 minutes. Easy.
Launch your website fast
Powerful data intuitive
No coding skills needed
I have always enjoyed drawing and wanted to work in the creative field since an early age. However when I graduated in Fine Arts in Italy I gave up on the idea of making an income out of my artworks. I tried different jobs and kept my sketchbook activity very secretly, doing only drawings on my diaries and as a way to express and dialogue with myself. I settled for a few years as an assistant video editor for feature films and although I enjoyed and learned a lot from that experience, it was during that period that I started thinking again about working in the art field in a more direct way.
So I slowly gave myself a go and I did a one-year animation course. I loved it but I felt that the thousands of frames necessary to make an animation were not exactly my cup of tea. So it was only then that I started feeling that illustration was much more suitable for me because, as I like to joke about it, I only needed to draw one frame to communicate.  I worked on my own for a few years building a portfolio and in 2013 I started an MA in Illustration. The course has given me confidence in my own voice and this allowed me to have more consistent work. As a result, I started to approach potential clients, painted murals, made zines collaborations with my friends and applied for awards and competitions. This is how it all started!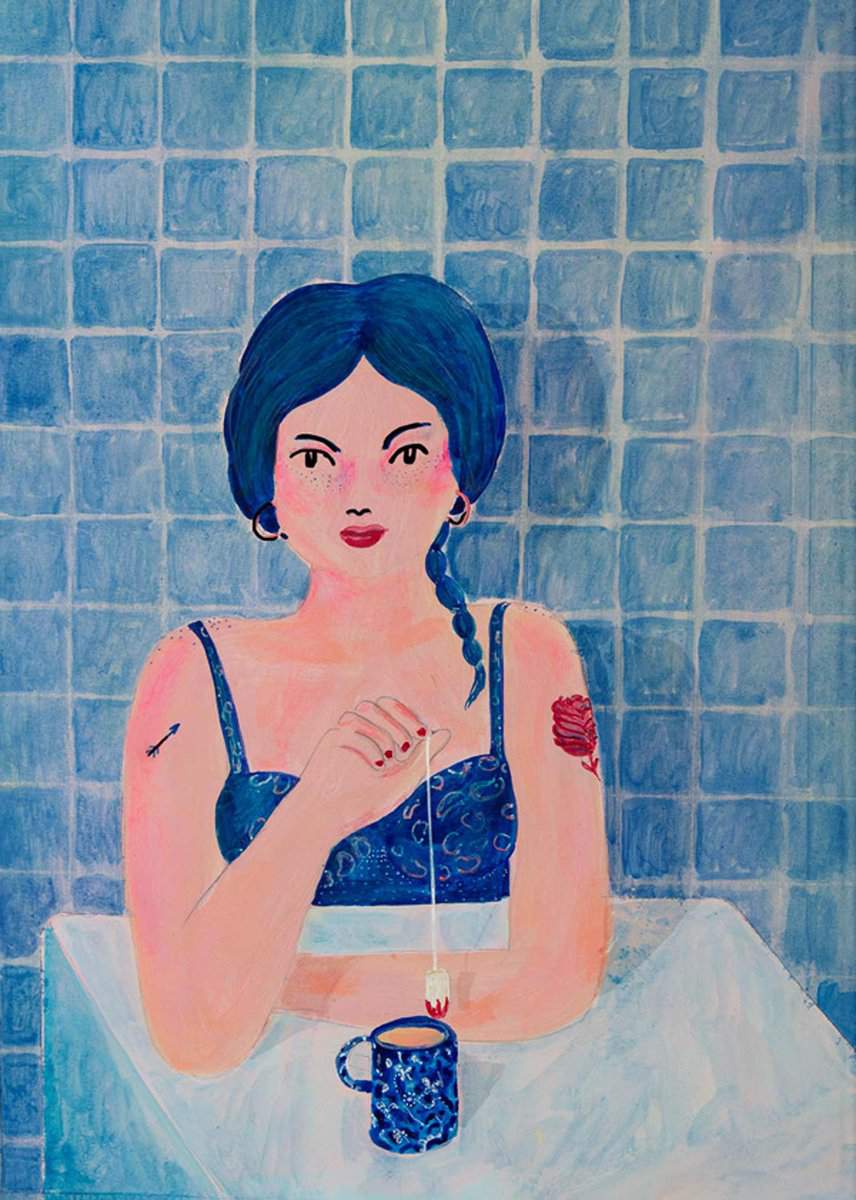 Humans are my biggest inspiration. My work is based on my love and curiosity for others' and mine stories, especially the ones where the personal blurs with the societal. I like to see how pivotal matters in society influence our everyday and in turn how the everyday shapes society.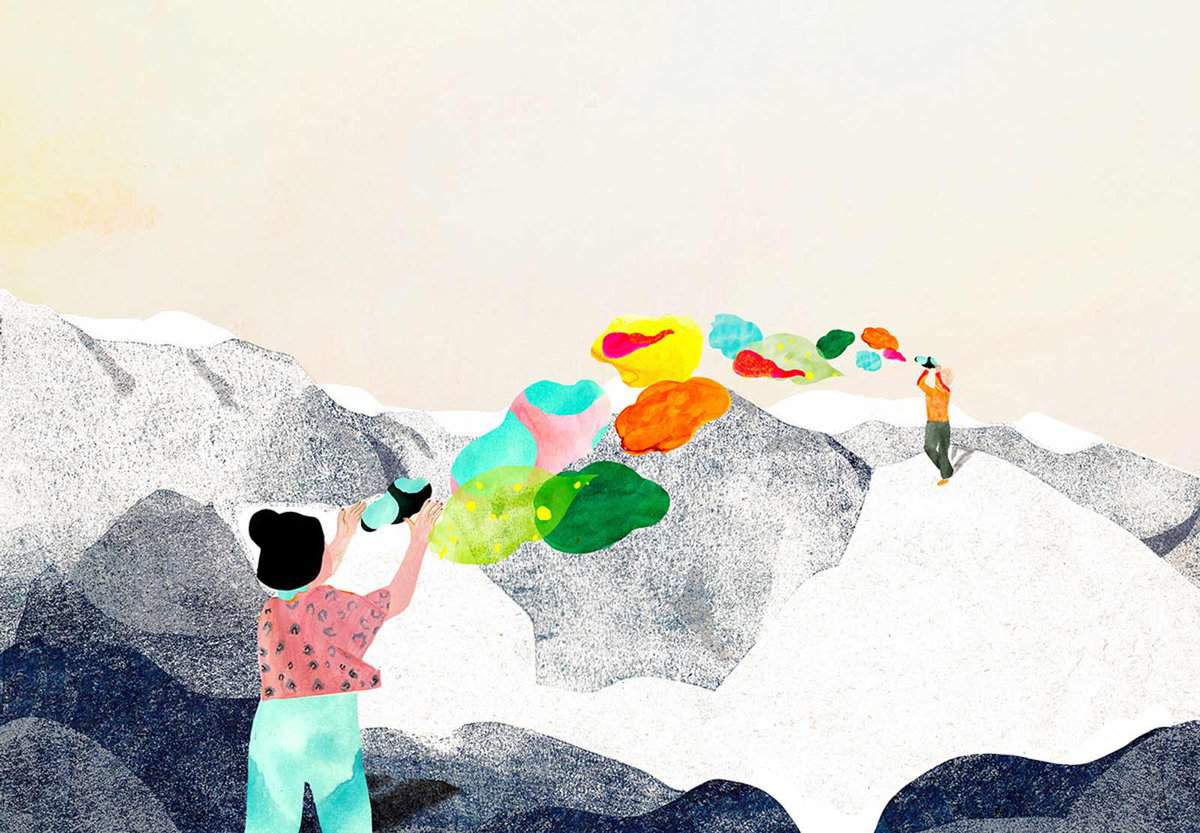 I usually start thinking about how to translate my idea or a brief into concepts and images. It is then followed by research, sketchbooks and free drawings. Making doodles usually helps me in the process, as some unexpected drawings can be a good starting point for an illustration. Once I am happy wit the concept I do a few pencil roughs to work on the composition and only then I move on, using all the mixed media I am in love with. I sometimes did the final pieces twice because I felt that the first one didn't have a punch. When I work with clients, between stages I send the work over and we discuss about it before moving to the next step.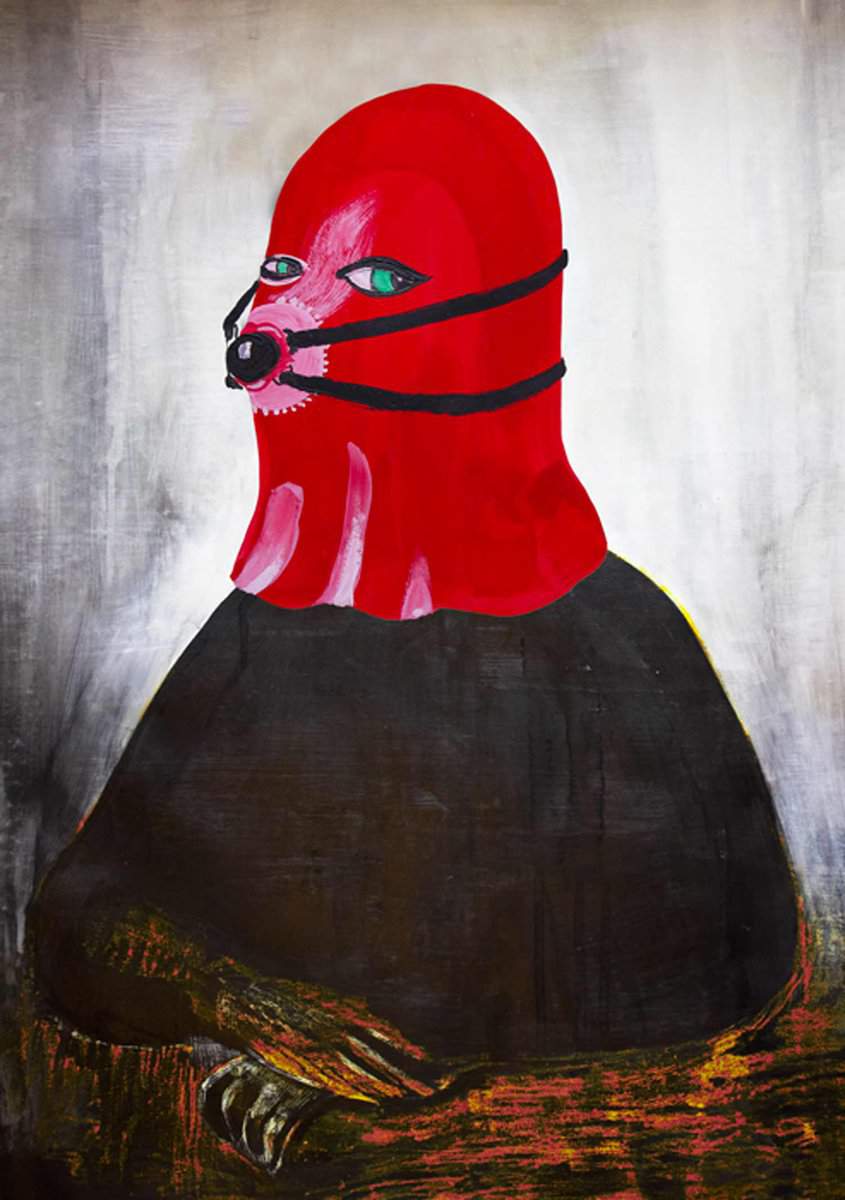 I love experimenting with new materials and right now I am working with acrylic paintings, felt pens, ink and monoprints on paper. My latest crush is charcoal pencil and graphite.
Most of my work is done in sketchbooks and sometimes I assemble sections of them in Photoshop to make a finished piece.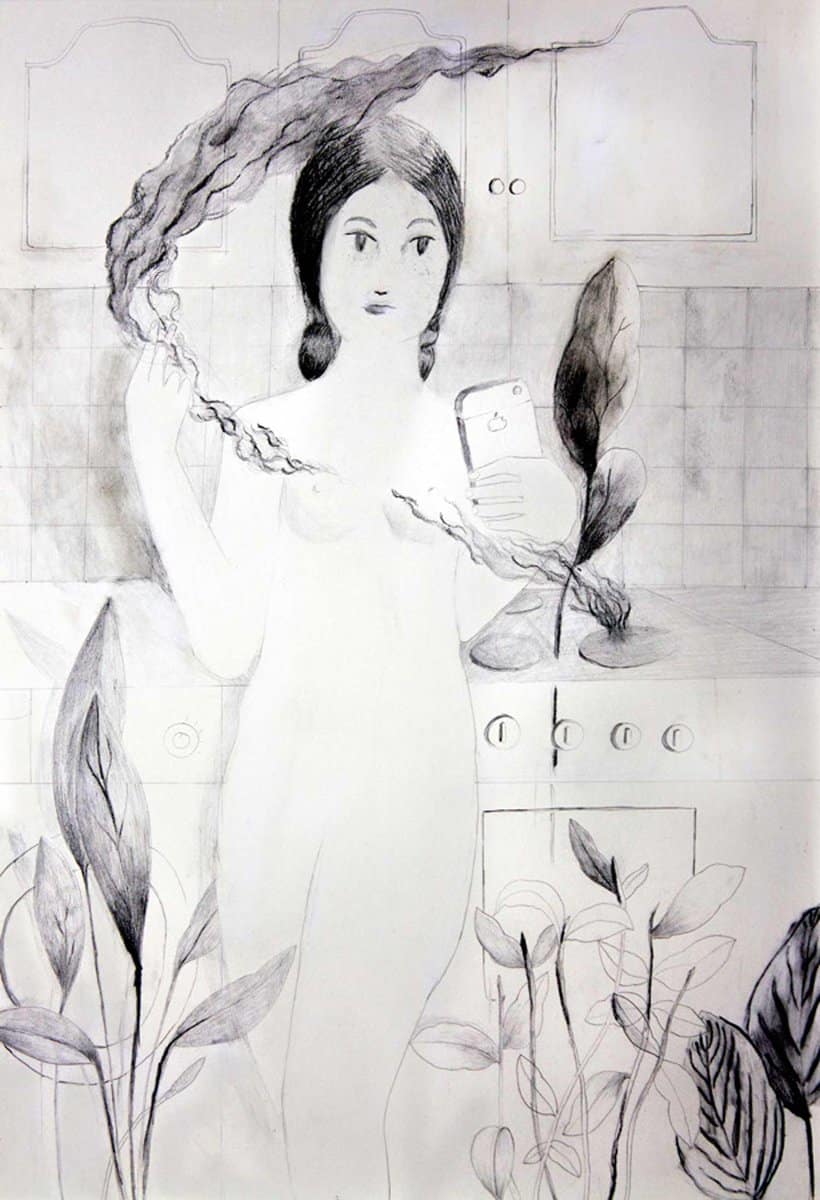 I work from home, in my tiny flat in Camberwell, South East London. To be honest I am working hard to be more disciplined. Daily routine is not my forte but my ideal day starts with a good cup of coffee and coconut milk, usually in front of my computer checking my emails, news, twitter and instagram. If I don't have any deadline or commission I just work on my sketchbooks and personal projects. I love this process so much as it allows me to find new perspectives and ways to develop my visual language and to further investigate my interests without strings. If I have a deadline I don't give myself all that pleasure and I'd just have a quick shower and start working straight away.
I usually work alone but when my boyfriend doesn't go to his studio we both work from home. I would like to have a studio as soon as my illustration practice will start to pay for it.
I love the freedom and the opportunity to learn something new everyday and to have a work activity built on my greatest passion.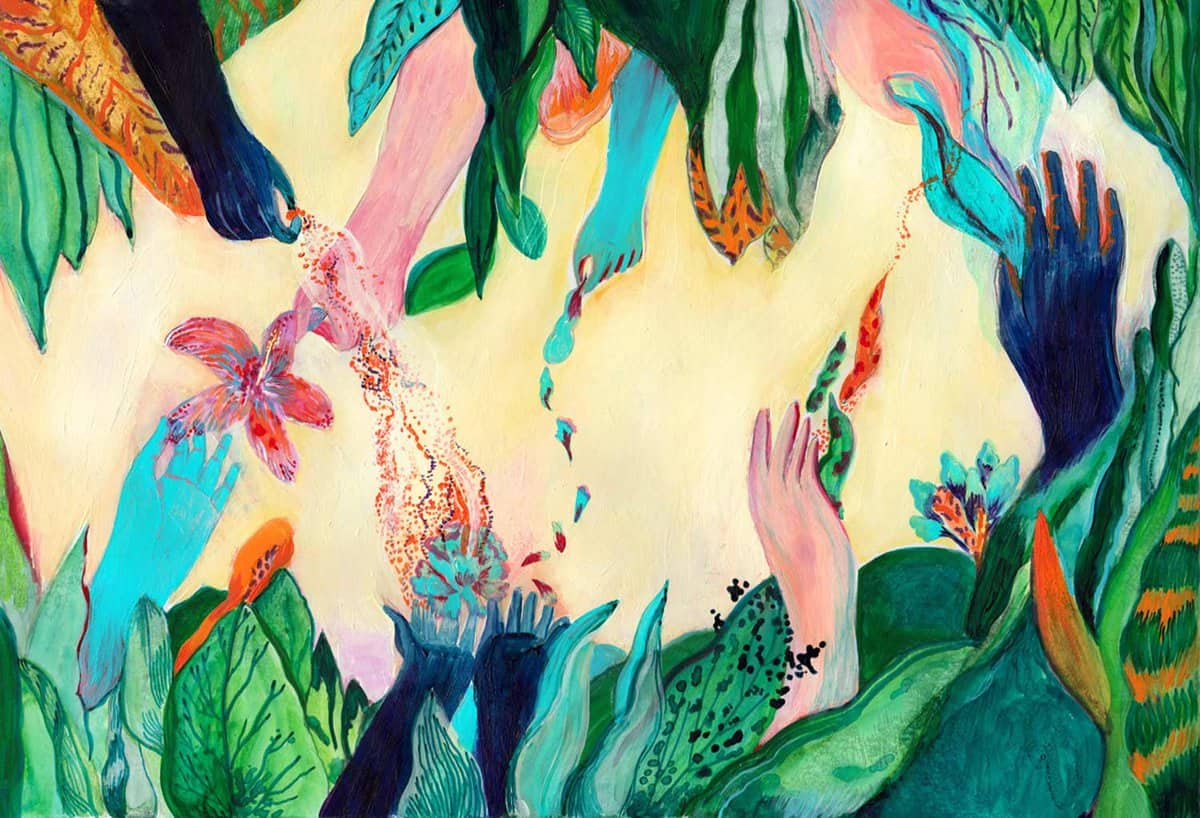 My long-term ambition is to keep developing my voice using it in different frameworks. I want to work commercially but at the same time keep working on personal projects. I would also love to pass on the experience that I will hopefully have to young persons that cannot afford to pay for their studies. There are so many talented people out there and it would be a shame to miss on them only because of the financial side of education.
Learn more about Marja on her website.