Sam Dodson left a music career spanning four decades to throw himself into painting, which he does from a studio on an island in London.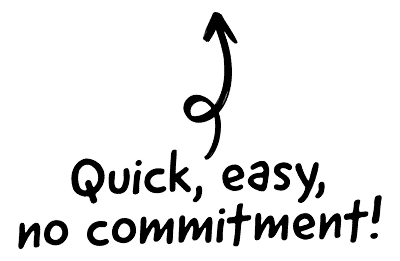 Painting has always been something I always wanted to do but music got in the way for about 40 years. Touring, recording, over 50 gigs in the USA with Loop Guru and gigging constantly in Europe used up all my artistic focus. However I always dabbled with art when I had time. Then about a year ago I just started painting non stop.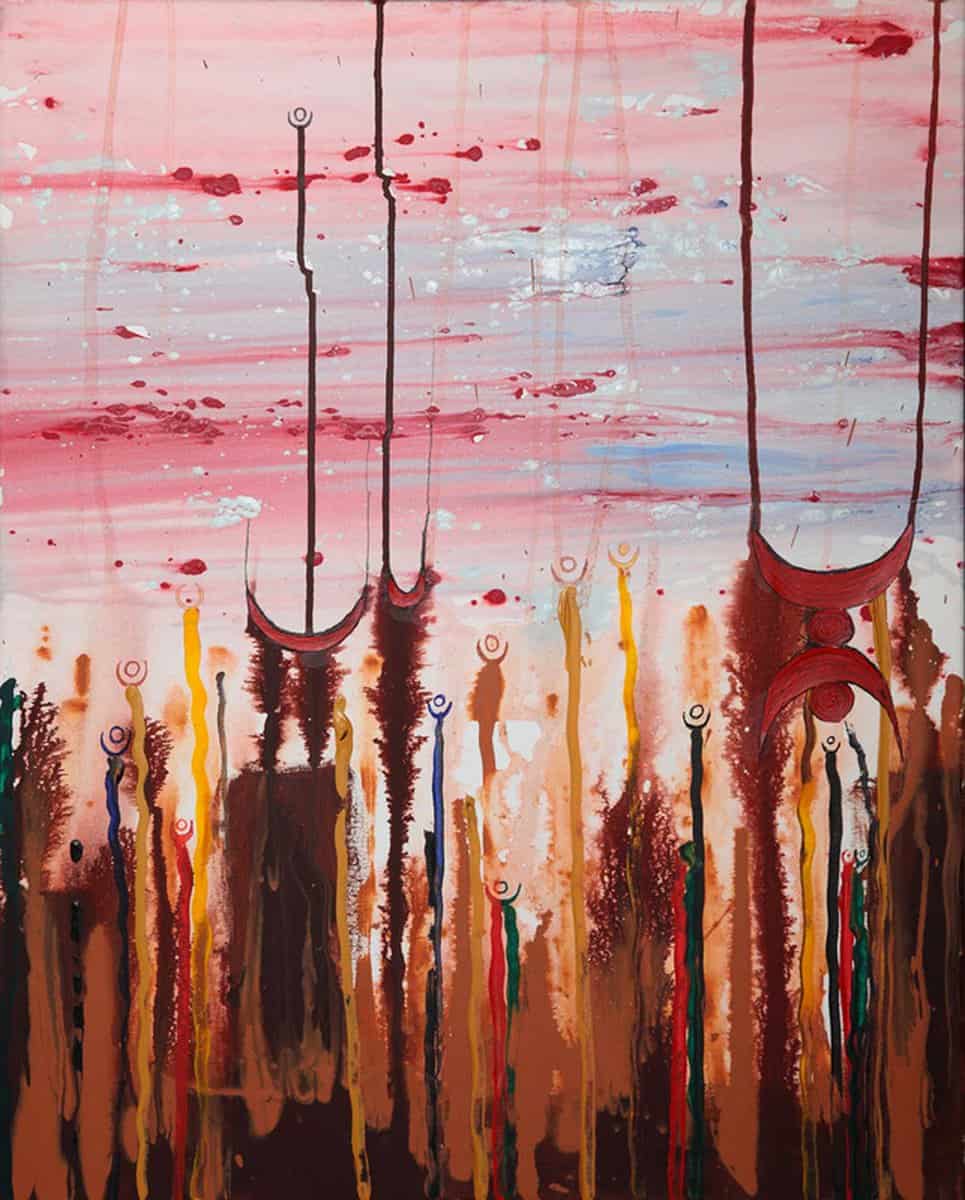 The CRM platform to grow your business
Great for entrepreneurs
Powerful data analytics
Manage sales and data

Seamlessly connect data, teams, and customers
Cutting-edge marketing
Ideal for teams or solo use
Measure sales conversions

Powerful web builder and advanced business tools
Great for startups
Powerful web page builder
E-commerce available

Supercharged content planning
Great for marketing
Better than lists or sheets
Manage social media

Create a new website in 10 minutes. Easy.
Launch your website fast
Powerful data intuitive
No coding skills needed
It was like all the energy I had put into music had transferred into the visual side of my explorations. Last year a journalist, who had interviewed me twenty years ago, came into my studio and said "My God Sam, your art is just like your music". So I guess in some way I am utilising the same part of my imagination.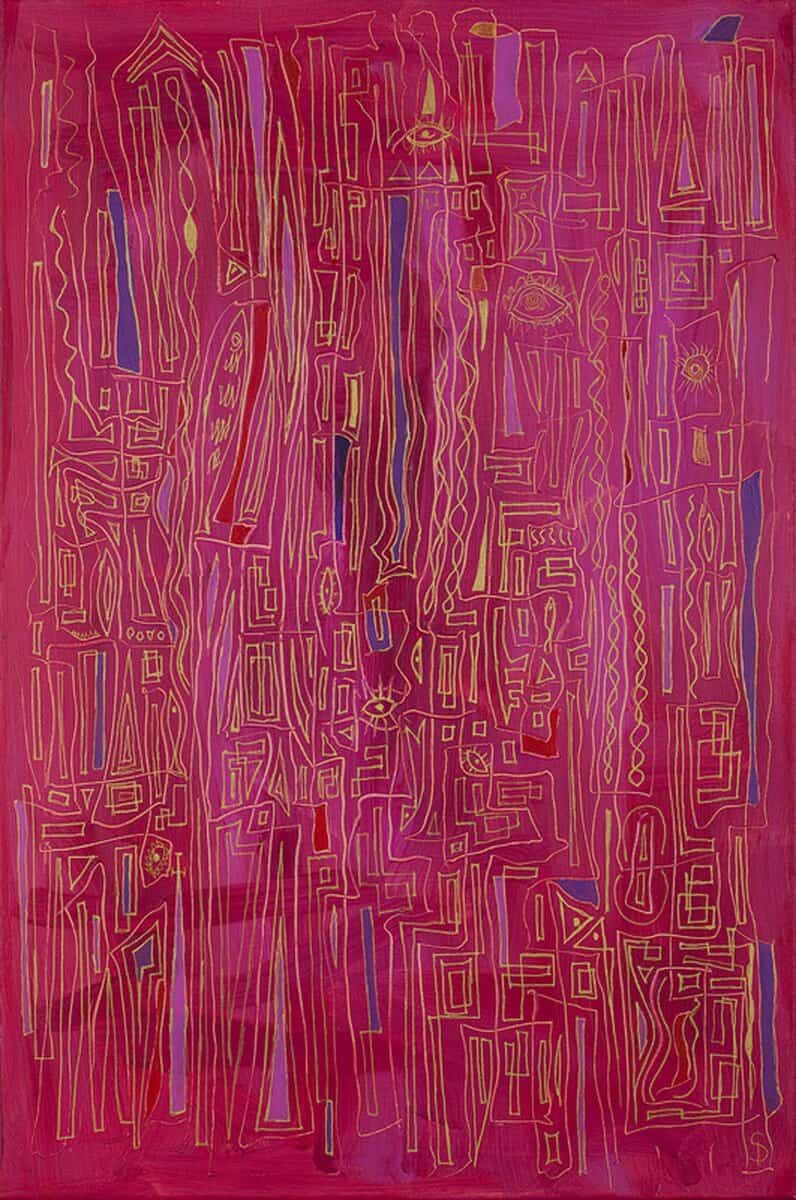 Exhibitions are a major source of inspiration and ideas always bubble up after a good one! But inspiration also comes from just looking around me – a crack in a door, decay, rust, finding things in skips and or a walk on beach and finding driftwood. Art is all around me. When I paint sometimes my ideas evolve in a way I had not expected.
Inspiration, ideas and techniques sometimes come from other artists, but I like to reinterpret and develop in my own style. I'm always looking for a new perspective, it is this that motivates and pushes me forward. It was always the same with process with music.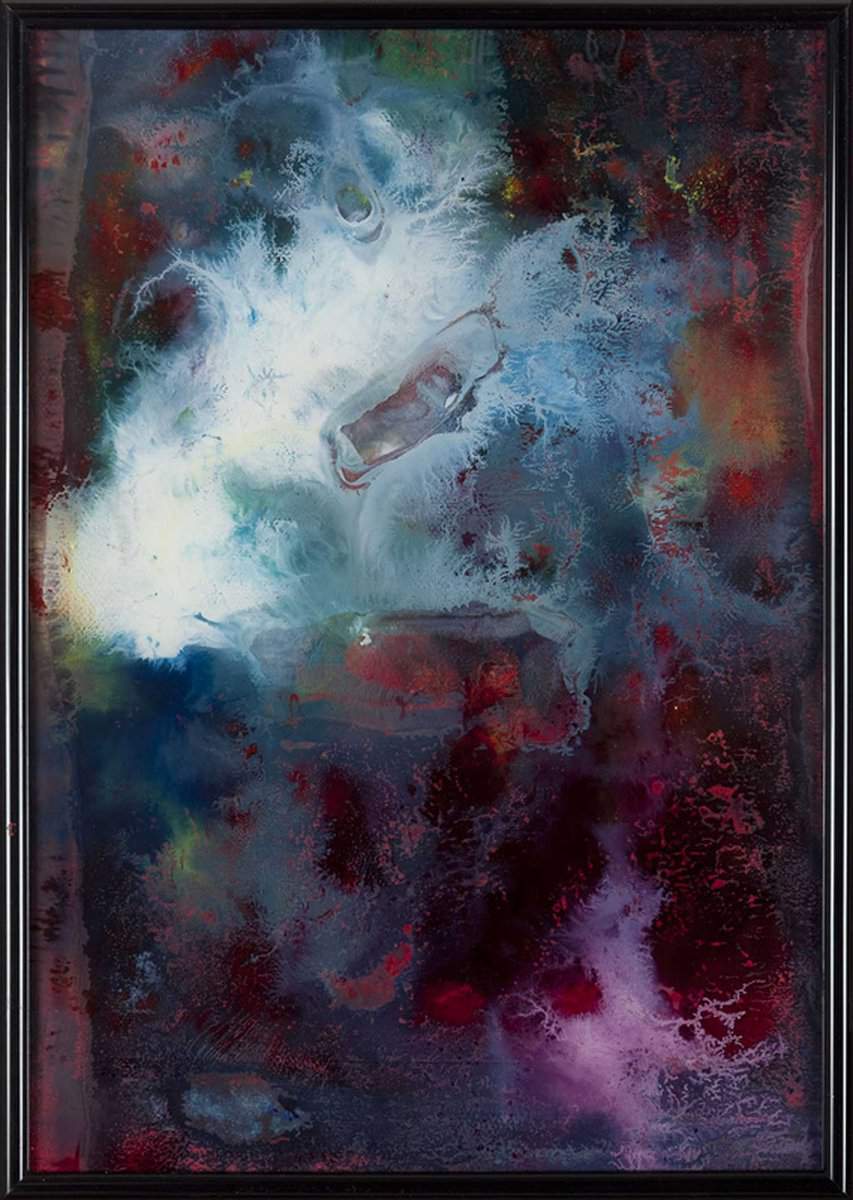 Ideas seem to bubble up especially first thing in the morning. That bit of the consciousness that is half dream – dosing – sleep, half being awake, I often find myself scribbling notes or sketching things on scraps of paper, before I'm fully awake. Then I dart down to the studio with a basic idea and get started. Once working on a canvas the idea very often takes it's own form and shape. I do experiment a lot with mixing mediums just to see what happens. For example mixing oil and water create a reaction with each other and the effect changes over many hours. Sometimes I leave the studio not really knowing what I'll find the next day.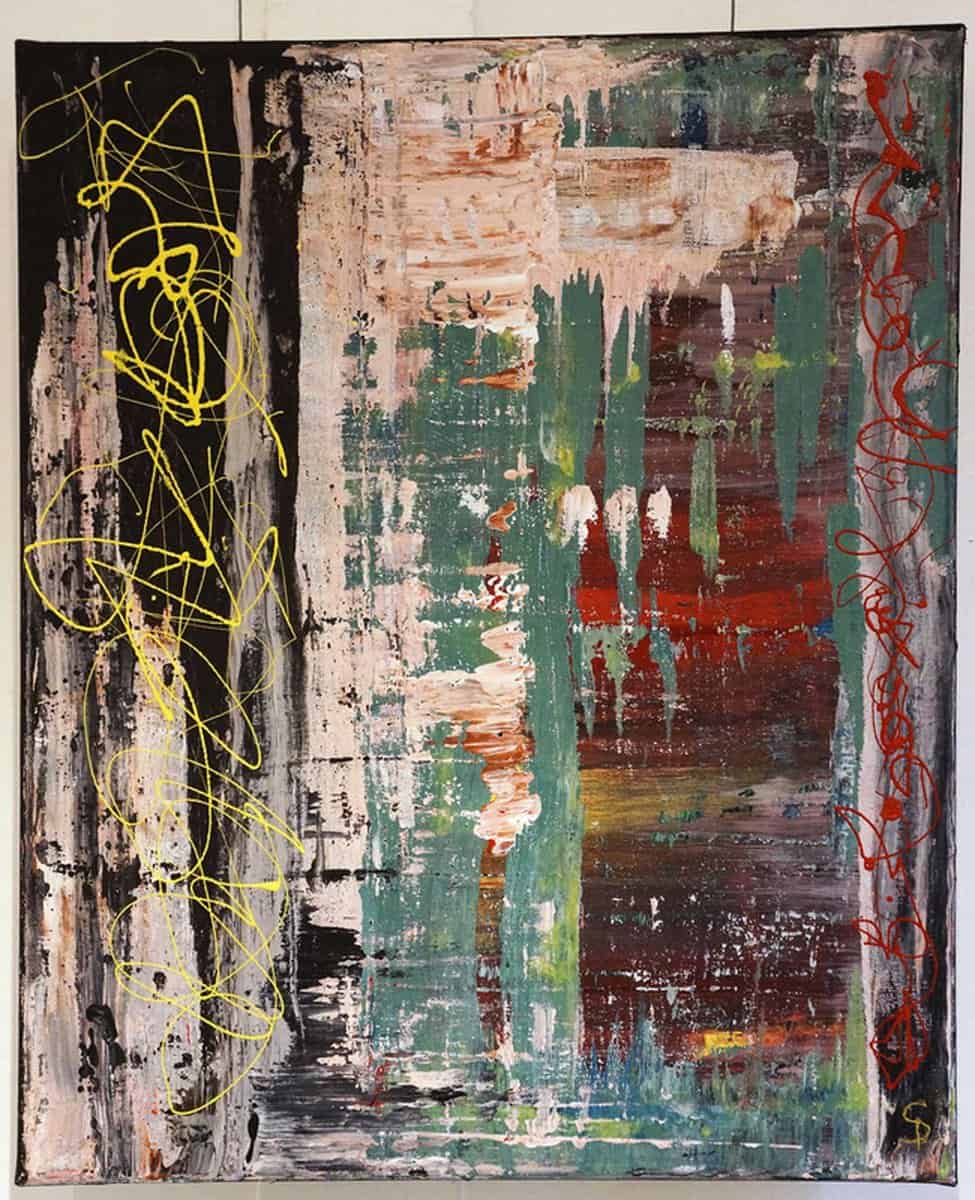 My process varies from moment to moment. I never really want to repeat myself, I'll do a series of works on an idea then I'll move on to the next. I use oils, spray paint, acrylic, emulsion, gloss paint, enamel, graphite, biro, felt tip, material, net curtains, dust sheets, glue, a lot of glue. You name it everything is allowed. palette knife, brushes, scrapers, water spray, dribbling paint. It's all an experiment!
I have a lovely studio on an Island which is Brentford's little secret. I like to get there at about ten in the morning, drink coffee, get going. A lot of the work I do outside due to the spray paint, wearing a gas mask. I do work alone but I enjoy the community on the Island, the banter, the sharing of a glass or two! I generally do five to six hour days. I like to do three to four days a week. I also dabble a bit at weekends. I just can't wait to get down to the Island to get started, I love the smell of oil paint in the morning. Ideas bubble and burn.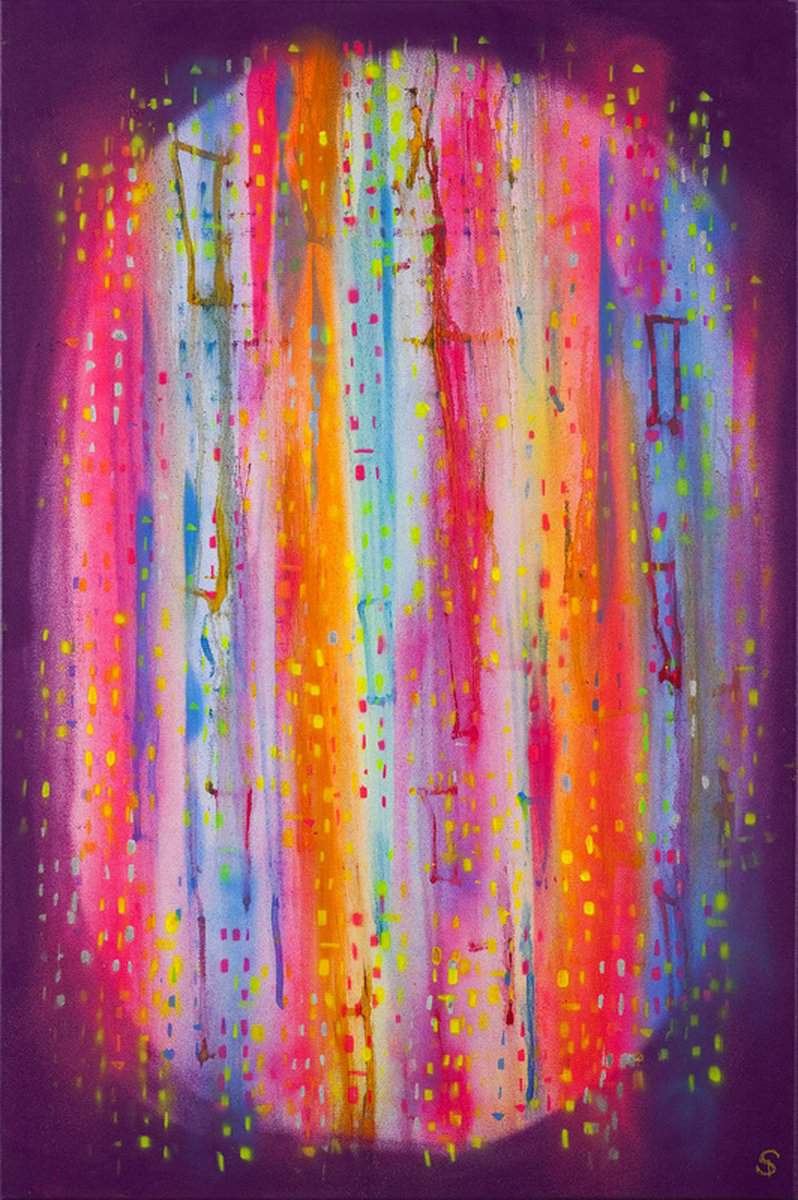 It's great to earn a living doing what you love. I'm a very lucky person, I guess I have been all my life. Although earning money can at times be challenging. I love exhibiting, getting my work out there. I do what I love to do with a passion and if people like it that's great. If they don't I'll just keep going. It's not so much a career but careering through an avalanche of ideas.
I have an exhibition coming up at The City Fox Gallery in Maarsten, Netherlands on May 1st-3rd. Another one on Johnsons Island on May 8th-10th. Then there's the open weekend on Johnsons Island on June 5th-7th. I have just been offered to exhibit at the New Artist Fair at our 'Summer Exhibition' Truman Brewery, 4-6 September 2015. If anyone is interested in seeing my work just come on down to the exhibitions and take a look.
Learn more about Sam on his website.