After working in illustration and licensed characters in New York City, Gabe Ostley moved to Hong Kong to the post of Artist-in-Residence for Yew Chung Education Foundation. He now lives in Portland Oregon with his wife and two sons.
Compare prices for graphic design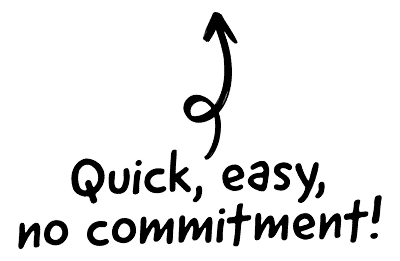 I love drawing comics the most, so I tend to work with writers who pitch projects to publishers. Hopefully most of the writers pay. When they don't, I chase after illustration work, and the odd web design/ graphic design job. I've recently started freelancing for a t-shirt/print company as well.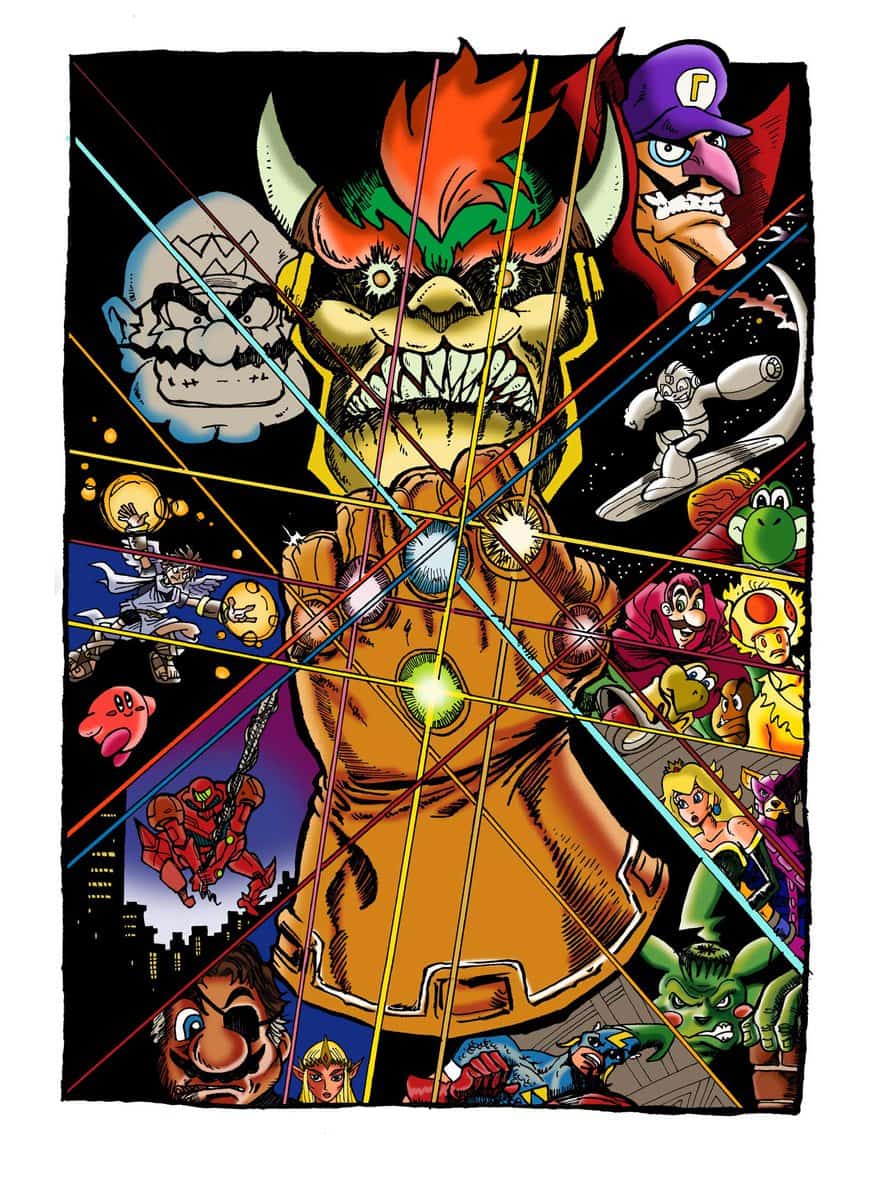 The CRM platform to grow your business
Great for entrepreneurs
Powerful data analytics
Manage sales and data

Seamlessly connect data, teams, and customers
Cutting-edge marketing
Ideal for teams or solo use
Measure sales conversions

Powerful web builder and advanced business tools
Great for startups
Powerful web page builder
E-commerce available

Supercharged content planning
Great for marketing
Better than lists or sheets
Manage social media

Create a new website in 10 minutes. Easy.
Launch your website fast
Powerful data intuitive
No coding skills needed
I think I've always loved making art. Some of my earliest memories involve the joy of making characters out of paper, and loving them more than any store bought toy because I MADE THIS. 🙂 It was the original Conan movie and the Tim Burton Batman films that got me into reading comics. Then I was constantly drawing comics throughout middle school and high school. Savannah College of Art & Design made a presentation at my high school and I was bowled over with the idea that one could go to college to learn how to make comics. It took me awhile to get there though.
I did editorial illustration and cartoonist jobs for my high school paper and later at University. I drew caricatures at theme parks and graduation parties around Minnesota. Finally, I got my act together and drove down to SCAD. After graduation I spent a year in NYC doing freelance licensed children's book illustration and indie comics. Then moved to Hong Kong with my wife, where we spent a few years working for international schools as artists-in-residence. We moved back to the USA last year, and have been pursuing full time freelance work ever since.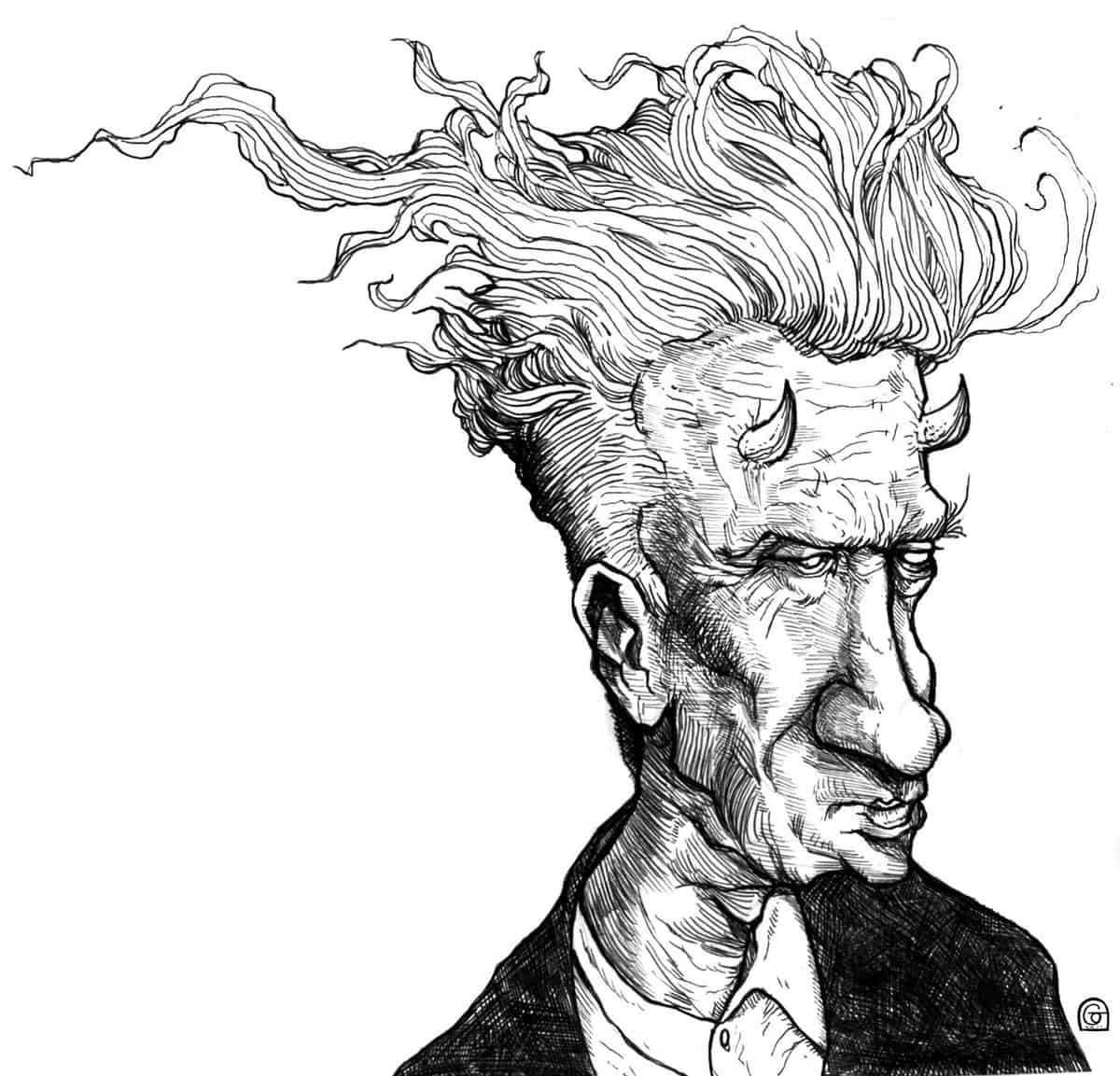 Recently I've discovered that the more things I like, the more I'm inspired. It seems simple enough, but it took me a long time to figure that out. So I try to maintain a spirit of wonder and curiosity about everything. I read a lot of books, I watch a lot of films, listen to music, everything. Documentaries are great for sparking new interests.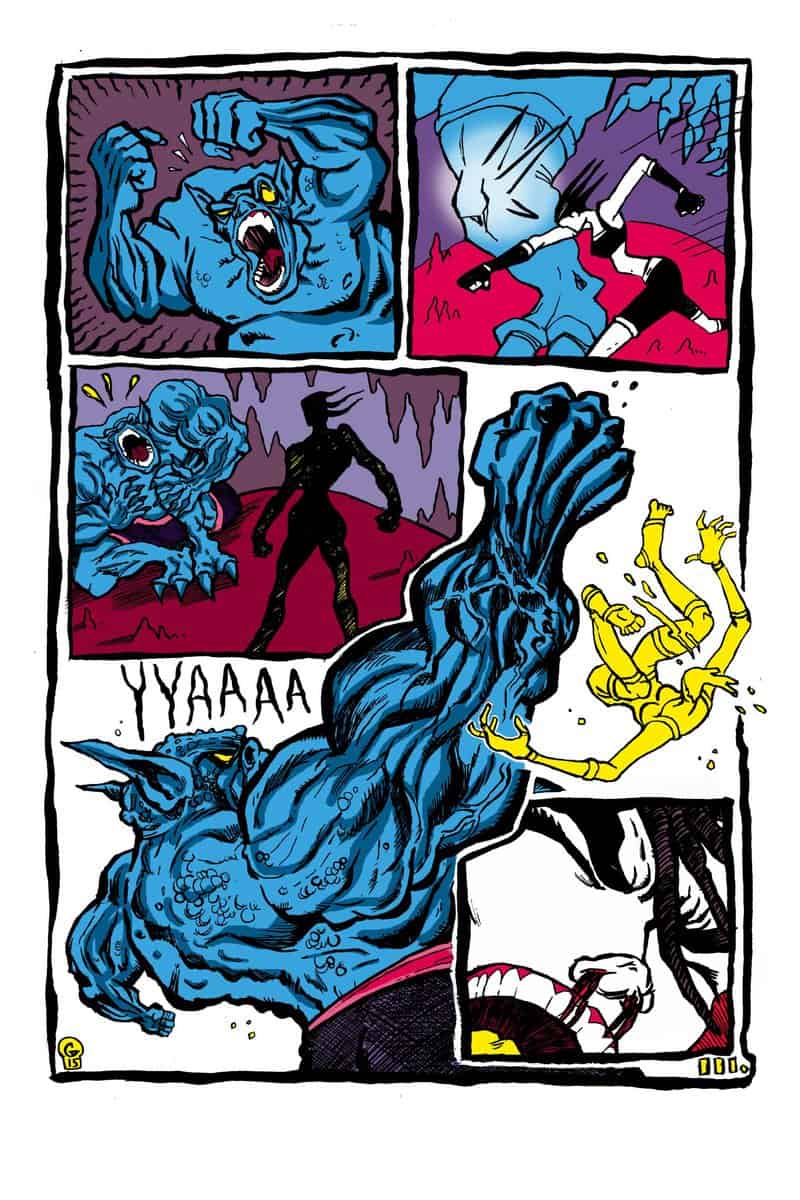 There's a ten year old boy inside of me who is a vicious boss. I have to please this maniac, or he won't let me rest. So I start from there. Then it's bic pens and non photo blue pencils at my desk. Lots of image searches on the laptop. I'll also grab whoever is around and get them to pose for me. I prefer drawing at my desk, and then scanning it in and cleaning it up in Photoshop.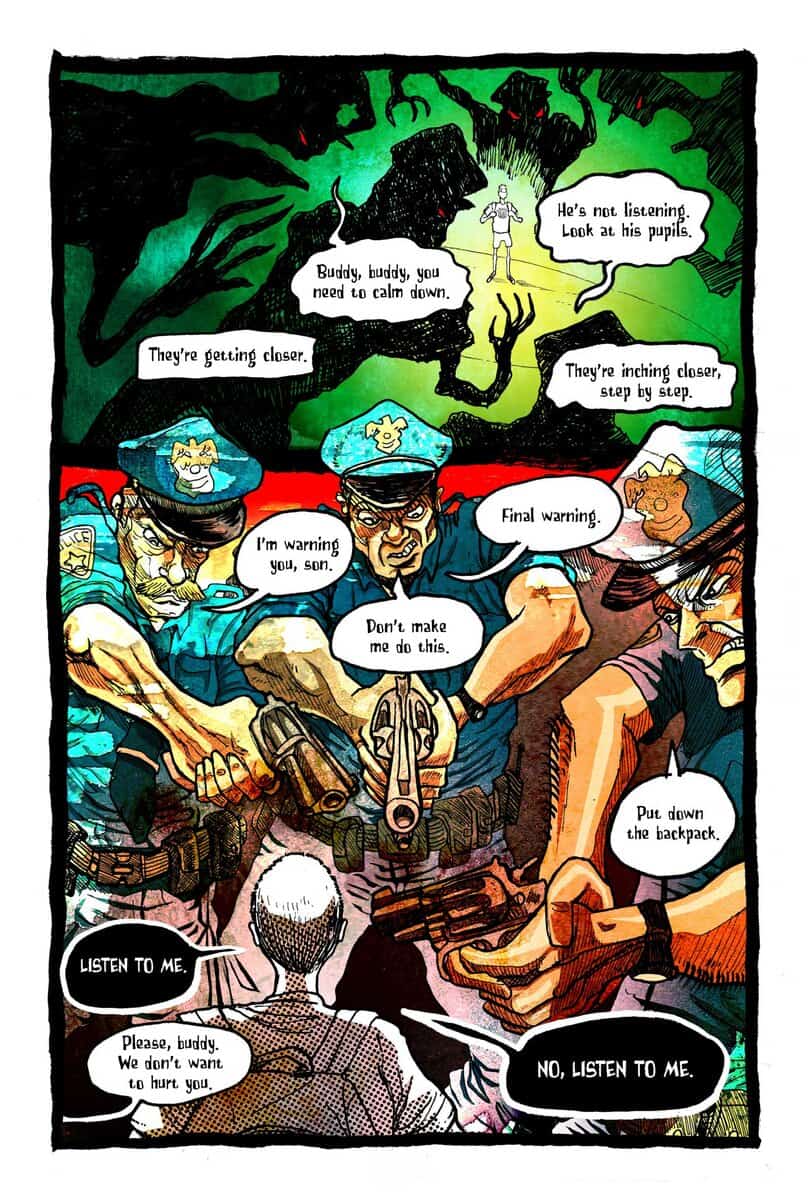 My favorite materials right now are the Pentel pocket brush pens. This tool has changed my life. It's all the versatility of inking with a brush, but with none of the messy dipping hassle. I also use gel pens, mechanical pencils, Prismacolor pens– really any kind of unique pen I can find. I do most of my color work with Photoshop. I'll also scan in some watercolors and use those as filters on my linework. Or I'll beg my wife to get her to paint it for me. I love working on Bristol board. And having a light box is key.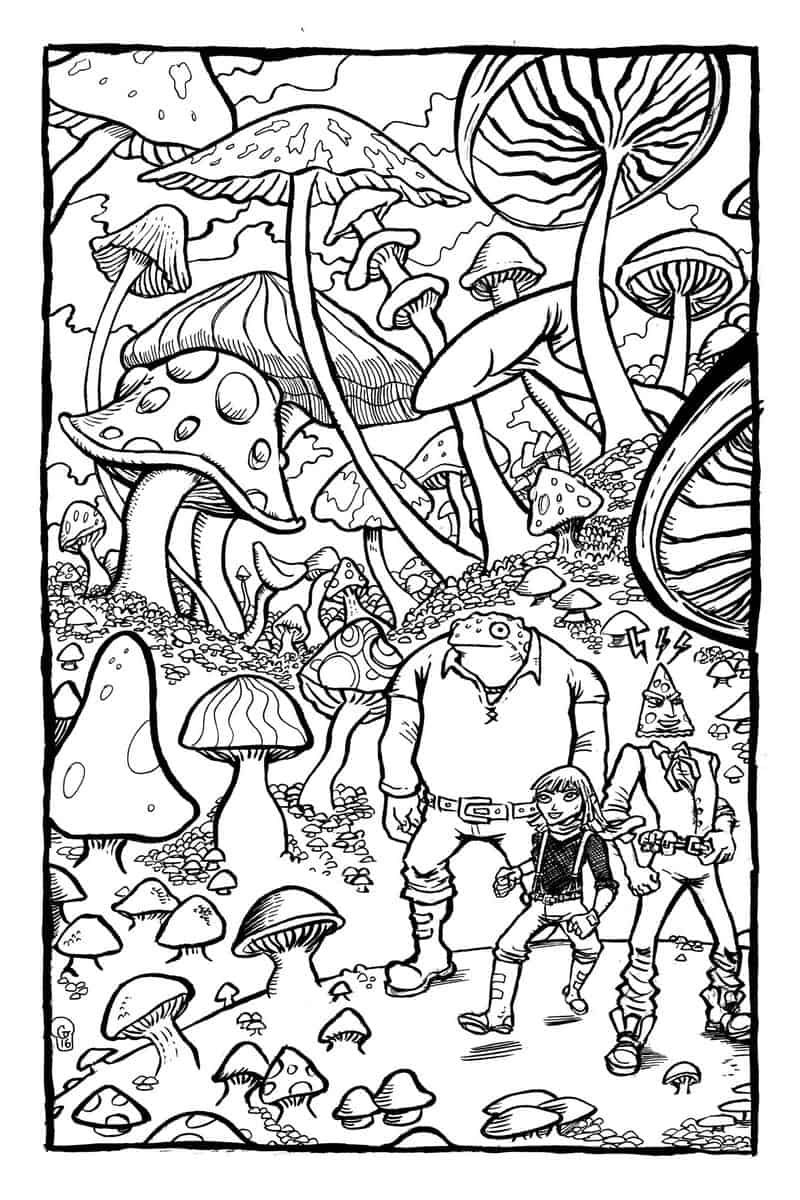 My wife and I are both artists, and we work from home wherever we can find space. I have a desk surrounded by books and comics and blu-rays, (and toys!) and I try to barricade myself in there for my 8 hours a day. My wife paints, so we've converted the garage into a studio for her.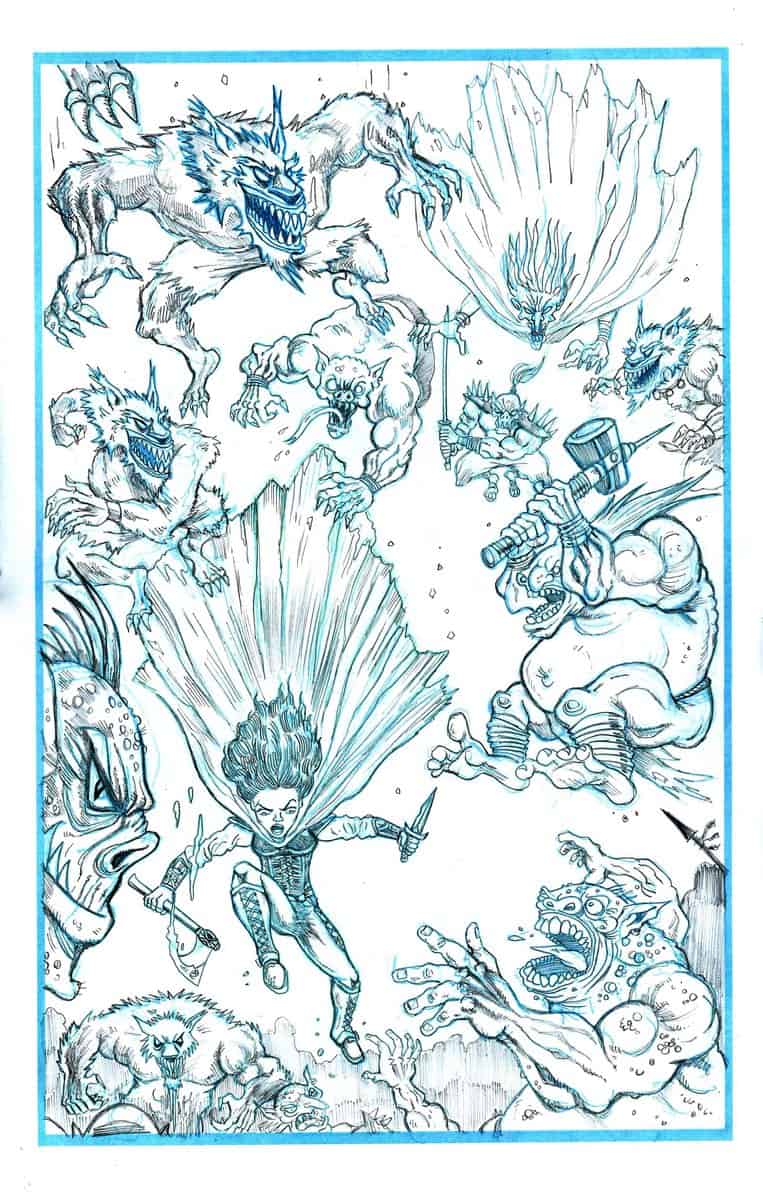 I've worked in busy offices before, and there are some things I miss about that. But I love getting the time to completely focus on my work with no distractions. Working at home gives me that– although there are still distractions. Thanks a lot Youtube. I also like working with people all over the world through the internet. We live in very exciting times.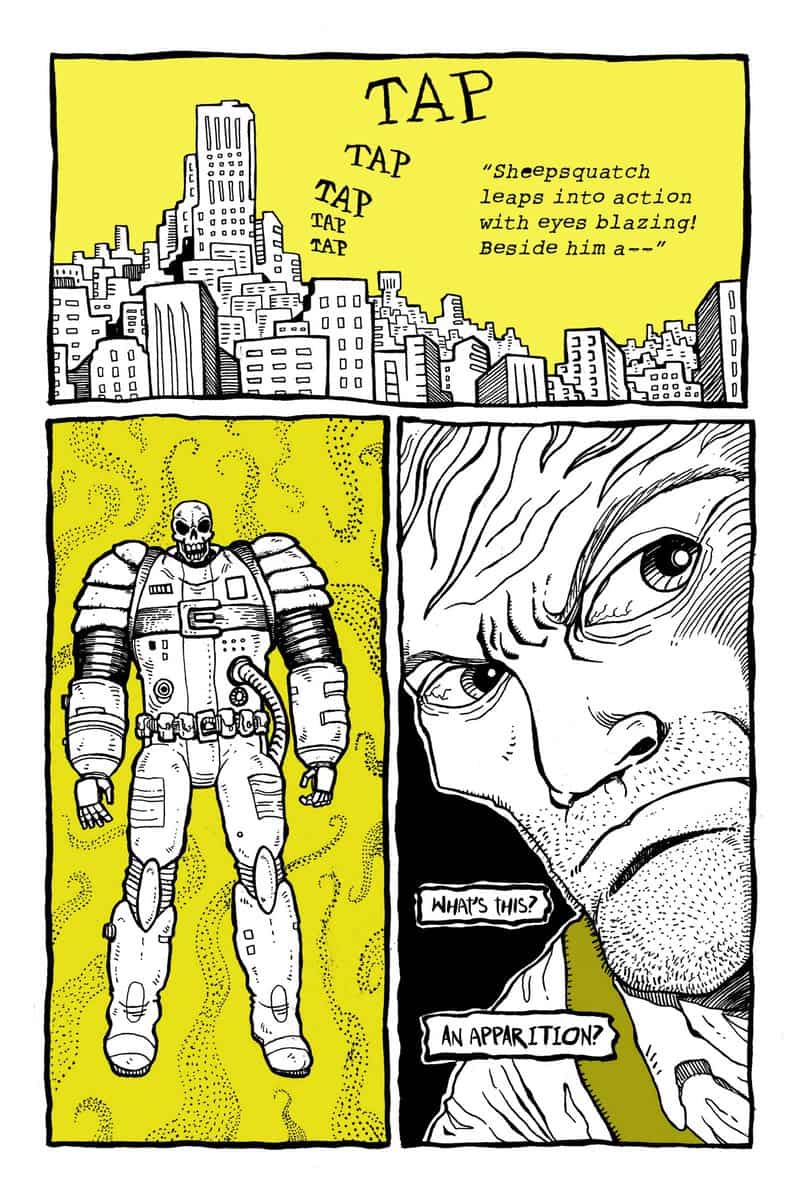 I want to keep collaborating with driven, passionate people. I also want to be known for certain things, a certain style. I'd like for people to say, "Oh you need that? He's the guy to go to for that!" Ultimately, I'd love to create a character or world that long outlives me. Something that inspires others the way I've been inspired by the great masters. Something that makes people geek out and dress up as at conventions. I'd like to have Frank Miller's career, please?
Learn more about Gabe on Deviantart and Instagram.