Since graduating from Central St. Martins in 1996, Joel Clark has always worked within creative industries – mainly as a Creative in advertising. This enabled him to work in London, Melbourne and Dublin, before returning to London. It was while still freelancing as a Creative Director that Joel had the breakthrough moment on how to utilise vinyl as a medium – an idea he'd had since first learning the skill of hand cutting vinyl in his first ever job, back in 1990, at a Silverstone based sign company.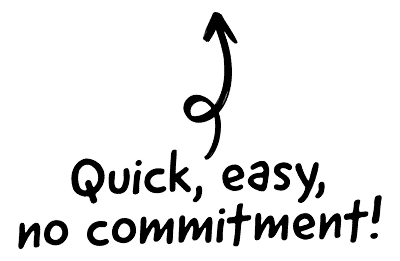 My client base is split between two different audiences: those that like my 3D sculptural 'fine art' work and those that like my 2D automotive art. Though I find that both markets tend to commission work, rather than buy existing pieces. Private clients – especially for the automotive art – usually have a collection of cars, or a particular era of motor racing they would like depicted in my hand cut vinyl, and the fine art/pop art side of my work is more likely to involve working with brands. The royal-appointed tailors: Turnbull & Asser being my most regular collaborator. On the whole, what money I do make (in this early stage of my career) is most likely to come out of commissions.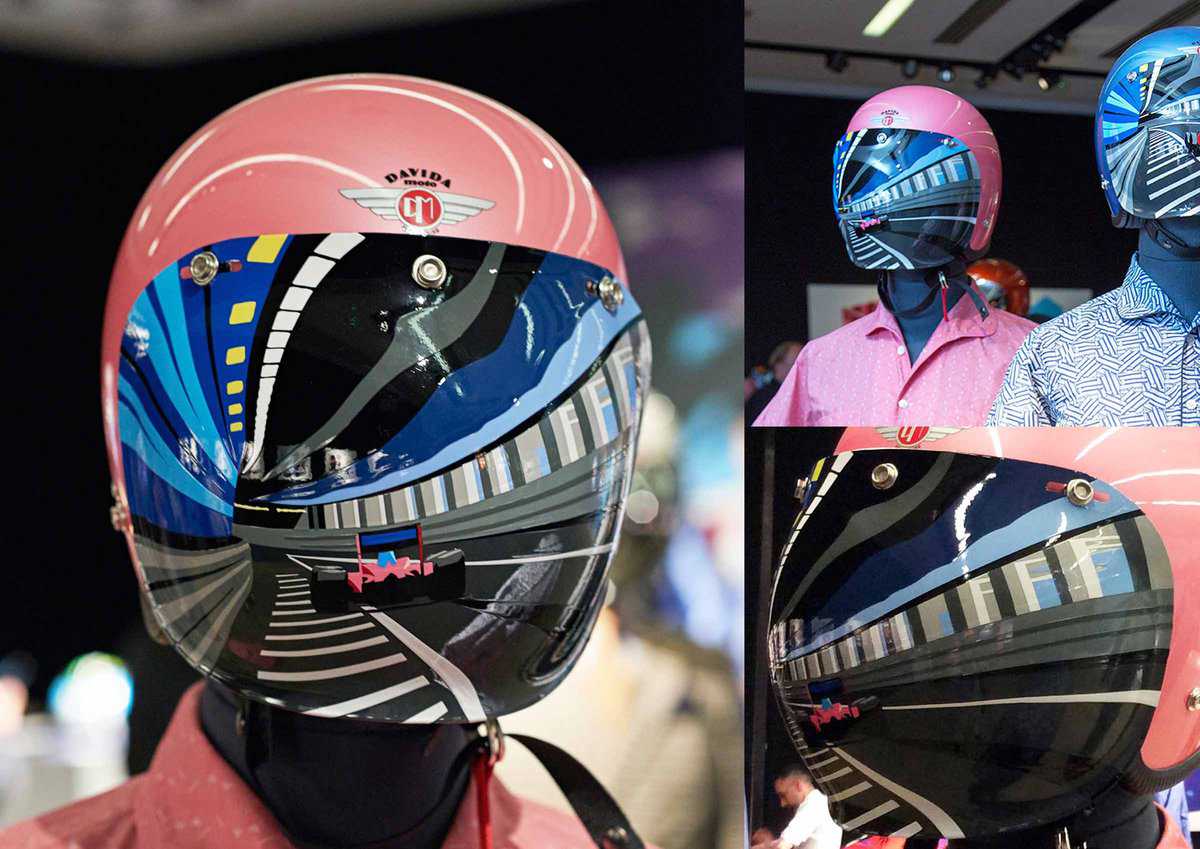 The CRM platform to grow your business
Great for entrepreneurs
Powerful data analytics
Manage sales and data

Seamlessly connect data, teams, and customers
Cutting-edge marketing
Ideal for teams or solo use
Measure sales conversions

Powerful web builder and advanced business tools
Great for startups
Powerful web page builder
E-commerce available

Supercharged content planning
Great for marketing
Better than lists or sheets
Manage social media

Create a new website in 10 minutes. Easy.
Launch your website fast
Powerful data intuitive
No coding skills needed
The idea behind my work – of using hand cut vinyl – goes way back to 1990, when upon leaving school I took a job with a sign company in Silverstone, where, I designed and created vinyl stickers for racing teams based around the circuit. It was here I learnt the skill of hand cutting the vinyl and thus, the seed was planted. I then left the job after a few months and went on to art college for six years – culminating in the newly formed advertising course at Central St Martins.
Thereafter I worked as a Creative in above-the-line advertising for the next seventeen years… though I always had the idea of 'using vinyl' as a medium at the back of my mind. Plus over the years I would always cover my motorbikes in my own designs. It was then in late 2013, after just about having had enough of Adland, that the seed planted all that time ago finally began to shoot. It couldn't have been better timing, as without wishing to sound clichéd, I was in a situation where I did not know what to do with my life. My advertising career had become to distressing to carry on with and I genuinely didn't know what to do next! At this moment the idea of carving a career as an Artist seemed absolutely preposterous, but knowing I had a unique USP (apologies for the ad-speak) in using vinyl, I decided this must be the time and opportunity to go for it.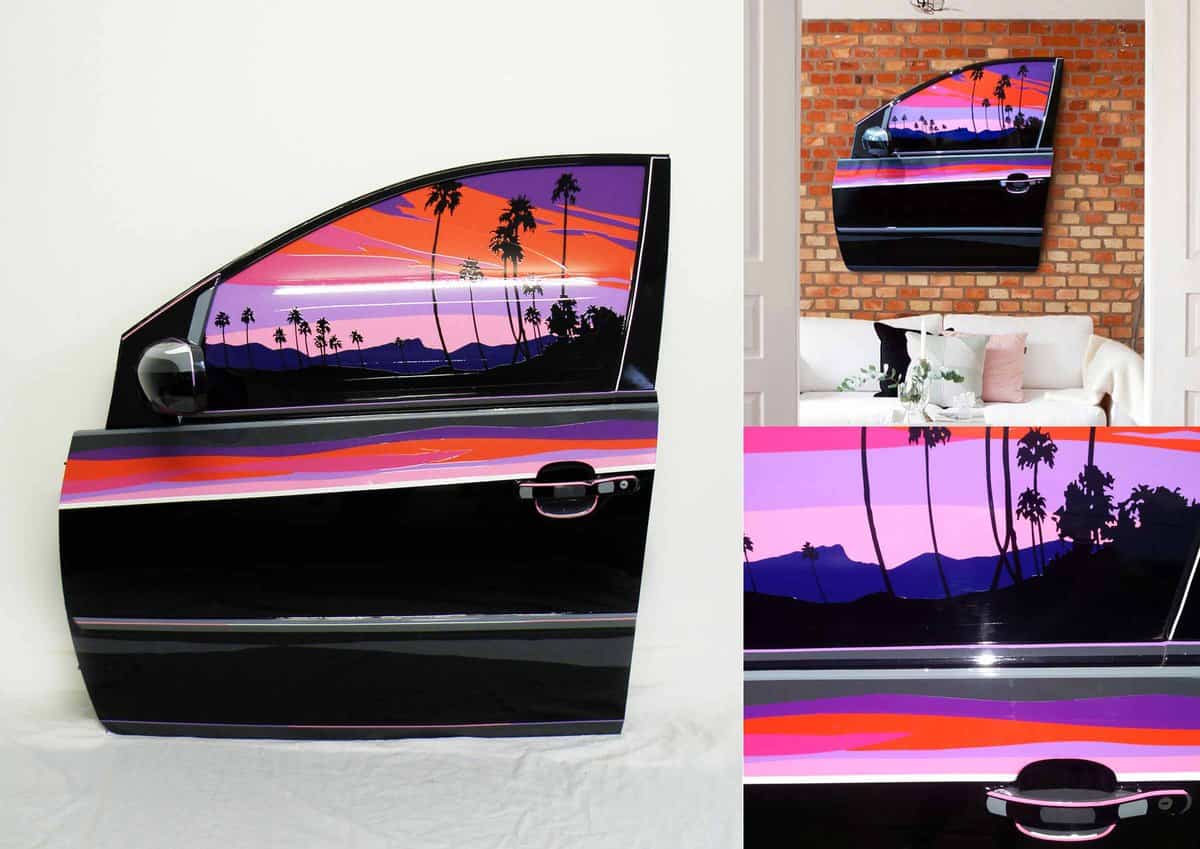 The biggest lesson learnt so far, and this mostly relates to my experiences in advertising, is just to trust my own taste. During my career in advertising one constantly had to compromise ideas to satisfy, or please, an ever increasing amount cooks for one dish. Although I still have the fear installed within me, that a client will ask to change this, change that or completely re-write the brief. So far only one has. This of course builds and strengthens the trust I have in myself to go with what I think works best. Another lesson is not to expect, but to just wait and see, if you make any sales at art shows!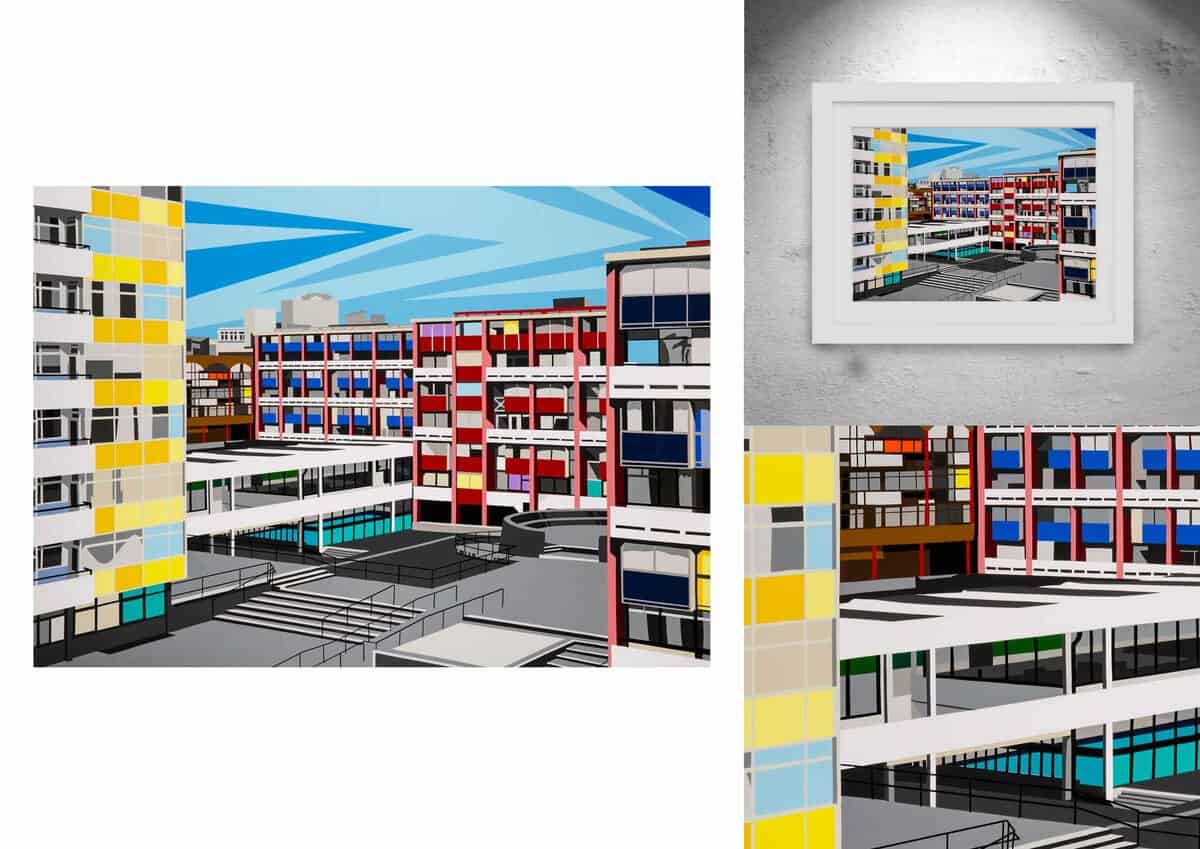 Being so early on in my career as an artist, I'm fortunate enough that ideas come thick and fast (plus I've had enough practice conceiving them in my old job). Going back to the previous answer, I rely on trusting a gut instinct. If an idea or brief immediately conjures up images in my head of how it will work, then it's a winner from the off. If however it takes a little time to work out how best to do it, or end up with 10-15 options, then it's never going to be totally right.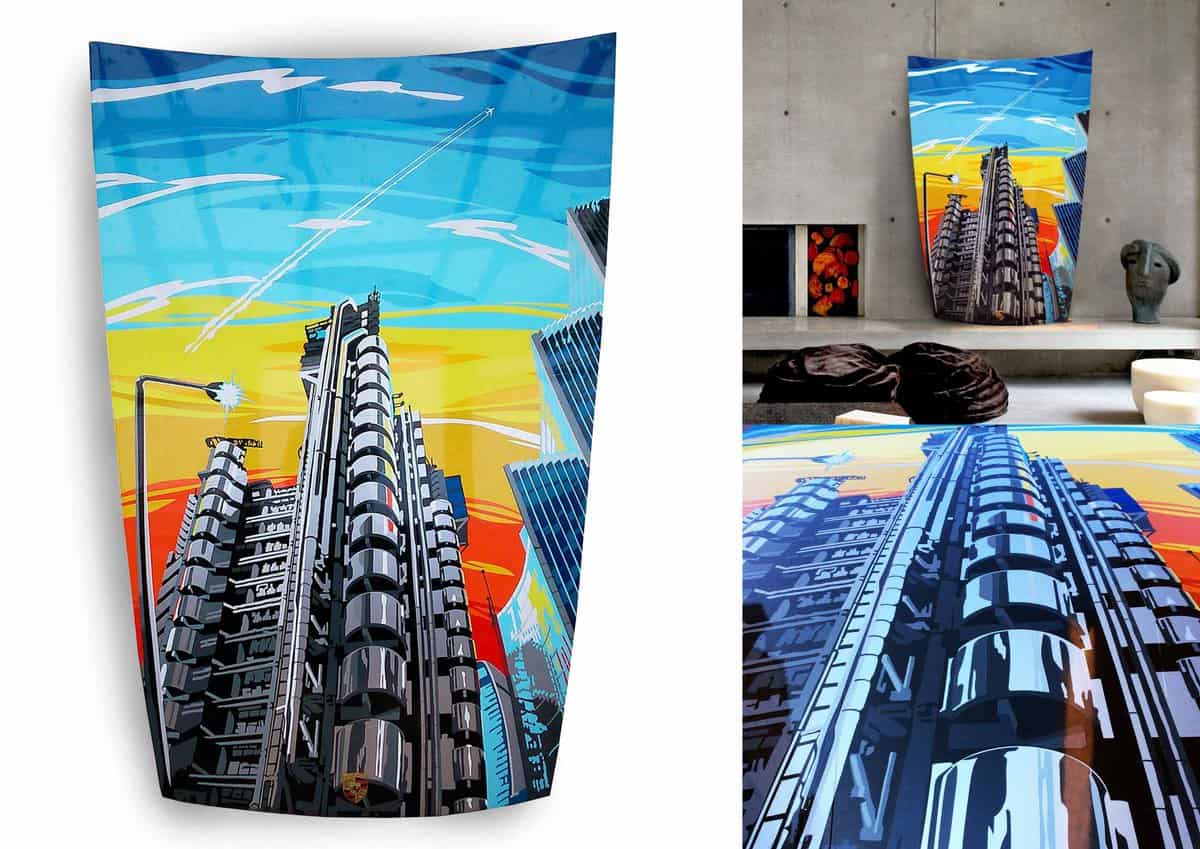 Within a creative team, my writer and I always knew when an idea smashed the brief and the campaign would pretty much write itself. Those same butterflies-in-the-stomach still arise when I know I have made a good piece. The process of then creating the actual artwork involves working from a photocopy of the image I have photoshopped, breaking down that image down in to blocks of colour and then proceed with cutting each shape of colour from sheets of vinyl. I stick the photocopy on to correct coloured piece of vinyl, cut around my guidelines and then apply the hand cut shape to whatever surface I'm applying the image to. The picture is then built up very much like a collage – sometimes creating multiple layers of vinyl.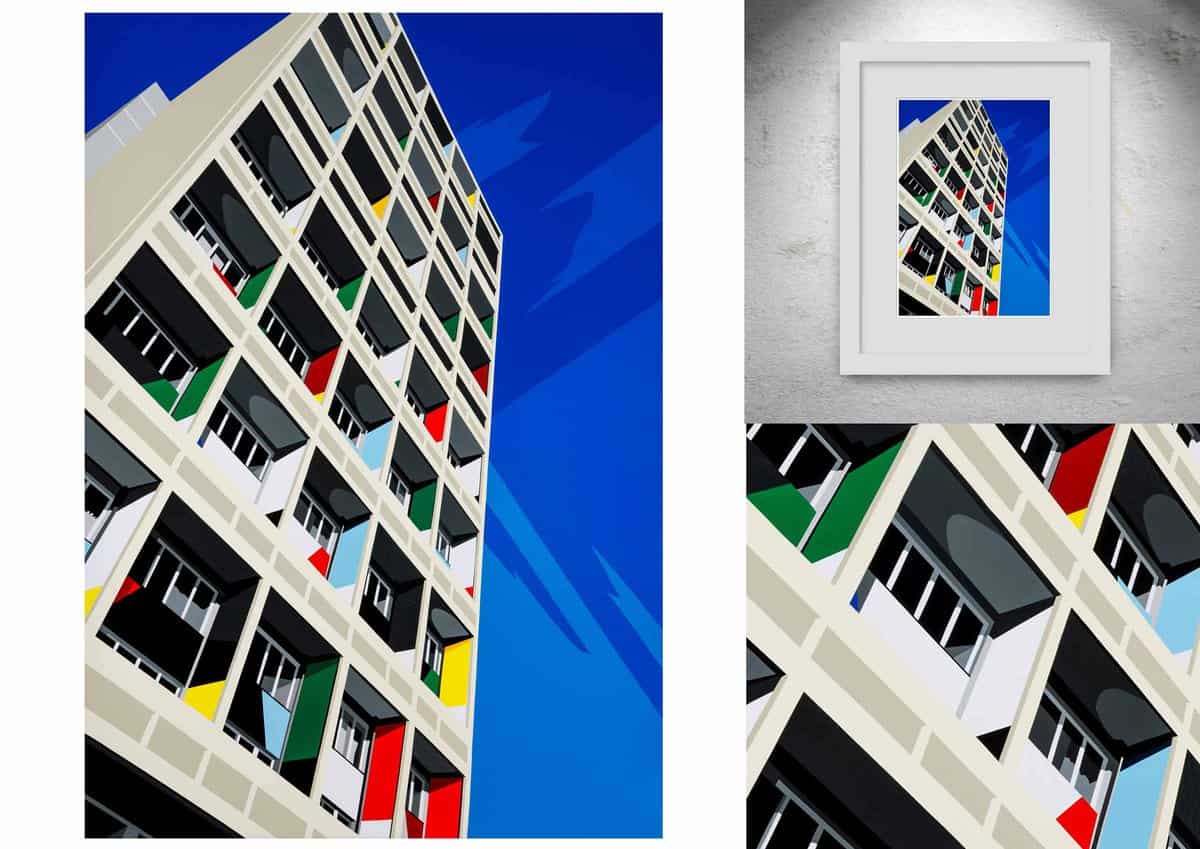 There is one final procedure when creating the 3D works, and that is to get each piece professionally lacquered with clear-coat. This gives the work a deep sheen and of course protects the vinyl too. So my only materials consist of rolls of different coloured vinyl, a photocopy, masking tape and of course a scalpel! (I will, on only very, very rare occasions use a ruler to tidy up a line, primarily when working on my recent architecture collection). My canvases however, constantly change. From mountboard or Perspex, through to car doors and crash helmets, whatever I can apply the vinyl to is up for consideration.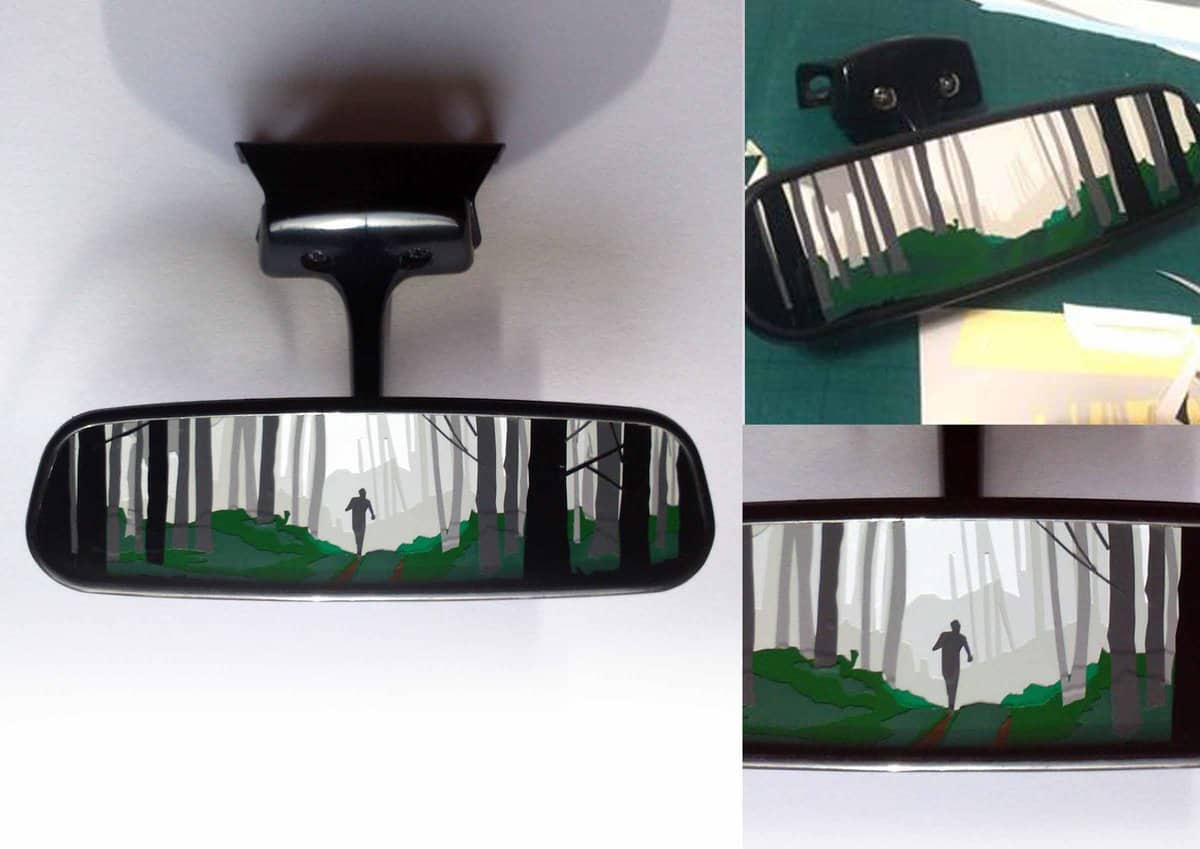 I took on a studio this time last year – after moving from the spare room – and now being based out of London, was able to find a vast space, only a ten minute walk from home. However, with chance of a different plan of events in my personal life beginning to happen, I have temporarily converted my garage in to a studio and currently in the process of moving in there. So now it's a ten second walk to work! I relish being able to work alone, which again is a result of having to work with so many opinions in my previous career.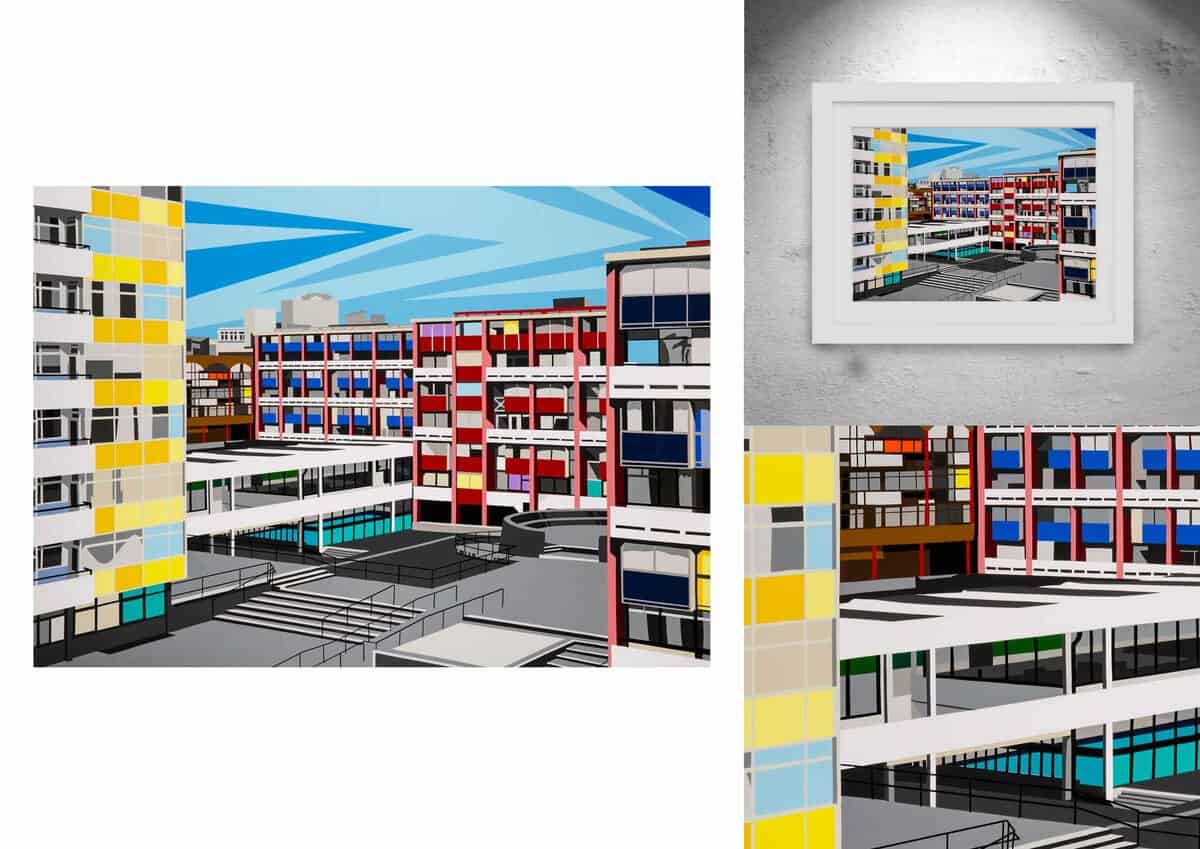 My daily routine obviously varies on my workload. If on a commission, that will take 100% of my time – usually to ensure I get the work done as soon as possible, thus get paid quicker. If not on a paid job, I divide my time between PR – where I constantly look for new outlets in which to feature my work, or contact brands that I think would suit my style of work. Every day I remind myself how fortunate I am, to be able to pursue my dream, therefore I am very strict on myself when making sure I honour this by working the same hours (usually more) then I would in my old regular job.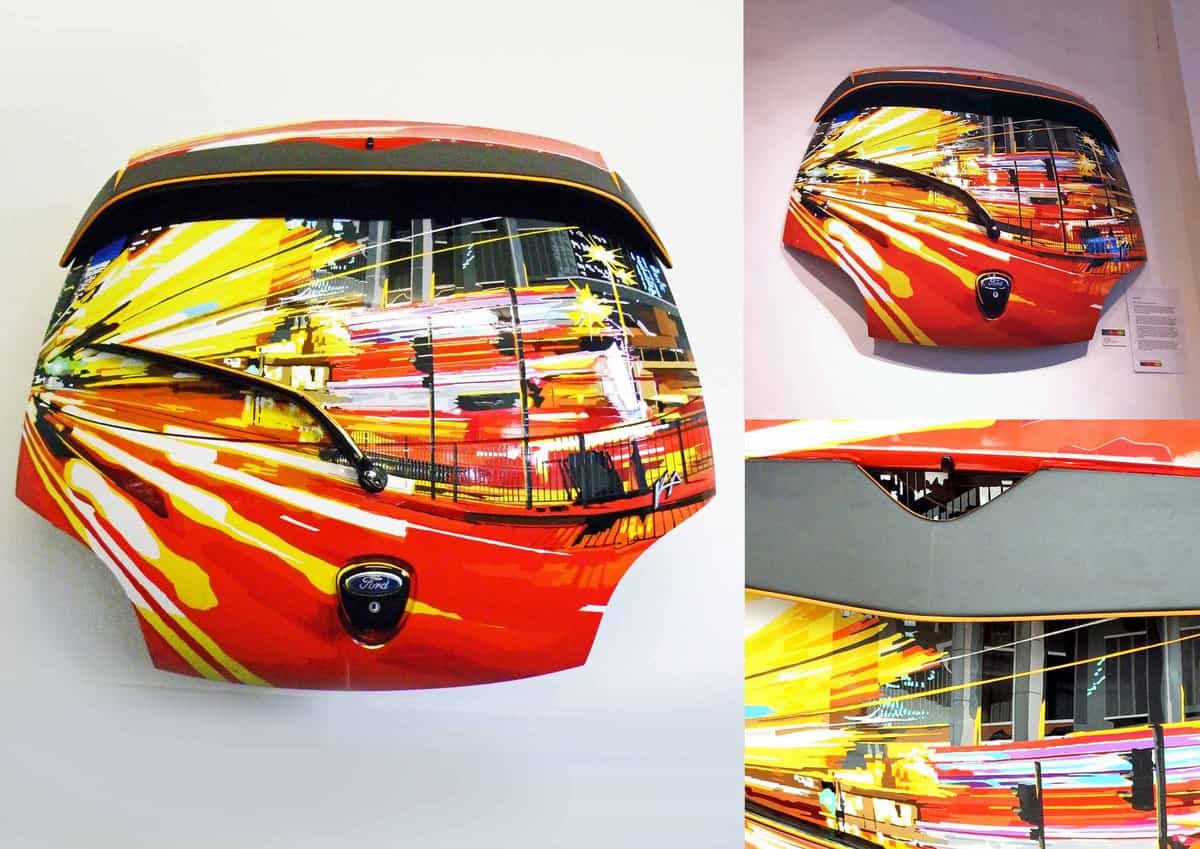 Having done it – or doing so – myself , I would always recommend someone follows their dream. But with one massive condition: You must have absolute belief in your idea. If I was to just use a conventional medium, I would never have gone for it, but with genuine encouragement from friends to help confirm that self-belief, and knowing I had a USP with the vinyl, only then did I go for my dream job.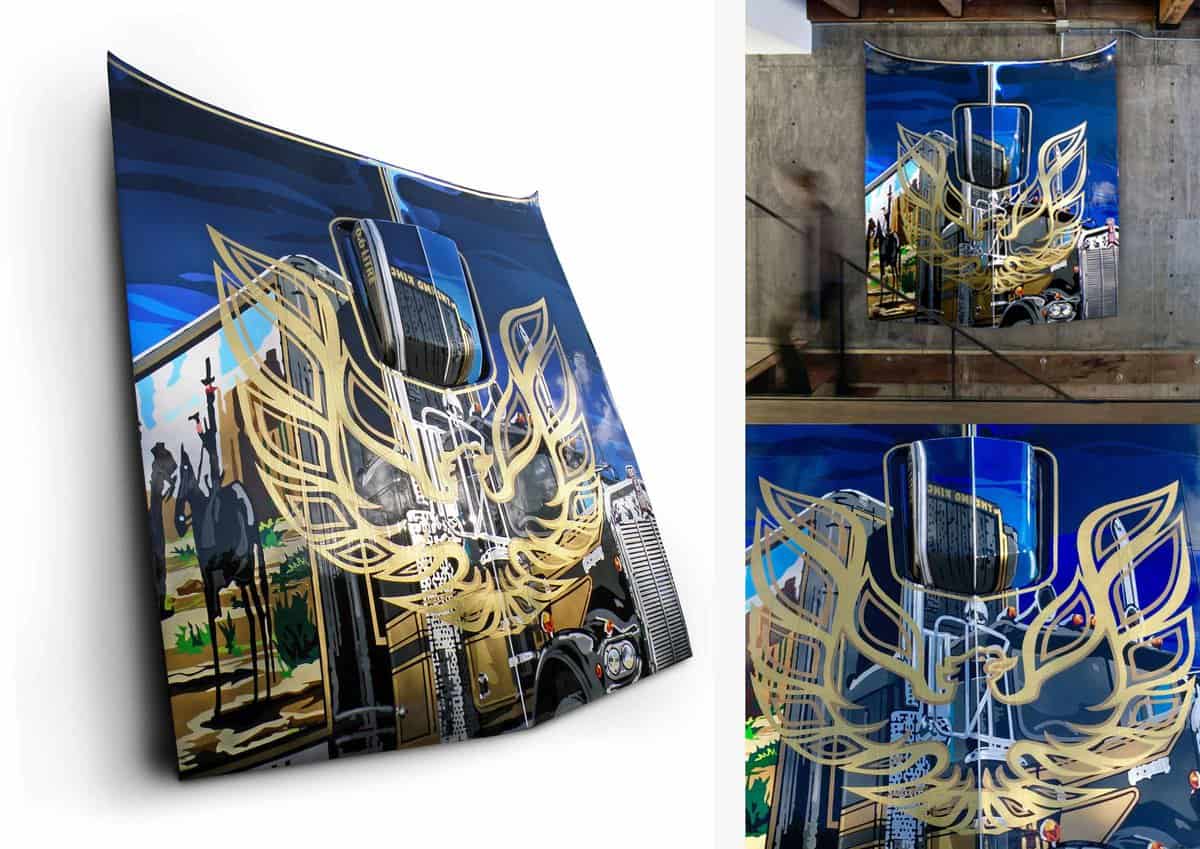 My long term goals are simply to be able to make a reasonable living from creating art every day. Anything on top of that is just a bonus. To make that reasonable living though, I want to collaborate with more and more brands. The exposure, alone, that advertising and marketing projects can bring will ensure that one day, I'll be able to pick and choose exactly what I want to make – and have a hungry audience for whatever I create.
Learn more about Joel on his website.