Leading audio brand Sennheiser needed design and development of a music player app to be installed in retail locations.
The project was a partnership between Sennheiser and London's Westfield shopping centres.
With Westfield's annual footfall of over 26 million, the app would be getting a lot of heavy use by visitors to the shopping malls.
The touch screen consoles were to be fitted to large armchairs made in Sennheiser-blue leather, so that shoppers can choose music to listen to while trying out a pair of Sennheiser Momentum headphones.
We were brought on board by a Sennheiser supplier who was to be assisting with the physical bits of the displays – the design and manufacture of the leather chairs, as well as the security of the headphones and iPads.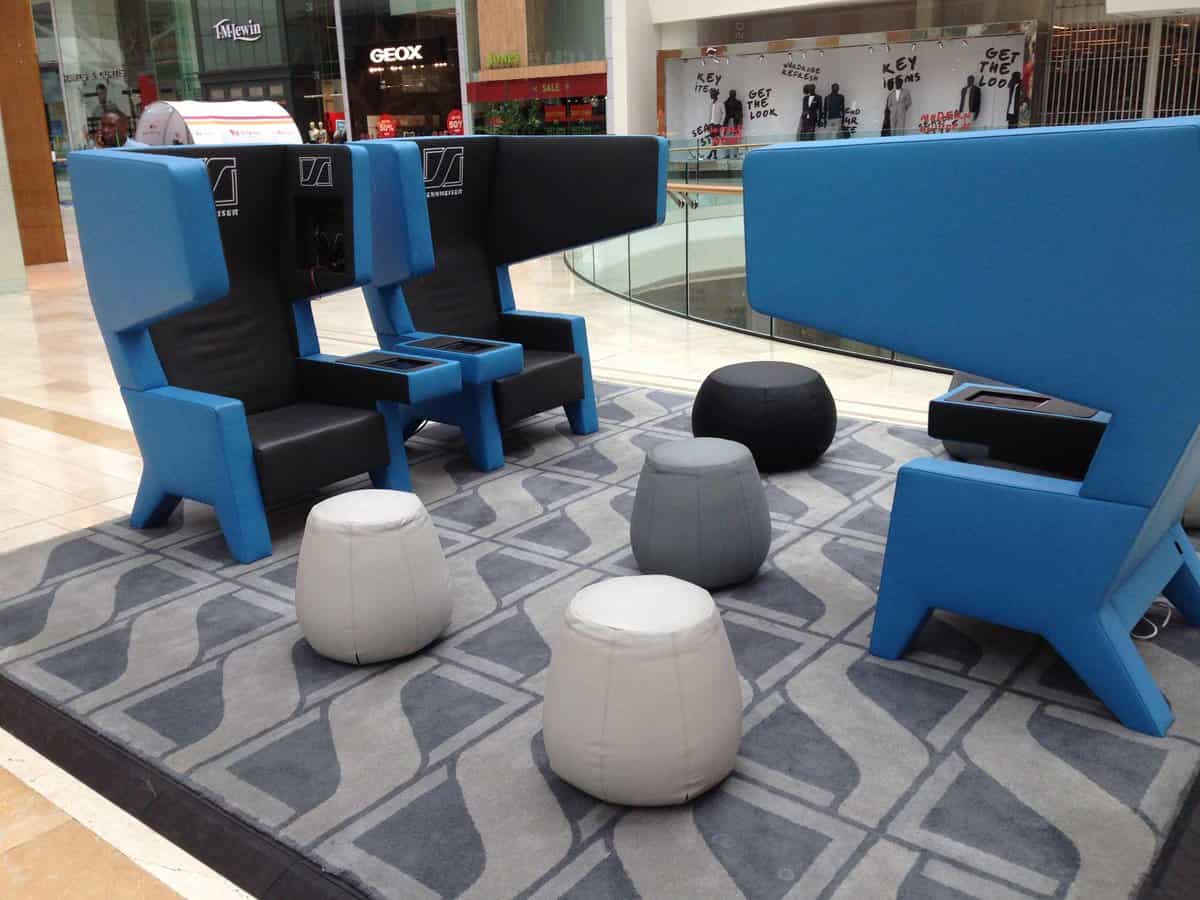 Our job was to design and build the iPad app from scratch.
The app needed to fit the Sennheiser brand, be simple and easy to use quickly in a retail environment, and allow users to listen to music while also being educated on the Sennheiser brand.
We started by doing some research on the visitors to Westfield, so that we could build a profile on the kinds of people that would be using the app. We learned:
Age breakdown
18-24: 31%
25-44: 51%
45+: 18%
Gender
So we knew that we were dealing with a fairly young user base that would be quite used to touch screen devices.
Design and build of a responsive browser-based web dashboard was also required, to allow the Sennheiser team to update the app content remotely. The app was designed to check for content updates overnight, and then download any new content when changes have been made by the Sennheiser team. This allowed the Sennheiser team to ensure that the app always contained new content for visitors, and the overnight update meant that the visitor's user experience wasn't interrupted during use.
We started the design process by creating an interactive wireframe prototype, to decide on the information architecture. After some back and forth with the client to refine the layout and functions, we then created the visual designs to agree on the look and feel of the app and bring in the Sennheiser branding.
It was also important that the iPads were completely locked down to stop users from leaving the app and using the iPads for other purposes. After some discussion with Sennheiser and the supplier, and some experimentation, we used SOTI, an MDM (Mobile Device Management) application to restrict the functions of the iPads.
16 displays were created, with 8 intended for Westfield London, and 8 for Westfield Stratford.