Any business with serious intent to make a mark in the 21st Century will have a social media marketing budget. There aren't many business managers who doubt the value of marketing.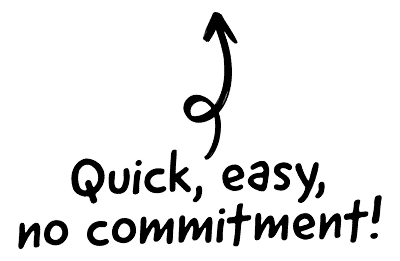 There is more to selling through social media than pay-per-click adverts, though. Influencer marketing is an increasingly popular – and appealingly priced – approach. But how much should you spend on influencer marketing? And how do you know where to distribute your influencer marketing budget to get the best ROI? Read our comprehensive guide to influencer marketing costs.
What is influencer marketing?
Influencer marketing has captured the imagination through social media, but in reality, it has been in operation for years. Think of influencer marketing as a more direct, unapologetic form of product placement.
At its core, influencer marketing involves convincing social media creators that enjoy a reputation as a trusted expert to discuss and promote your product or service. In theory, if the influencer discusses the qualities of your offering, their followers will be convinced that your brand is a market leader and seek you out.
Ask yourself – when influencer marketing worked on you?
If you cast your mind back – and you're honest with yourself! – you're sure to recall instances where influencer marketing made a mark on you. Maybe you watched a James Bond movie at the cinema and decided you wanted the same wristwatch as 007. Perhaps you saw a cast of TV characters dining at a particular chain restaurant and opted to visit the same eatery. You could have seen a character swooning over Julia Roberts' choice of perfume and thought you'd try that scent for yourself.
None of this was a coincidence. That watchmaker, restaurant chain or perfumer paid a small fortune to have their products featured in such a setting. This was product placement – but it was also an early form of influencer marketing.
Of course, the world has changed. In 2021, especially in the UK, strict rules are in place surrounding product placement. What's more, it's an expensive practice for brands. It's considerably more cost-effective to embrace influencer marketing on social media, especially seeing as vast swathes of a target audience are likelier to be swayed by online content anyway.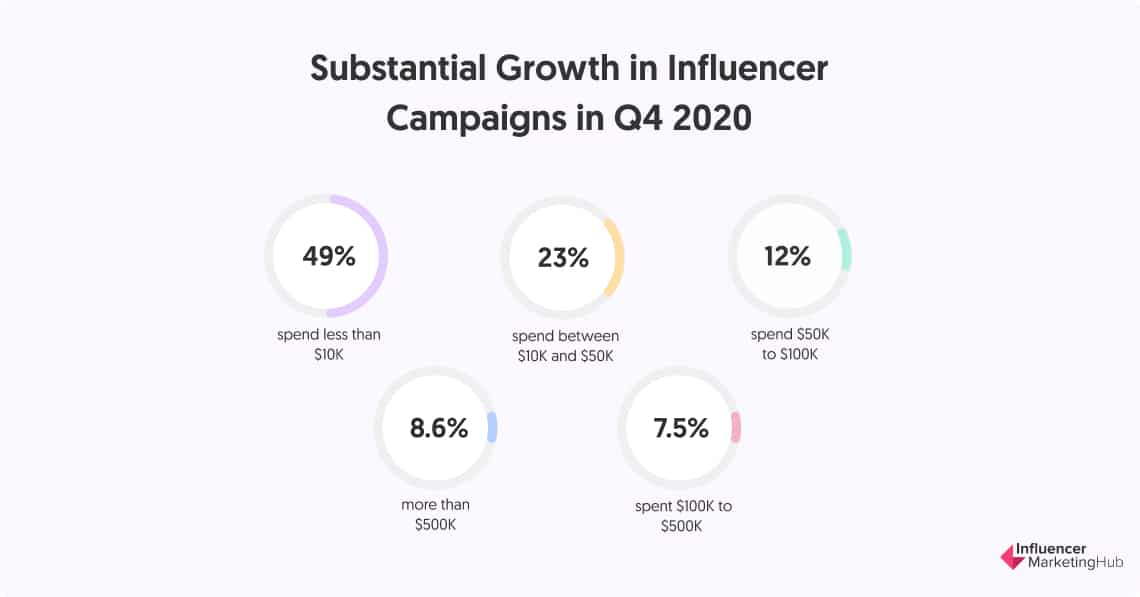 Why would a business spend money on influencer marketing?
There are two compelling arguments in favour of embracing influencer marketing. The first is simple economics – it's a simple, cost-effective way to improve your brand awareness. We'll go into this in more detail very shortly, but in essence, you can spend as much or as little on influencer marketing as you see fit.
Perhaps more pertinently, influencer marketing appeals to a younger audience. Trust in traditional advertising is low and continuing to slide. More youthful generations sometimes find it easier to believe claims made by a social media influencer than an advertising campaign. There is still room for both approaches. Just do not sleep on the potential afforded by influencer marketing.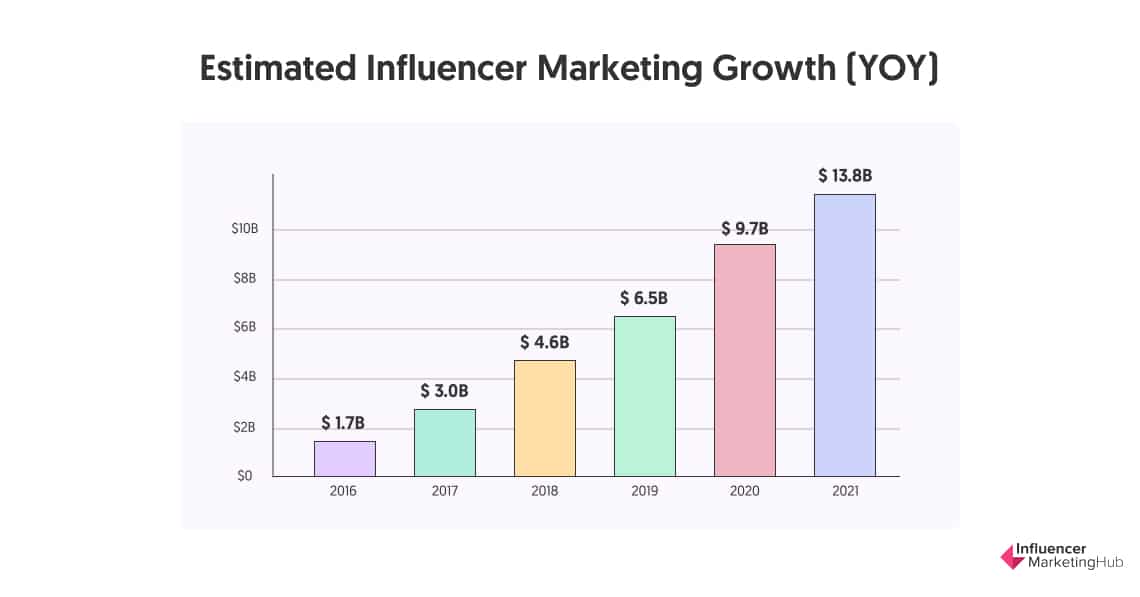 What makes a good influencer for your spend?
So far, this all sounds great – influencer marketing sounds like easy money. Of course, this is not the case. Not everybody can be an influencer, and it's essential to understand the difference between an influencer and a celebrity.
People watch the video channels of influencers because they enjoy their content. A good influencer needs to connect with an audience, making them feel like part of a conversation. Robotically staring at the camera, saying nice things about your product, will not influence anybody. If you want somebody to parrot a script about how your product or service will change the world, throw a bag of money of a reality TV star as a celebrity endorsement and hope for the best.
In addition to charisma, influencers need to have a reputation as a trusted expert in their field. This is critical – and much more important than the number of followers the channel may have. Avoid influencers that are seemingly happy to promote anything, as this lack of finesse will harm your brand.
The importance of audience relevance for ROI
If a channel dedicated to dissecting the latest episode of Hollyoaks has 1,000,000 followers but suddenly starts talking about the merits of power tools, the audience will switch off in seconds. If a channel dedicated to DIY does the same for 1,000 followers, you have 1,000 potential new customers in the palm of your hand.
Where to hire influencers?
When it comes to hiring influencers, you have two main options. You can reach out organically, building a relationship with the influencer, or hire an agency to make introductions and connections. The latter approach is undeniably faster, but the former is likelier to yield long-term results.
If you are keen to attract freelancers naturally, seek out popular social media content creators within your industry. As discussed above, do not just look at a follower count. Many people purchase artificial followers to look like an influencer and score free booty from businesses. Watch the videos, get a feel for the content creator, and watch the interactions in the comments box.
If you feel that an influencer is a good fit for your product or service, start interacting with them and building relationships. Don't leap straight in with a sales pitch, and certainly do not expect any favours. Good influencers receive countless requests a day and are selective about what they agree to feature on their channel. Create a good impression, so the influencer feels they will be proud to be associated with your product.
There is still a place for agencies in this process. As social media influencers have gained traction, content creation is a sole source of income for many. As a result, these influencers enter into agreements with certain agencies representing products and services. Consider signing up with an agency that will pair you with appropriate influencers – but only if you're confident the business model is legitimate and beneficial.
How much does influencer marketing cost?
So, here is the big question. Of course, there is no simple, one-line answer. We wish we could say, "influencer marketing costs £1,294.28" but that simply isn't the case. Instead, let's think about the potential expenses involved in influencer marketing.
Agency introductions
As we'll discuss shortly, you may opt to pay an agency to introduce your business to social media influencers. Examples of these agencies include:
These agencies typically charge anywhere from £10 to £10,000 per post and potentially take a cut of any sales. You will need to negotiate this with the agency directly. If you have the time and patience, it's much more cost-effective to deal directly with influencers themselves.
Paying influencers
In many cases, your most considerable business expense when hiring social media influencers is remunerating the influencers themselves. Some influencers will not expect financial compensation for their promotion, settling for a free product or service. Be warned, however, some experienced influencers will reject this approach.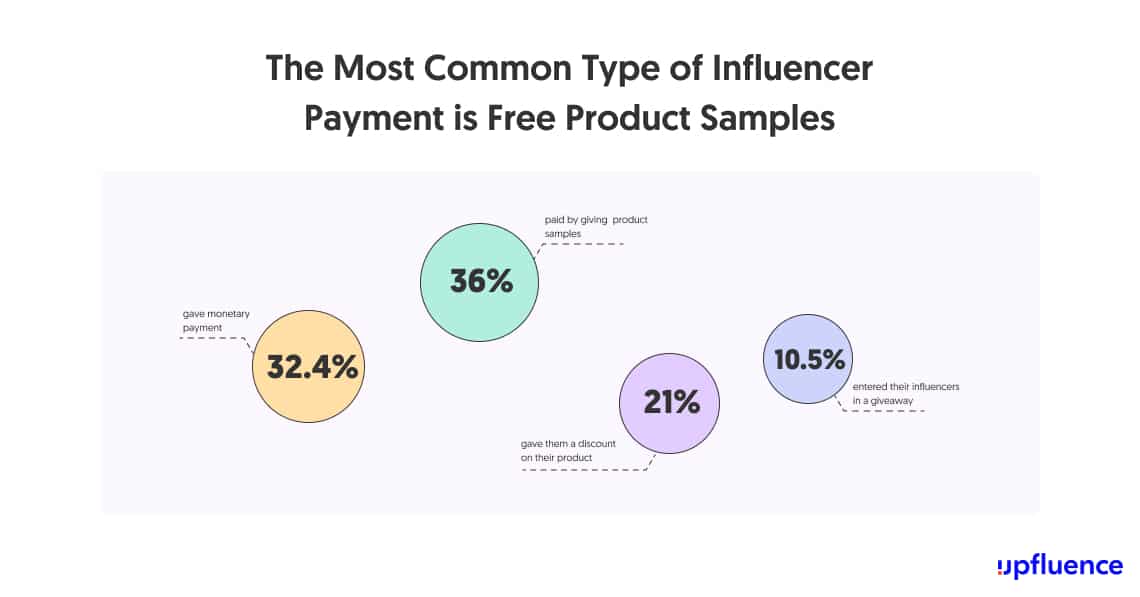 As a rule, if you're unwilling or unable to open your wallet, you'll need to offer a valuable product with an equivalent fiscal value. However, cold, hard cash is still likelier to see a busy influencer prioritise your business. How much you need to pay depends on a range of factors:
Influencer level
Influencers are typically broken down into four categories, depending on their number of followers. Now, we have explained before and will again that followers are not the end-all, be-all. They can be a handy barometer of an influencer's reach, though.
| Type of influencer | What is it? |
| --- | --- |
| Nano influencers | …are essentially everyday consumers and peers of your target audience. A nano influencer will rarely have more than 10,000 followers. They'll likely promote a product gratis in exchange for a freebie, though |
| Micro influencers | …are those with small, dedicated followings. As previously discussed with our DIY channel example, micro influencers can be the most cost-effective way to make sales. You may not reach many eyes, but you'll reach the right ones |
| Macro influencers | …will usually be 'internet famous', such as popular YouTube channels with up to a million followers. These influencers have passionate fanbases but tend to use agents to handle influencer posts. This can lead to inflated prices |
| Mega influencers | …are typically celebrities that enjoy global renown and fame, such as members of the Kardashian family. These influencers have tens of millions of followers – but can also command up to seven figures per social media post |
Types of influencer compared
As you'll see, the further down this table you travel, the more you can expect to pay an influencer. Remember the check the legitimacy of any followers if you are spending big based on the promise of a large audience.
Type of content
As influencers are content creators, their pricing structure is similar to hiring a marketing agency. How much an influencer expects to be paid is directly influenced by how much work you expect from them. Influencers expect to feel valued. Your financial offer should reflect what you are expecting in return.
A simple tweet or Facebook post mentioning your product will likely be inexpensive. A 1,000-word blog, however, will obviously cost more. Videos, meanwhile, are usually the highest priced campaigns. They require a great deal of effort to arrange the perfect lighting, presentation and editing.
Influencer platform
Finally, you need to think about what platform the influencer is using. Some sites are more expensive than others.
TikTok and Facebook are widely regarded as the costliest sites to engage social media influencers within. This is primarily due to their substantial audiences. YouTube is also expensive, mainly because, as discussed, videos take time to create.
Instagram is arguably the most refined platform to embrace for social media influencer campaigns in terms of cost-effectiveness. Snapchat is pretty inexpensive but offers a limited amount of brand exposure. Let's investigate this in more detail.
What social media platforms are best to spend money on influencer marketing?
Throughout this guide, we have mentioned social media as the home of influencers – but which platforms are most effective? Social media is a vast landscape, after all. Let's take a look at the six most powerful social media platforms for influencers in 2021.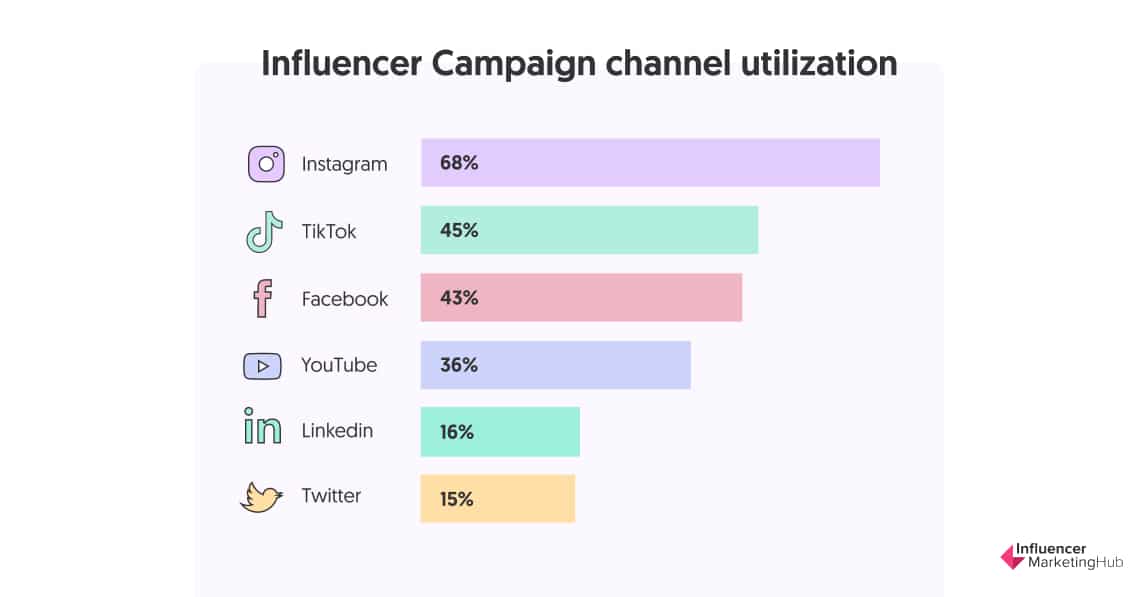 | Social platform | Good to know… |
| --- | --- |
| Facebook | Facebook is still the biggest, most-used social media platform globally, especially among older and potentially more affluent consumers. Competition is fierce for this reason, though, so you may need to pay substantial sums to gain traction through social media influencer marketing |
| Instagram | Instagram is arguably the most reputable channel among influencers, for a good reason. It's hugely popular, encourages interaction, and is visited by people seeking inspiration for lifestyle changes. 67% of brands are now using Instagram for influencer marketing, and this number will likely continue to rise in 2024 |
| Snapchat | If you're marketing to Generation Z, Snapchat is a powerful platform. Most younger consumers are practically glued to this app throughout the day. Just remember, Snapchat posts are famed for their brevity, disappearing after viewing. It may be tough to build a following without the use of the memories function |
| TikTok | As TokTok is still a new platform, it's often disregarded by businesses. After all, it's just the home of novelty dances, right? Well, TikTok is now the most downloaded app in the world. That means a lot of potential eyes on your brand if you can find the right influencer |
| Twitch | Twitch is not the most prominent online platform, but its broadcasters tend to have loyal, dedicated followings. If you can find a channel that links to your business, consider using Twitch to influence potential consumers |
| YouTube | YouTube ruled the influencer roost for a very long time, mainly because it was the go-to resource for online videos. It remains hugely popular among the most celebrated figures on the internet, but as a result, convincing famous YouTube stars to promote your products will cost a substantial sum |
As a rule, a hybrid approach is also best. Putting all your eggs in one basket can backfire spectacularly if algorithms change or your target audience decide to migrate en masse to a different platform. Try to focus your efforts primarily on one or two main sites, though.
What percentage of a marketing budget should you spend on influencer marketing?
As always, this is entirely a matter of personal preference. When drawing up your marketing budget, consider how impactful influencer marketing is likely to be in the longer term. We recommend setting aside around 25% of your budget for this approach, though. It's a low-risk strategy with a potentially substantial upside.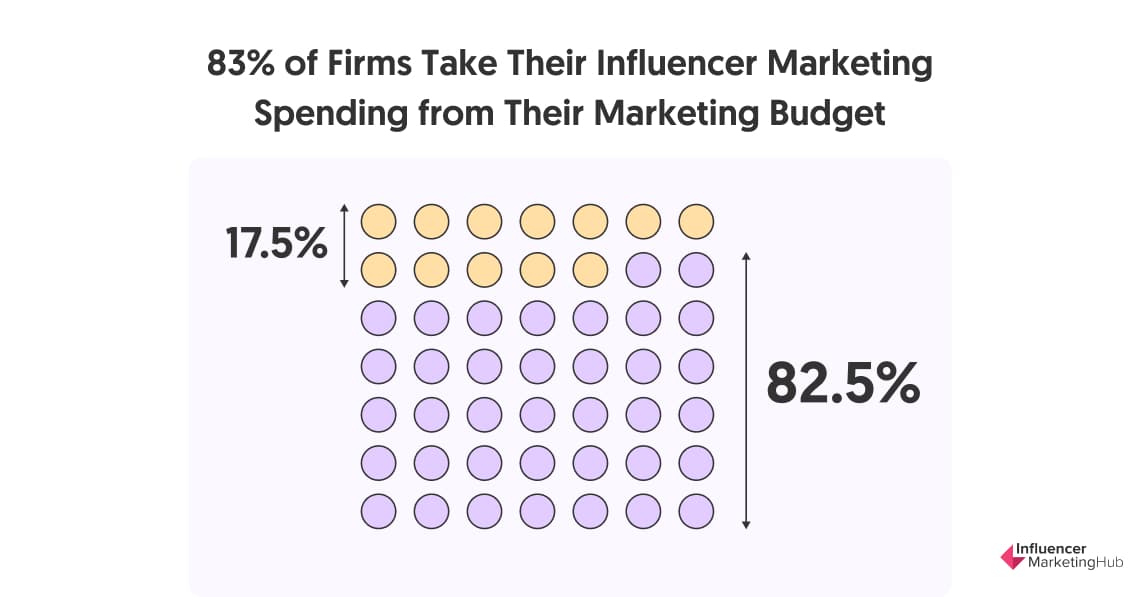 How to calculate influencer marketing ROI
Like any marketing campaign, the success or failure of the influencer approach depends upon your return on investment. If you do not see the results you want or need, there is little point in persisting with a campaign.
To calculate ROI on influencer campaigns, follow these steps.
Consider what your targets for the campaign are. Is it a case of sales or bust, or are you happy with increased brand awareness surrounding your business?
Review your social media feeds and see if you are experiencing an uptick in likes, shares and interactions. Likewise, check if your website traffic has seen a boost
Assign a financial value to these increases in attention. How much is an Instagram follow worth, for example?
Remove the expenses incurred throughout your influencer campaign from these valuations, and voila. You have calculated your return on investment and now understand whether to continue with the same approach.
Influencer marketing is still a comparatively young approach, but only a brave or foolhardy business leader would ignore its potential. If you'd like to learn more about influencer marketing, feel free to contact Creative.onl. We'd love to discuss your business and the best way to market your products and services.