When Apple's iPad tablet was first unveiled to the world in 2007, many critics instantly panned it as a device designed merely for consumption of media – movies, photos, web browsing – and thought it not well suited to creation or productivity. At the time, the lack of physical keyboard and the limited number of apps meant that many business professionals and creatives saw the device as fun, but not useful. A few years on and opinion has changed. Apple has sold millions of iPads worldwide, and corporate uptake has increased.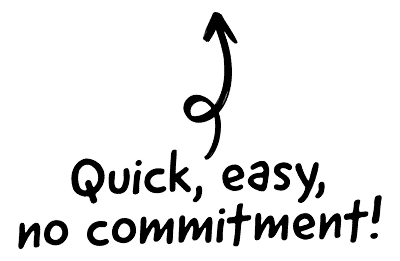 I do a lot of freelance web design. With the exception of the design work itself, I run my entire business using only my iPad. Serious design work still remains difficult on the tablet (and due to the small screen size, perhaps it always will – I don't think that's what an iPad is for). But everything else – time tracking, correspondence, accounts tracking, customer relationship management, etc – is all done entirely from my iPad. The small form factor and light weight of the iPad makes it easy to carry around, and ideal to take to client meetings. I can write email on the bus. I can write client notes in between meetings, and Apple's Mail and Notes apps are fine for those things. But the app store is brimming with useful tools that allow you to do so much more. Here I'm going to detail ten apps that allow me to do ninety percent of the things I need to do on my iPad.
1. Evernote.

The CRM platform to grow your business
Great for entrepreneurs
Powerful data analytics
Manage sales and data

Seamlessly connect data, teams, and customers
Cutting-edge marketing
Ideal for teams or solo use
Measure sales conversions

Powerful web builder and advanced business tools
Great for startups
Powerful web page builder
E-commerce available

Supercharged content planning
Great for marketing
Better than lists or sheets
Manage social media

Create a new website in 10 minutes. Easy.
Launch your website fast
Powerful data intuitive
No coding skills needed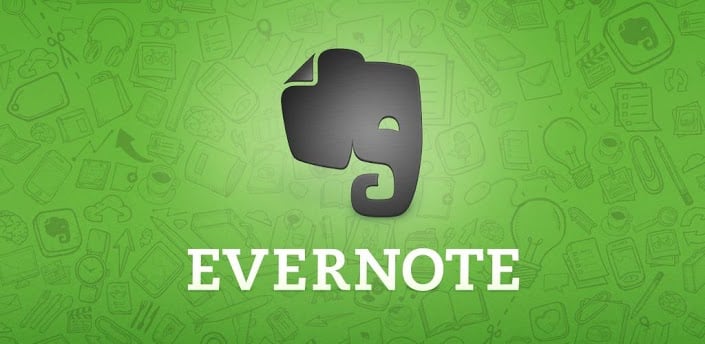 If you haven't heard of Evernote before, where have you been? This is one of the most popular mobile note-taking apps, and is available on iOS and Android, and there's a desktop version for Windows and Mac OSX. This app helps you capture thoughts, lists, photos, audio memos, etc, in a highly searchable format, with support for folders and folder nests. I use the free version, but paying a few pounds a month for the premium version adds more features like in-photo searching for text. Both the free and premium versions sync between devices, so all the notes you make are available on your tablet, phone and desktop, where ever you have the app installed. Highly recommended.
2. Omnifocus.
Omnifocus is simple, easy to use, and deceptively powerful. Originally a Mac OSX desktop application that was later recreated and redesigned for iOS, Omnifocus is a super task management app. It's very flexible in function, and at it's simplest can be used list as a to-do list. But you're missing a trick if you don't make use of it's other features. The iPad app is beautiful to look at and easy to use. I highly recommend exploring this and taking the time to read up on how it works.
3. Dropbox.

This is another one of those massively successful, mainstream apps that you will likely have heard of before, and may well use already. The simple function is easy to use and very powerful. Save your documents in a folder on your local machine (desktop or mobile) and the contents will be seamlessly uploaded to the cloud. All your files will be automatically downloaded to other linked devices, so all your files are available everywhere you want them. There's support for folder sharing with other users, too. The free service gives you a small amount of space, and you can pay more for additional space.
4. Account Tracker.
A simple app for keeping track of business (and personal!) bank accounts. You can record transactions for incoming and outgoing funds, give them notes to remember what the were for, and the reporting function outputs graphs and other useful data. Handy for tax tracking purposes and to  keep an eye on cash flow. There's a free version, and if you like it you can upgrade and pay for the full app. Account Tracker is highly rated by users in the App Store and is made by an independent developer, Graham Haley.
5. OfficeTime.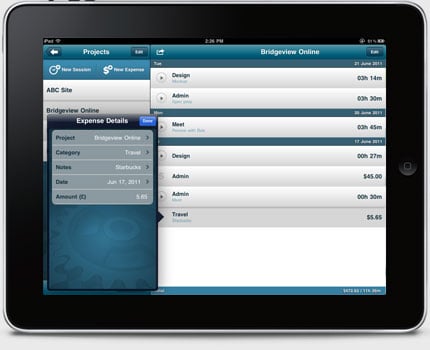 At first I wasn't sure about OfficeTime, perhaps because the design of the interface isn't the most beautiful. But I was soon won over by its usefulness and simplicity. OfficeTime is used for tracking time spent on projects. You can create different kinds of activities at varying rates, for example 'design' at '£50 per hour', or 'website admin' at '£30 per hour', or whatever you like. Then you can create projects, like 'Website project for Mr Smith', Then each time you spend time doing a particular activity for a particular project, you can record it with the app, with an individual note attached, if you like. Over the course of a project, you can then see how much time you've spent doing each aspect of the work, and how much you should charge the client.
In my case, I tend to agree a project price with the client before beginning the work. The app is very useful in helping me to compare my quoted time to complete the work, with the actual time it took me. I've found this has really helped me critically assess my estimates, and give more accurate quotes.
Time tracking can also be very helpful in justifying and explaining costs to clients. Hopefully you'll never be in a situation where a client is angrily asking why you're charging so much money for their website. But if you are, you can refer back to your OfficeTime records and give the client a breakdown of everything you've done, and how long it took.
6. Base CRM.

If you've been freelancing for a while, you might have loads of clients and prospects. Woohoo! But keeping track of the status of each client can test your memory. This customer relationship management app is available for mobile, tablet and desktop. Keep notes on each client or prospect, details of quotes you've provided, and the stage of business. Base CRM has a monthly subscription charge, but it's free for tracking up to 50 deals. As long as you keep removing dormant or completed deals, it won't cost you anything to use. I find it really handy and a good way to keep track of quotes and remembering to follow up on enquiries.
7. Pages.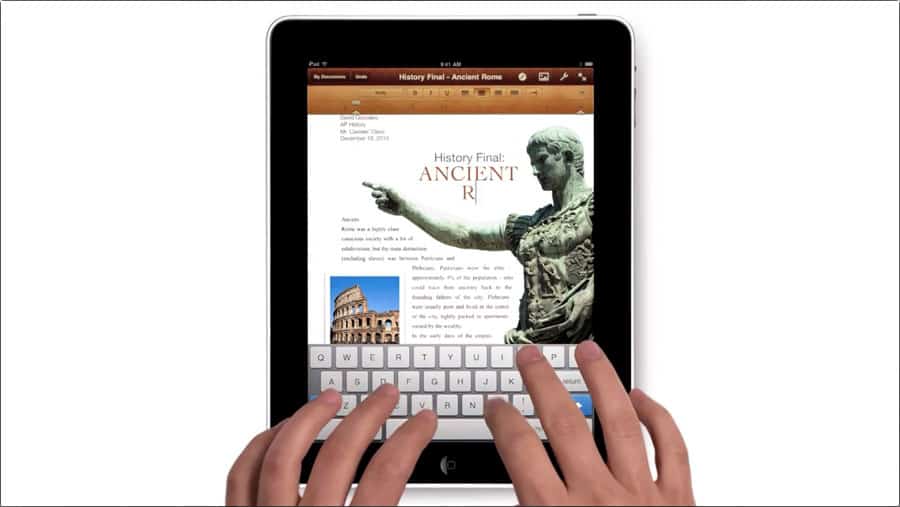 If you've been a Mac user for any length of time, you'll be familiar with Pages, Apple's wordprocessing software. It's their equivalent of Microsoft's Word application. Word still dominates the business environment, so it's important to be able to view and edit Word documents. I use Pages on my iPad for creating invoices and exporting as PDF for sending straight to clients and other quick and easy tasks. I was pleased to find the iPad version of Pages even more easy to use than the OSX desktop version, which is a testament to how well the interface has been redesigned for a touchscreen device. The compatibility with Microsoft Word documents is strong, and I've had no difficulty opening Word documents that people have sent to me, or saving a new document in Word format.
8. Paper.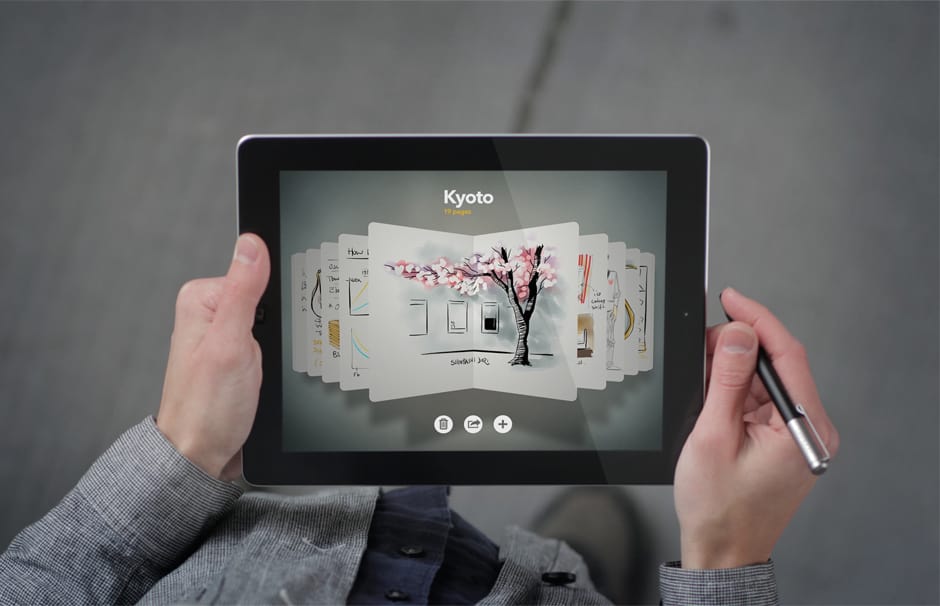 This drawing and painting app for iPad is really, really gorgeous. The concept is simple and the app is a delight to use. Your iPad screen is transformed into a blank canvas. Use a selection of tools – pencil, pen, marker, watercolor brush – to create artworks. You can store them in different notebooks which allows you to keep projects separate. Unfortunately the output is a bitmap graphic rather than a vector file, but you can't have everything. I use this app for quickly sketching out website wireframes or basic design ideas.
9. FTP Manager.
Does what it says on the tin. This might be less useful for other types of freelancers, but for web people like me, it's great. I still prefer to edit websites on a desktop machine, but if you ever need to edit some code and upload it to a server on the fly, this app will save you. You can bookmark the login details for several different websites, and the built-in code editor means you can open a file on the server, make changes, and then save the updated file on the remote machine.
10. File Manager.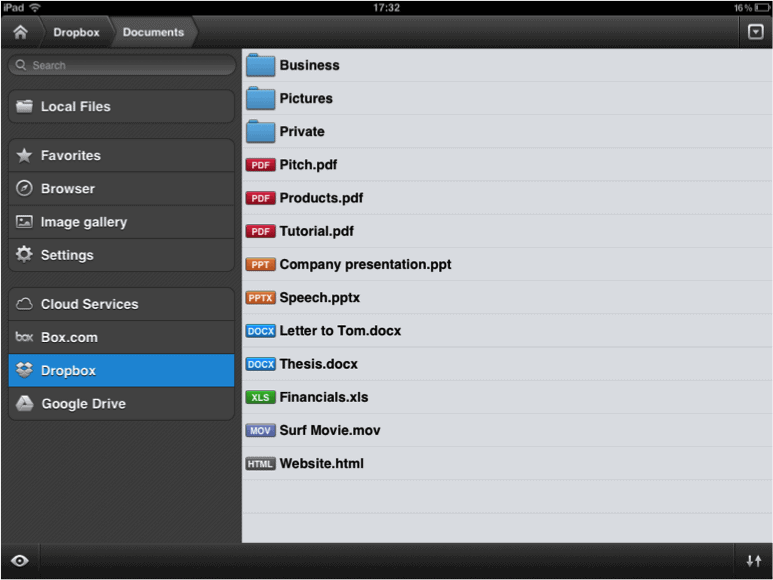 One of the shortcomings of iOS is the lack of a file browser. There's no 'Finder' like you have in desktop OSX. Many app developers have tried to fill this void by creating file manager apps for iOS, but this is the one I like the most. It has a nice, clean interface and good functionality, for example the ability to zip and unzip folders, the facility to connect with Dropbox and other cloud management solutions, and a built-in file viewer for standard documents like PDFs and Microsoft Office files, but also video files like mp4.