(4.5 / 5)
Moorepay is among the leading lights when it comes to payroll software in the UK, having been in business since 1966. This makes Moorepay a hugely popular choice among businesses of all sizes seeking SaaS for their HR and payroll needs, positioning Moorepay toward the top of the SaaS tree.
Compare prices for payroll & HR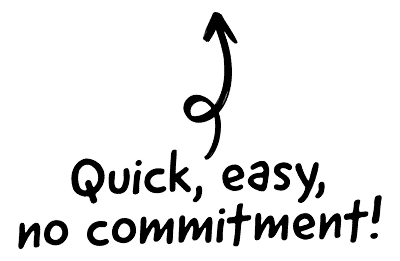 But is Moorepay actually any good? How does it compare to similar products on the payroll market? And is it the right choice for your business needs?
Who is Moorepay for?
If your business sits firmly within the M of SME, Moorepay is hard to beat. This software is available in a range of packages, priced accordingly, ensuring that your business will not waste money paying for payroll services that are not required. Moorepay will discuss your needs with you and provide the ideal package for your requirements.

The CRM platform to grow your business
Great for entrepreneurs
Powerful data analytics
Manage sales and data

Seamlessly connect data, teams, and customers
Cutting-edge marketing
Ideal for teams or solo use
Measure sales conversions

Powerful web builder and advanced business tools
Great for startups
Powerful web page builder
E-commerce available

Supercharged content planning
Great for marketing
Better than lists or sheets
Manage social media

Create a new website in 10 minutes. Easy.
Launch your website fast
Powerful data intuitive
No coding skills needed
Overall, companies with around 50 employees or more are best served by Moorepay. Moorepay is also ideal for a business that is rapidly expanding, and likely to continue doing so. Part of the reason for this is that, alongside payroll features, Moorepay handles a wide range of HR duties.
This can reduce a great deal of pressure on the leader of an SME that lacks time to focus onboarding energies on administration when bringing in new hires. The fact that Moorepay is very user-friendly helps here. The learning curve is shallow, and the customer support team are always happy to assist.
Who is Moorepay not suitable for?
Moorepay markets itself toward SMEs, so if you're hoping that your business will grow to become a nationwide conglomerate – or even boast international trade – this is probably not the payroll system for you. Eventually, you'll outgrow Moorepay, and neither party will be comfortable in the working relationship.
The same is true at the other end of the spectrum. A start-up that is yet to bring in more than thirty employees is unlikely to get the most out of the Moorepay experience. By the time you've leapt through all the necessary hoops to get your account live, you may find that there are more cost-effective alternatives out there.
How much does Moorepay cost?
Herein lies the issue with Moorepay if you're looking for a black-and-white answer. Moorepay does not offer a single price point or even a generic selection of packages that you can sign up for. Instead, you'll need to answer a range of questions from the Moorepay team, who will then recommend a service package – and price point – for your approval.
Initially, this is simple enough. Fill in a few questions on the homepage of the Moorepay website, and you'll get the ball rolling. Moorepay will then get in touch with you to discuss your needs further, ensuring that you're receiving sufficient service for your outlay.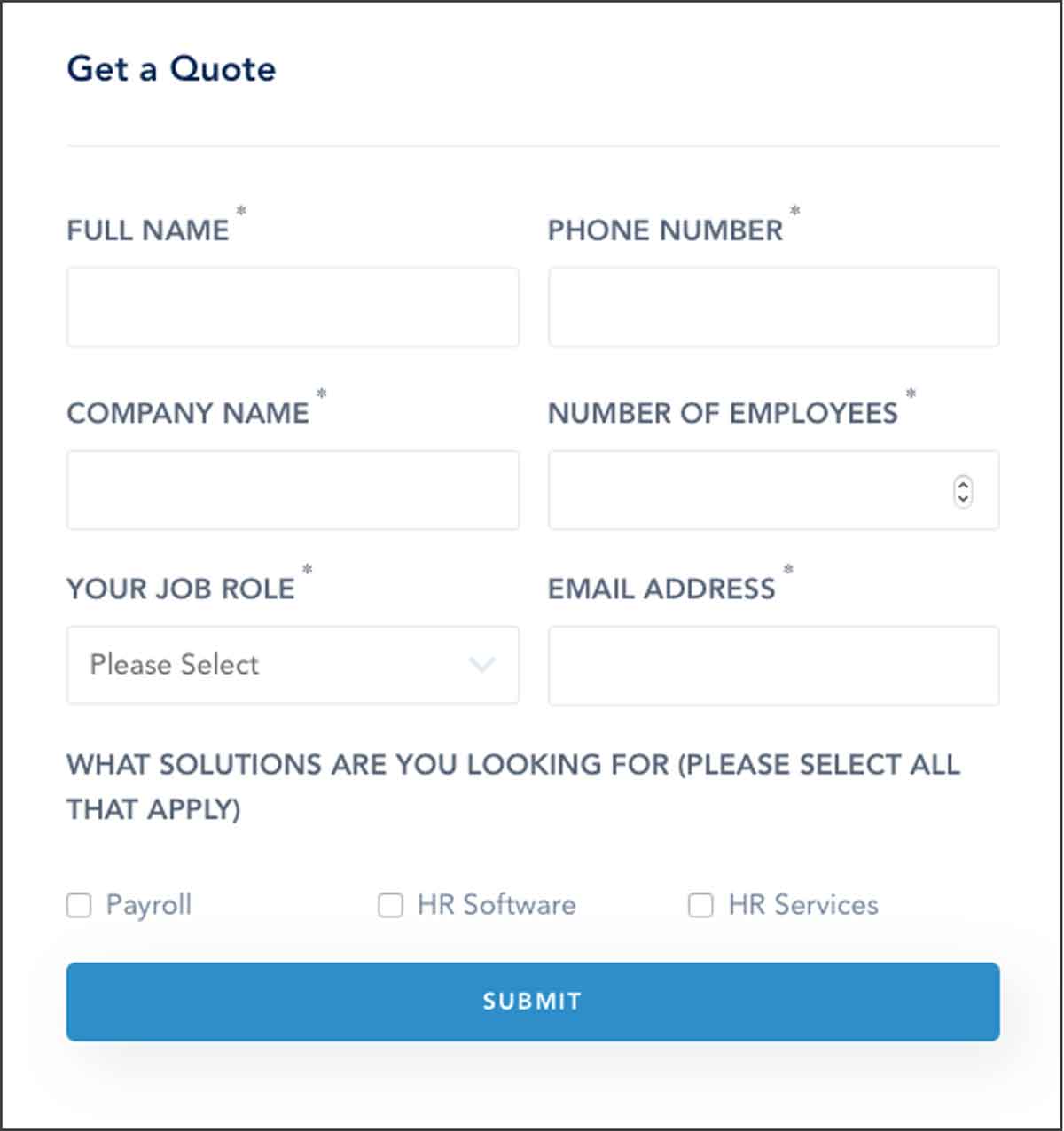 There will be no obligation to make a purchase following this consultation, and Moorepay already has a long client list – they will lack the time and inclination to chase and badger you after the event, pushing you to convert. All the same, some users may find this lack of upfront transparency frustrating.
Overview of Moorepay
Moorepay boasts an excellent reputation, and it's easy to understand why. The software is extremely user-friendly and compatible with a wide array of operating systems. The website and app also offer a clean design and easy-to-follow navigational instructions.
It's worth giving a special mention to the app. Ass Moorepay is 100% cloud-based software, you will not be restricted to accessing it from a desktop computer. Should you prefer to use a smartphone or tablet, or need to access data at a moment's notice, reports are extremely clear and simple to decipher.
What's more, you can take assurance that these reports will be accurate. If you're paying for a payroll service, you'll need to be confident that errors will not arise. Moorepay has a stellar reputation for precision, exactitude, and reliability in reporting and making payroll on designated dates.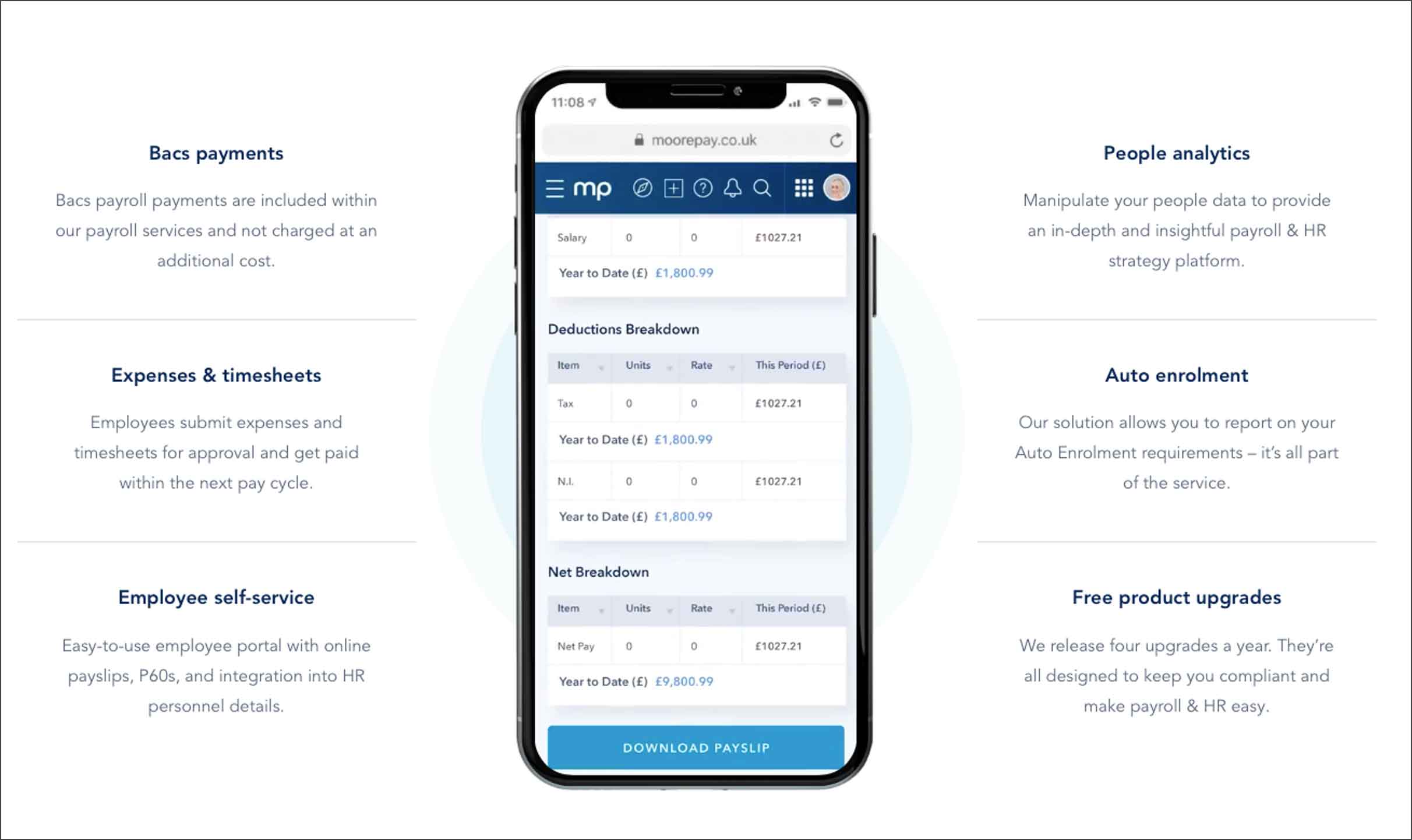 This dedication to user-friendliness and simplicity is at the heart of everything Moorepay does. While there are more advanced payroll software packages, few are as intuitive.
Strengths of Moorepay
To reiterate the many strengths of Moorepay as HR and payroll SaaS, the advantages of this platform include:
A record of 99.9% accuracy on payrolls
Complete personalisation of your set-up, which will be handled by a payroll specialist
Simple navigation and a user-friendly interface that leads to fast learning – anybody with a slither of IT knowledge can operate the Moorepay app or website
UK-based customer support and secure data storage compliments of IBM
Weaknesses of Moorepay
Moorepay only really has two weaknesses, both of which have been discussed already.
The software is not ideal for very large or very small businesses. Both entities could use it, but neither will gain the full benefit of the Moorepay experience
The lack of transparency on pricing may frustrate some users, who would prefer a straightforward number to work with
How does Moorepay compare with other options on the market?
If undertaking a hands-off approach to HR and payroll processing while also being able to sleep at night is your priority, Moorepay is likely your best option. Moorepay is arguably the best selection for a business owner who values legal compliance and labour saving over all else. If financial outlay is your biggest concern, other software packages could run a little cheaper.
When it comes to getting employees paid, though, and meeting the exacting standards of HMRC, it's tough to look beyond Moorepay. The tailored service provided, which includes the services of a dedicated payroll specialist, ensure that Moorepay takes care of everything a business owner may lack the time and inclination to manage themselves.
Verdict on Moorepay
(4.5 / 5)
It's claimed that Moorepay is responsible for around one in six employees in the UK receiving their monthly wage, and it's not hard to see why. For a medium-sized company seeking a reliable partner for their HR and payroll duties, Moorepay is hard to beat.
When shopping around for your online payroll partner, Moorepay should be given serious consideration if you fit the ideal consumer profile. While it could be deemed too elaborate for a microbusiness and may not provide everything a larger company with complex needs requires, it's hard to look past Moorepay for medium-sized enterprises that are keen to cut down on their admin.