(4.5 / 5)
Sage is a sizable name in the payroll game, with over three decades of experience aiding and assisting businesses with their payroll needs. HMRC also recognises Sage, which is a handy feather for this business to have in its cap. It has many high-quality features, as our Sage payroll review will explain.
Compare prices for payroll & HR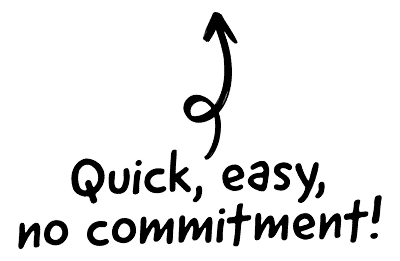 But is Sage Business Cloud Payroll, their leading SaaS product, actually the best payroll software for your business needs? Read on to find out.
Who is Sage for?
Sage is ideal for small endeavours and start-ups that do not have a great deal of budget to spare for payroll and HR software. Unlike some payroll services, Sage can be tailored to serve microbusinesses – and will do so without any sacrifice in quality.

The CRM platform to grow your business
Great for entrepreneurs
Powerful data analytics
Manage sales and data

Seamlessly connect data, teams, and customers
Cutting-edge marketing
Ideal for teams or solo use
Measure sales conversions

Powerful web builder and advanced business tools
Great for startups
Powerful web page builder
E-commerce available

Supercharged content planning
Great for marketing
Better than lists or sheets
Manage social media

Create a new website in 10 minutes. Easy.
Launch your website fast
Powerful data intuitive
No coding skills needed
Sage payroll is also ideal for a company that seeks an affordable HR package to complement payroll. If you're keen to streamline and formalise your holiday booking procedure, for example, or log attendance and sickness for your team, Sage can provide such services without breaking the bank.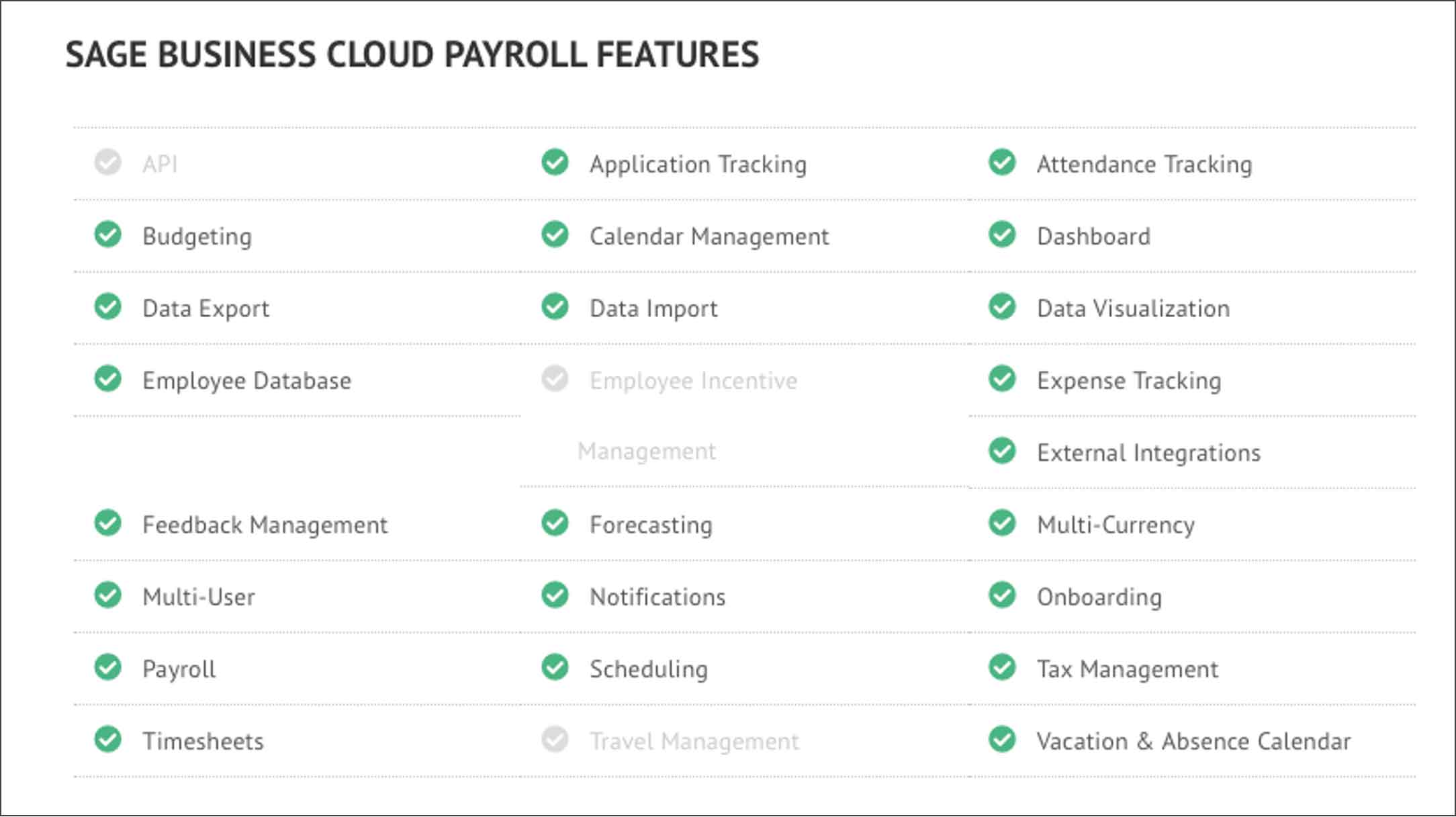 Overall, we'd say Sage is ideal for companies that operate – and are likely to remain – at the lower end of the SME scale. If your employee headcount starts to creep toward triple figures, it may be worth considering other options, but Sage is ideal for getting started with payroll.
Who is Sage not suitable for?
Sage is designed with smaller companies in mind. If you employ more than 100 staff, it's unlikely that Sage will be the payroll software for you. Even an excess of fifty employees can start to cause problems within Sage.
Sage is also not ideal for a tech wizard looking for the latest and greatest in streamlined data entry. Sage does not boast the most user-friendly interface in the world, and it could generously be described as 'dated.' Some of the payroll processing features are a little laborious compared to fresher alternatives.
How much does Sage cost?
Sage is definitely at the more cost-effective end of the payroll software market, which is one of its biggest strengths. Sage is available on a free trial basis for three months for a start. That's an excellent way for any business owner to have a little play with the software and decide if it's for them.
Sage charges a flat rate based on headcount when the bills start to come. This fee increases with every five employees. A business that runs payroll for six to ten employees, for example, will be charged at £12 +VAT. Add an eleventh staff member to your payroll, though, and you're looking at £17 +VAT.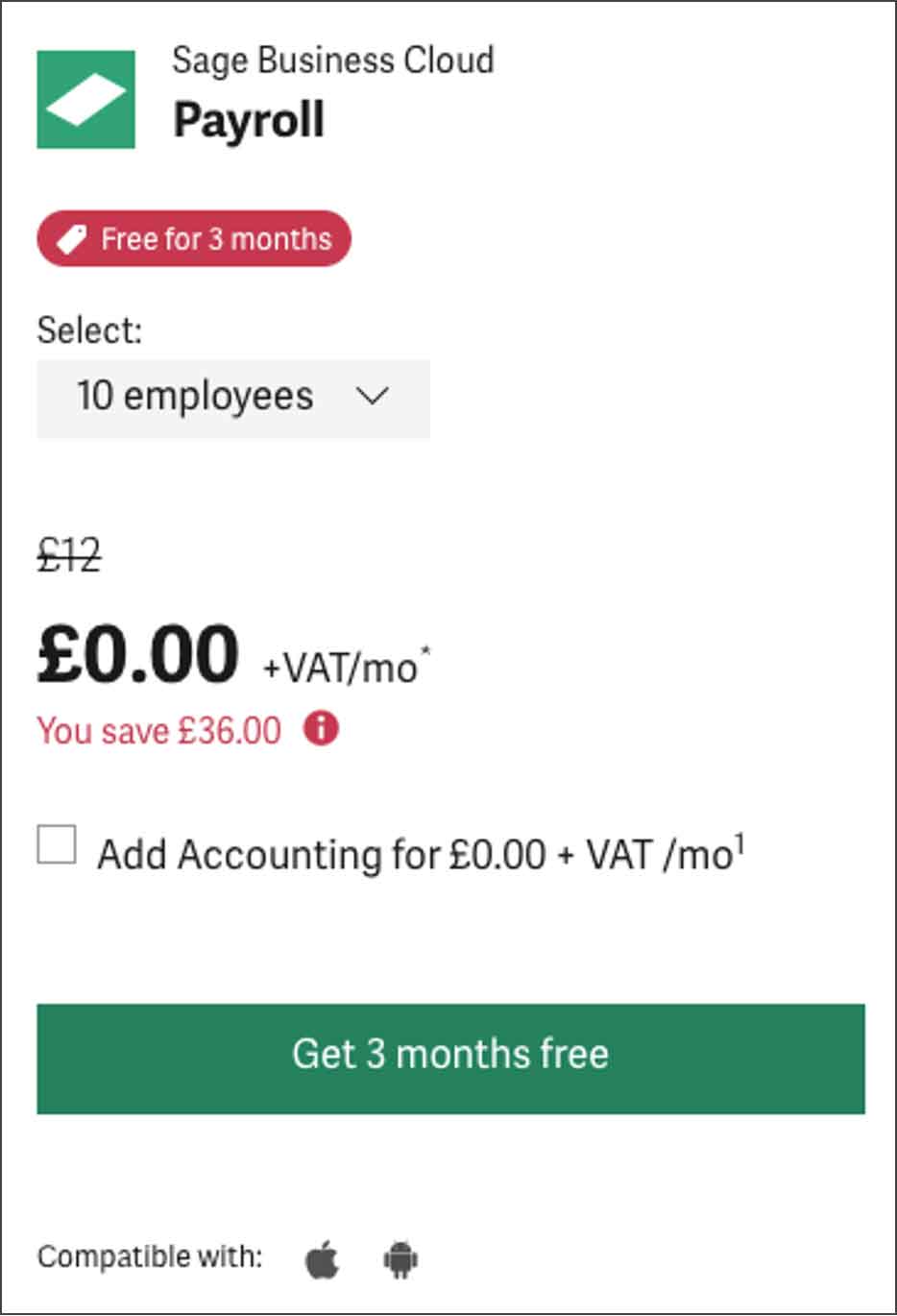 Sage's transparency on this pricing policy is very welcome, especially for a smaller business for whom every penny counts. If you are looking to run payroll through Sage for over 50 employees, however, it's advisable to request a callback and ensure that your needs will be accurately met.
Overview of Sage
Sage is widely considered a classic slide of payroll software. It's been around for many years, it offers a famously high level of reliability, it's among the more affordable options on the market for a new start-up (especially with the initial offer of free use) … there's plenty to love.
Alas, we should say that 'classic' could be considered a polite synonym word for 'old.' There is no denying that some users may find the user interface on Sage a little clunky and outdated, especially compared to some of the sleeker and sexier examples of SaaS on the market today.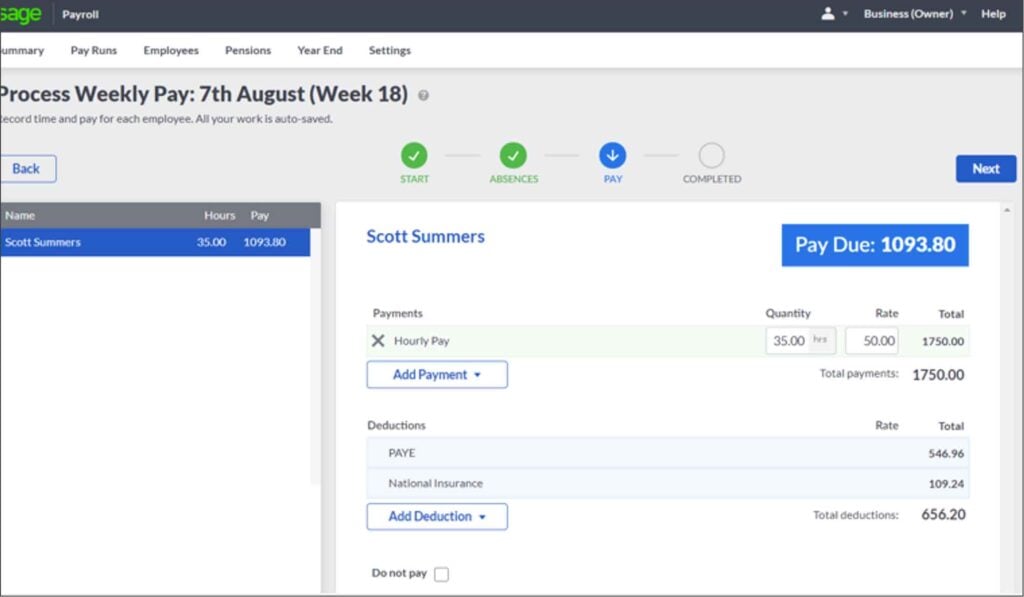 If you're rolling your eyes at this complaint, feeling that you value accuracy over aesthetics, that's fair enough. Just keep in mind that Sage can feel clunky and challenging to update. Sage is also really designed for desktop use, even though an account can be linked to mobile and tablet apps. If you need constant access to your HR and payroll data, you may wish to look at another, costlier provider.
Strengths of Sage
Probably the most significant benefit of Sage, aside from its standing with HMRC, is the aforementioned free trial and general affordability of the software. There is still more to recommend Sage though, including:
Cloud-based software that can be used Apple and Android smartphones and tablets as well as desktop computers
Addition of HR features, such as pension information, to keep an eye on deductions
Easy to switch to if you're currently using a different payroll software
24/7 access to customer support
Reports generated by Sage are as detailed as they are accurate
A built-in corrections feature minimises the chances of costly errors in filing and releasing payments
Weaknesses of Sage
As we have discussed, the biggest weakness of Sage remains its interface. Some people may find Sage needlessly fiddly, feeling that Sage is asking for additional steps in the journey toward digitising HR and payroll data. The setup alone can be time-consuming and frustrating.
The other drawback of Sage is the size limitations it places on a business. If you are expecting to expand and grow your business, you may find that you rapidly outgrow Sage and need to export your payroll elsewhere.
How does Sage compare with other options on the market?
It may sound like we have been a little harsh on Sage, which is by no means our intention. This remains a popular and important part of the online payroll sphere in the UK, especially for smaller companies with minimal budgets.
If you're running one of these microbusinesses, Sage compares very favourably with competing software. Once you get past the initial, potentially frustrating setup, Sage more than repays its meagre asking price in terms of accuracy and reliability. However, bigger businesses may gain more joy from spending a little bigger and gaining more in return.
Verdict on Sage
(4.5 / 5)
Sage remains worthy of a place on any "best payroll software" lists and is always worthy of consideration if you seek such support. HMRC stands by Sage for a good reason, and you'll always receive accurate and timely reports from the software. Before committing to Sage, however, ask yourself if this software can meet all your needs. Other, slightly more cutting edge alternatives are available.