In a hurry? Get a free SEMrush trial here.
If you browse the many and varied articles provided by Creative.onl, you'll find several that discuss the art and science of marketing. There is no doubt that impactful promotion is an essential skill for any business, which means there is no harm in seeking a little assistance where possible.
SEMrush could be just the software that you're looking for. But what is SEMrush? How can it help your business? And (central to the topic of this article), how can you be sure that SEMrush is the right software for your specific needs, before shelling out your hard-earned marketing budget on it?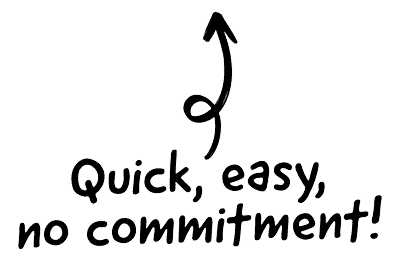 What is SEMrush?
SEMrush is a software tool used to further the success of digital marketing campaigns. Popular with marketing agencies, but also available to freelancers and small businesses that manage their own marketing, SEMrush is particularly beneficial for anybody with a limited understanding of SEO. Indeed, SEM is an acronym for Search Engine Marketing.
Why would a business use SEMrush?
There are many reasons why SEMrush is hugely popular among marketers. When asked why a business would use this software, the answer is simple. Used correctly by somebody that understands the market, in conjunction with a superior product or service, SEMrush can improve conversions and income.
That's a significant promise, and one that we'd wager you've heard multiple times before. Here's a breakdown of what SEMrush can offer a business.
Auditing any marketing content on your website, identifying areas that require improvement and optimisation
Identifying critical keywords that your site may be missing
Reports of site performance, breaking down organic and paid traffic
Analysis of your core competitors, shining a light on why some businesses are seeing better results than your own
Earning backlinks, boosting the reputation and reliability of your site in the eyes of Google
Interested? Then consider taking out a SEMrush trial to see if this software can offer what you need.
Does SEMrush offer a free trial?
SEMrush offers anybody interested in their service a free trial (sign up here). You can take on a trial for the Pro or Guru versions of the software – both last for seven days. After this, you will be charged the full monthly subscription fee.
SEMrush 30 day trial – does it exist?
Unfortunately, at the time of writing, SEMrush only offers a 7 day free trial.
Which version will you choose? That depends on what you're looking for in the final software. The Guru version of SEMrush offers more features … but the price tag is also much higher. Not a problem if you cancel your trial quickly and thus avoid a bill (more on that in a moment), but not ideal if you miss a deadline and incur fees.
It will be easier to judge which free trial is best for you based on the features available. These break down as follows. Be aware – the Business version of SEMrush is not available for trial. The Guru trial will give you a sufficient sample of whether this account is necessary, though.
| SEMrush feature | Pro | Guru | Business |
| --- | --- | --- | --- |
| Access to the content marketing platform | No | Yes | Yes |
| Access to historical data | No | Yes | Yes |
| Access to keyword, backlink and domain analytics | Yes | Yes | Yes |
| Active social media profiles for posting | 10 | 30 | 50 |
| Analysis of mobile rankings | Yes | Yes | Yes |
| Calendars | 0 | 1 | Unlimited |
| Content marketing page audits | 0 | 20,000 | 20,000 |
| Daily domain and keyword reports | 3,000 | 5,000 | 10,000 |
| File sharing (read-only or edit) | Yes | Yes | Yes |
| Google data studio integration | No | Yes | Yes |
| Keyword cannibalisation detection | No | Yes | Yes |
| Maximum projects | 5 | 15 | 40 |
| Monthly content plagiarism checks | 0 | 5 | 10 |
| Monthly keyword metric updates | 250 | 1,000 | 5,000 |
| Page crawls per month | 100,000 | 300,000 | 1,000,000 |
| Page crawls per project | 20,000 | 20,000 | 100,000 |
| Project targets | 1 | 10 | Unlimited |
| Results per domain and keyword report | 10,000 | 30,000 | 50,000 |
| Scheduled PDF reports | 5 | 20 | 50 |
| SEO content templates | 0 | 800 | 2,000 |
| SEO idea units per month | 500 | 800 | 2,000 |
| Sharing of PDF templates | Yes | Yes | Yes |
| Trackable countries in content marketing | 0 | 5 | 10 |
| Trackable keywords | 500 | 1,500 | 5,000 |
| Trackable posts in content marketing | 0 | 50 | 50 |
| Trackable social media profiles | 50 | 100 | 300 |
SEMrush themselves recommend the Pro version of the software to freelancers and small agencies with a minimal budget that manage any marketing needs in-house. The Guru or Business packages are advisable for agencies and SEO specialists. Of course, you'll also learn for yourself which package meets your needs best.
How to get a SEMrush free trial?
Simply head to the SEMrush homepage. If you are not already a member or not signed in, you will immediately be offered a free trial. Follow the on-screen CTA to get the ball rolling.
There is no such thing as a free lunch, and your free trial still comes at some cost. We mean the exchange of your first party data. If you're keen to take on a SEMrush trial, you'll need to sign up for an account. That means providing your email address. Expect SEMrush to do everything in their power to upsell you on their offering in the future.
Can you sign up for a SEMrush trial without a credit card?
Upon signing up for a SEMrush trial, you can choose which trial version you'd like – Pro or Guru – and will be asked for your credit card information. There is no way around this. You'll need to supply your financial details pay $1 to confirm that your account is valid.
Don't worry, you will not be charged for the entire subscription immediately. All the same, SEMrush do now have your payment information, and unless you cancel in good time before the end of your trial, you may find that you are charged.
Have a play around with the software and ensure that you'll need to keep it. The cancellation of your subscription is not immediate. SEMrush does offer a seven-day refund policy if something goes awry, but if you're keen to avoid needing to rely upon such a process, cancel with at least a few working days of notice.
First things you should do with your SEMrush trial
We're going to assume that anybody signing up for a SEMrush trial will choose the Guru version because … well, why wouldn't you?
Once you're up and running, your SEMrush dashboard will break down into six core offerings.
Digital agencies
SEO
Content marketing
PPC
Social media
Competitive research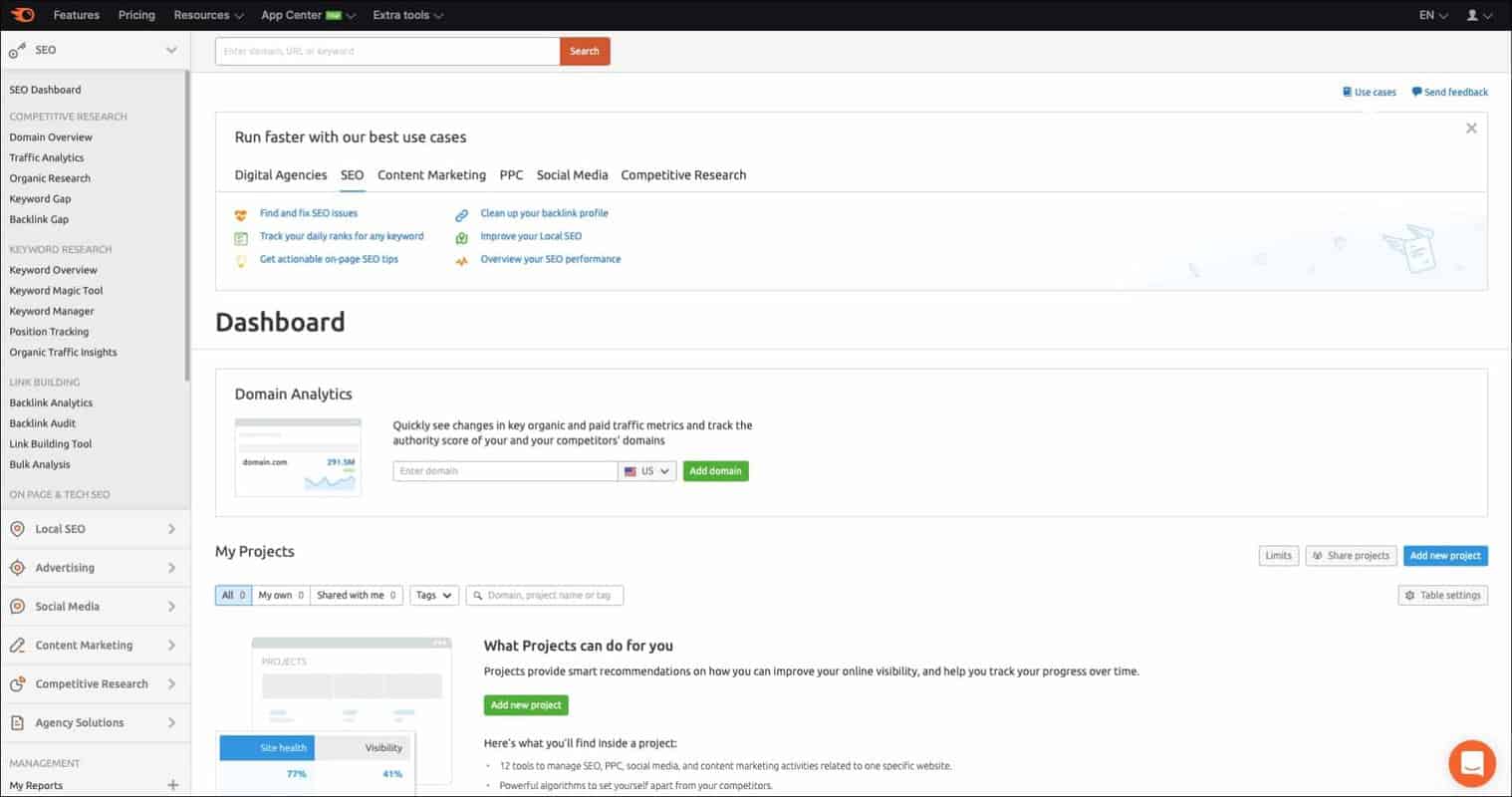 Now is the time to learn whether SEMrush will be of any real advantage to your business. You can try some of the many and varied options available, such as:
Check your current SEO strategy, gaining advice on how it could be improved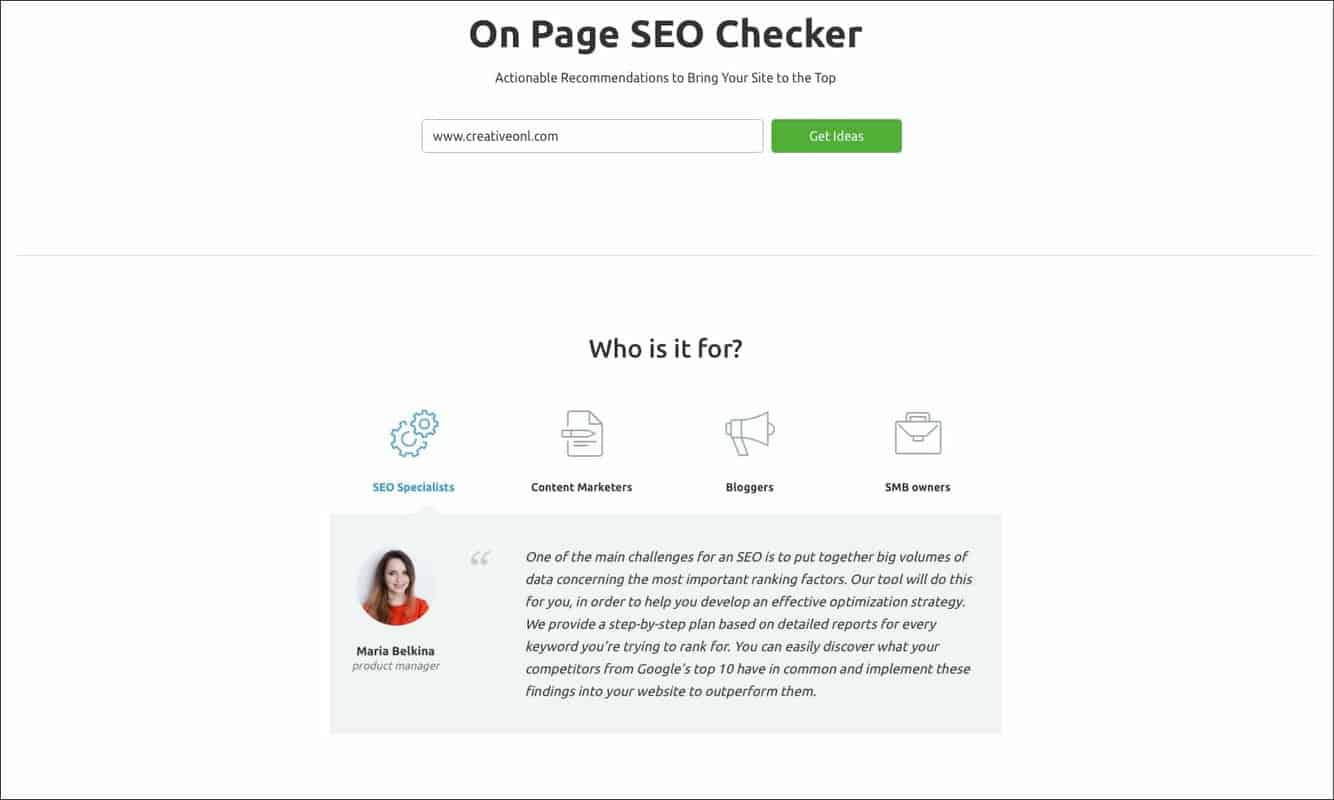 Create SEO reports, either from scratch or using a SEMrush template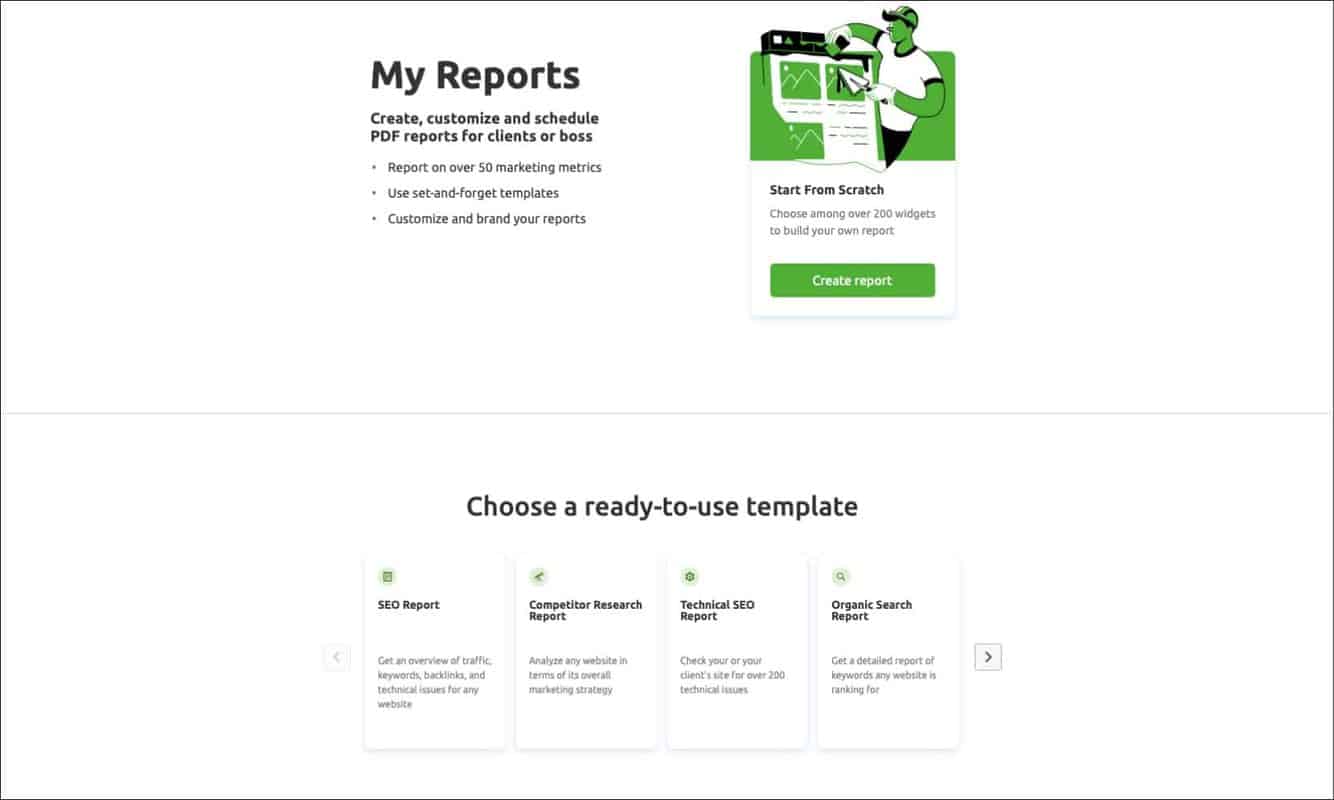 Check and tidy your current use of backlinks, ensuring these are not negatively impacting your page ranking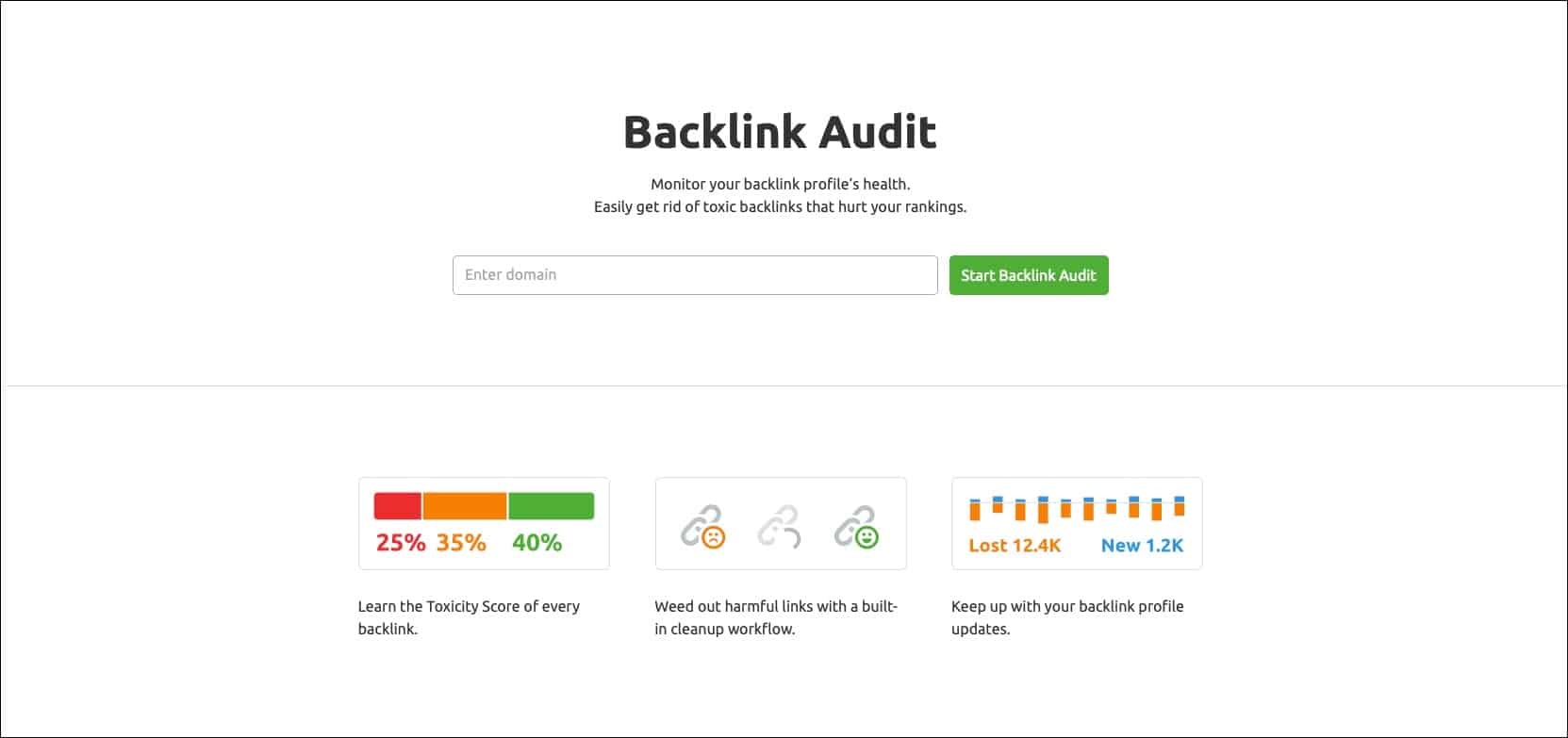 Gain insights into the most impactful content marketing solutions available, including which subheadings to include in a blog and what FAQs often arise – or even just pitching ideas for content. This can be critical for effective inbound lead generation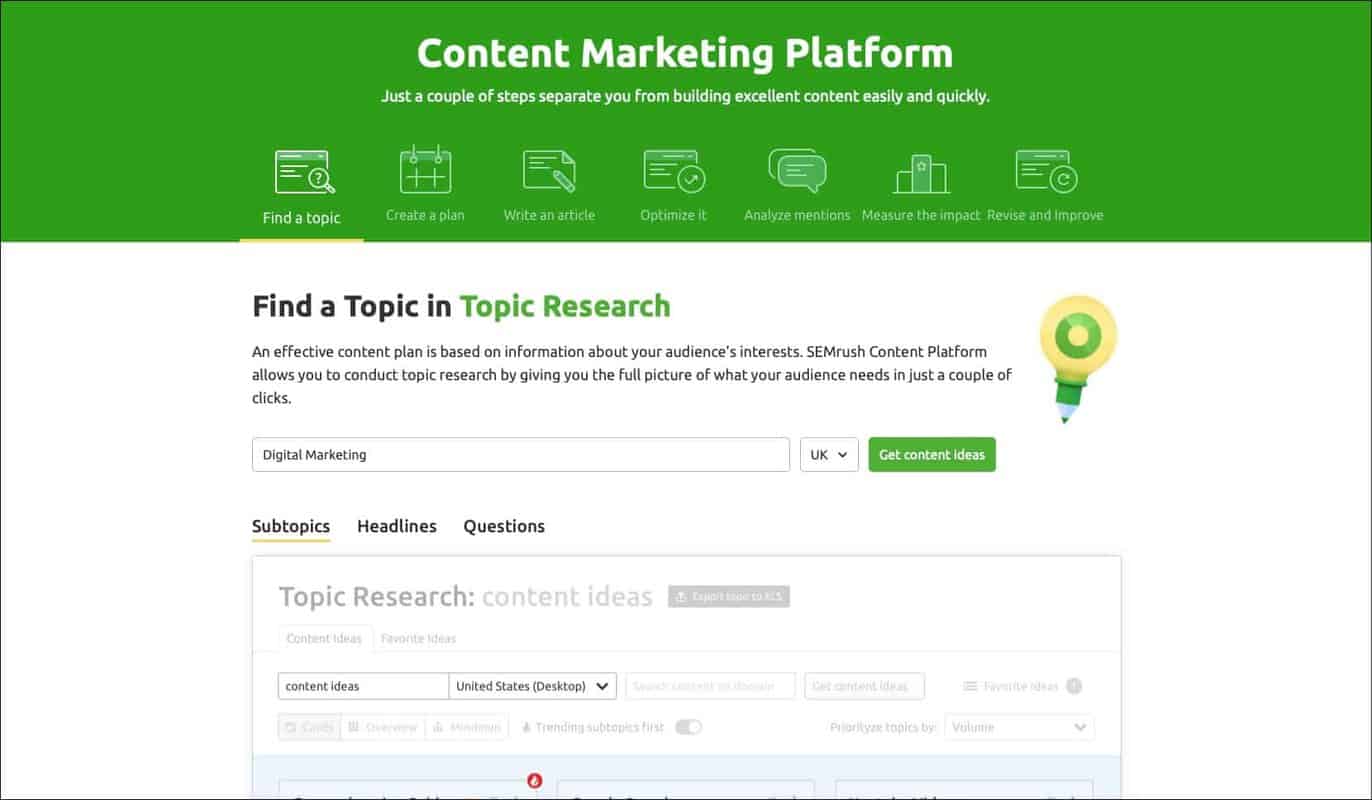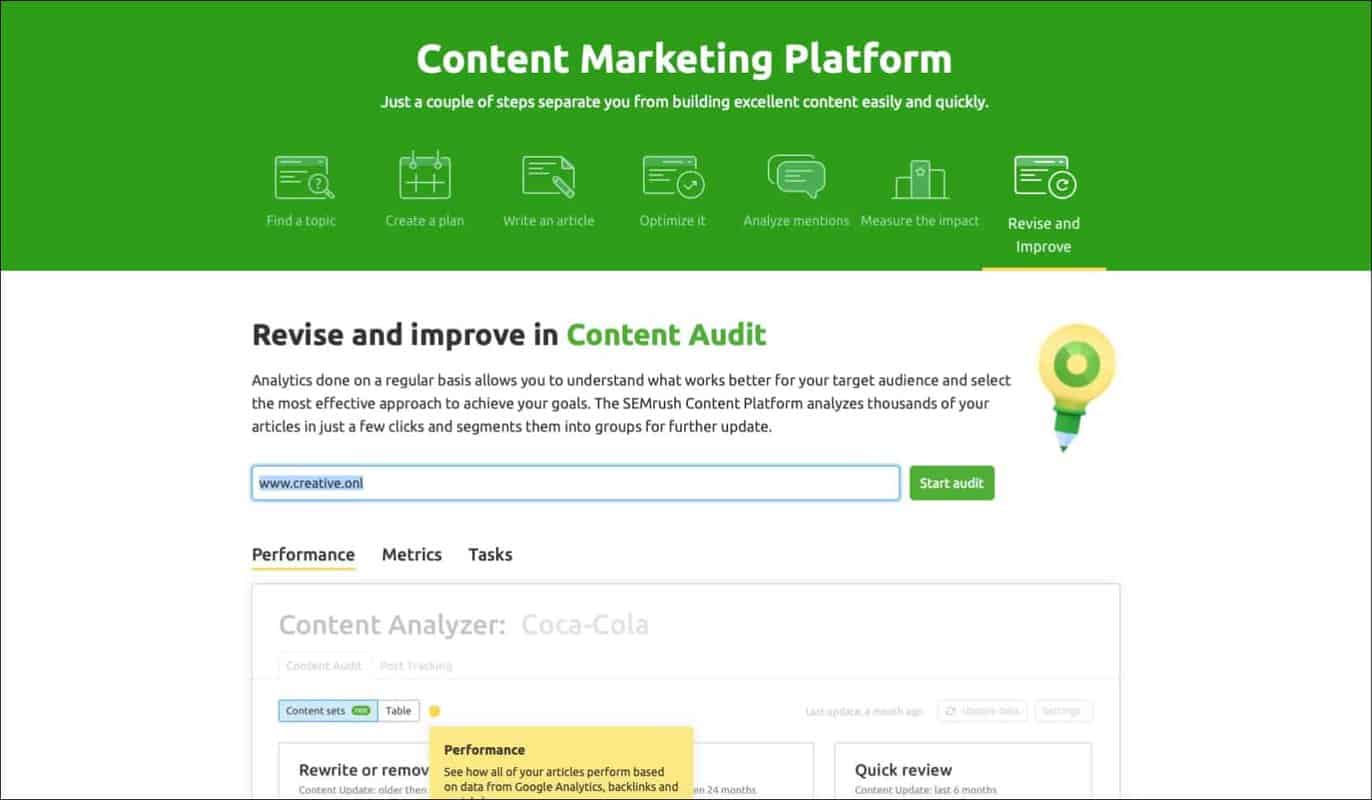 Track down essential keywords that will maximise ROI on your PPC campaigns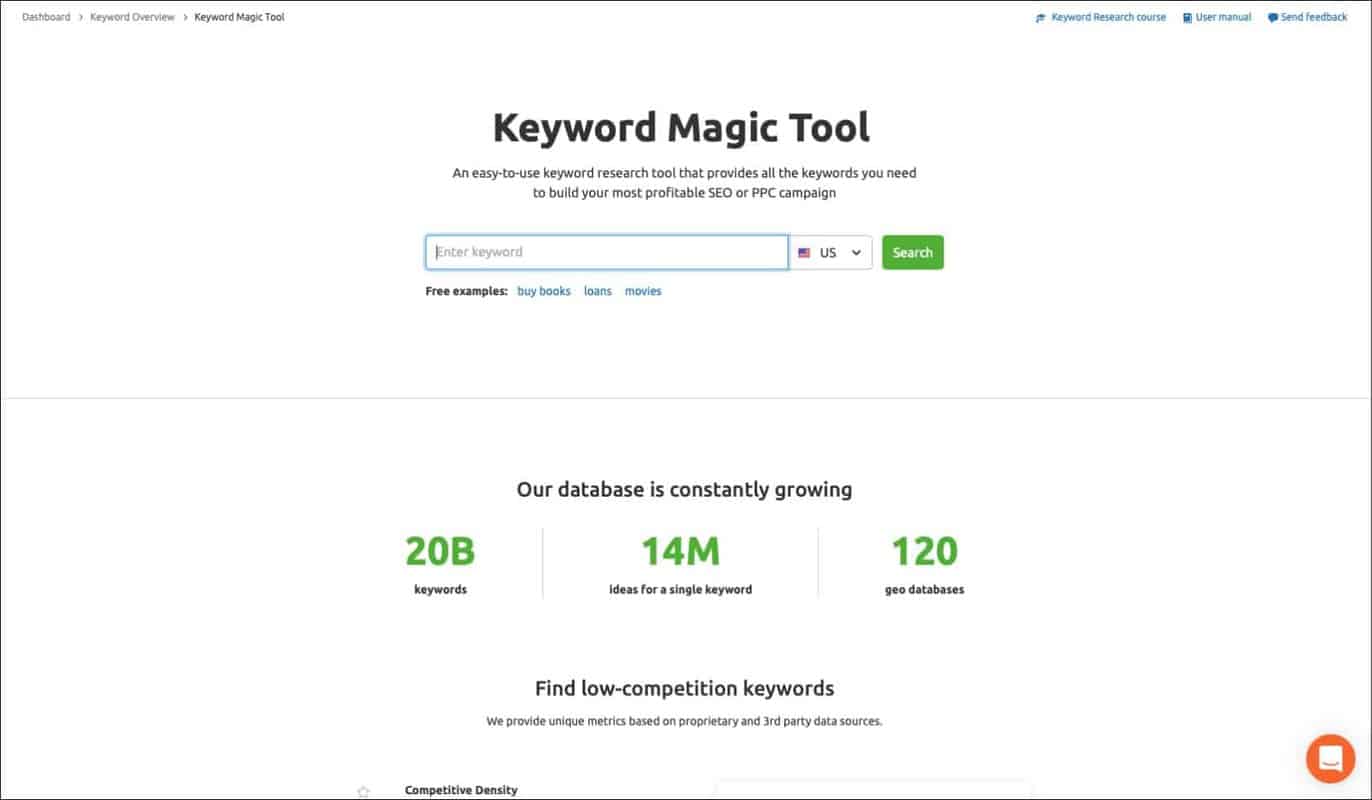 Enjoy a complete social media toolkit to manage and schedule your posts, as well as tracking the social media performance of your competitors (much cheaper than hiring a social media agency)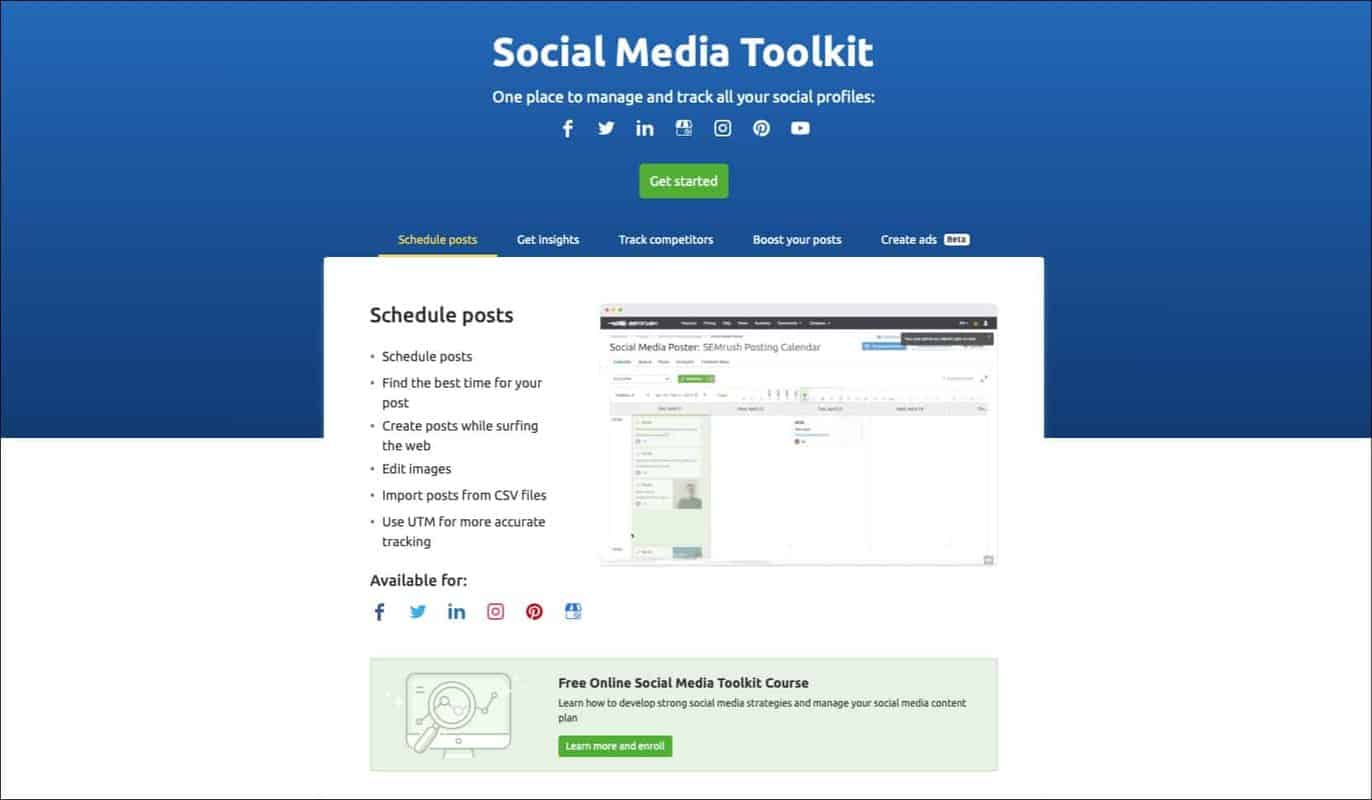 Dig deep into your competitors, reviewing how they approach marketing and which of their pages are seeing the best performance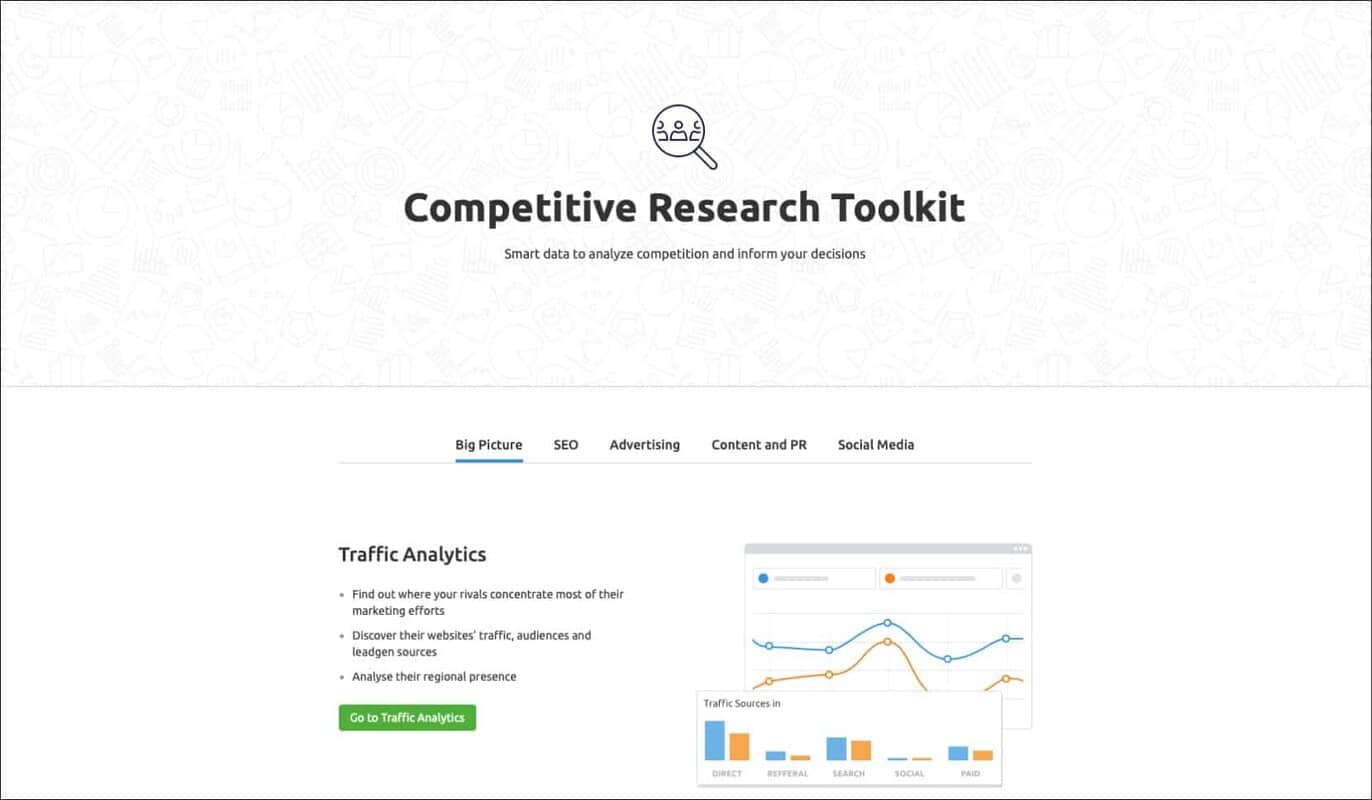 This is just the tip of the iceberg, especially if you signed up for a Guru trial. Spend some significant time experimenting with SEMrush and learning everything that it has to offer.
Should you continue to pay for SEMrush after your trial ends?
Only you can answer this. It all depends upon the answer to a straightforward question – how beneficial did you find the experience of using SEMrush? Helpful enough to justify the outgoing expense of a monthly subscription, or are your funds better serviced when redirected elsewhere?
As a friendly reminder, SEMrush offers three pricing points. These break down as follows:
Pro Account – $119.95 PCM, plus $45 per additional user
Guru Account – $229.95 PCM, plus $80 per additional user
Business Account – $449.95 PCM, plus $100 per additional user
Discounts are available if you commit to a 12-month package, paying the entirety upfront. In addition, SEMrush offers a variety of add-on packs. Weigh the expense of these packages against those of, say, a specialist SEO agency and decide if you'd handle your marketing in-house with the aid of SEMrush.
| SEMrush add-on name | What does it do? | Indicative cost |
| --- | --- | --- |
| Agency Growth Kit | Automates workflow to reduce manpower and, theoretically, save your business time | $100 per month |
| ImpactHero | Using AI, the journey of the buyer is broken down and the most impactful possible copy detected | $200 per month |
| Location (Basic) | Lists your business in all relevant directories, removes duplicates, monitors rankings and tracks geographical rankings | $20 per month |
| Location (Premium) | All of the above, plus a heatmap and the ability to reply to reviews | $40 per month |
| SEMrush Trends | Offers the ability to analyse the traffic of competitors, identifying successful strategies | $200 per month |
It may take a little trial and error to find the perfect SEMrush package, but you'll get there. Alternatively, you could also kick the can down the road a little and try to make do and mend with the free version for a while.
Is there a free version of SEMrush?
If your needs are fundamental, SEMrush also offers a free version of the software. If you cancel your subscription, you will automatically retain access to the free version. This means that your account is still open, but access to features is restricted. You can upgrade from the free version to SEMrush back to a paid subscription at any time.
If you decide to use the free version of SEMrush, you'll have access to the following:
Management of one project
10 domain and keyword analytic searches per day
10 results from an analytical report per day
10 trackable keywords
10 SEO unit ideas per month
100 page crawls per month
2 topic research queries per month (with limited results, due to no access to the content marketing toolkit)
One PDF report per month
As discussed, you'll first need to agree to a free trial (sign up here) to gain access to the free version of SEMrush. Time everything right and you'll get access to the free alternative without ever spending a penny. That could be beneficial if your marketing needs are very limited.
Even then, however, you may find that the features offered by a paid subscription are too irresistible to live without. The free version of SEMrush is very much an appetiser compared to the main course of a monthly membership.
What are the best alternatives to SEMrush and how do they compare?
SEMrush is arguably the biggest offering of its ilk, but it's not the only game in town. Let's take a look at some of the rivals to SEMrush and assess whether they are worthier of your time. All of these alternatives are cheaper than SEMrush for a monthly subscription.
| SEMrush competitor | Good to know… |
| --- | --- |
| CognitiveSEO | This is one of the ugliest interfaces out there but peer under the hood and this platform provides the opportunity to create detailed, insightful reports for lengthy and helpful audits. Alas, it's less effective at ranking and analysing competitors |
| Moz Pro | A great all-rounder, especially for individuals and small businesses. We'd recommend Moz Pro as at least on par with SEMrush for newcomers to this world due in no small part to its user-friendliness. SEMrush offers more features to more experienced and advanced users, though |
| SE Ranking | Great for evaluating the quality of backlinks, auditing websites and tracking keyword performance, offering advice on how you can improve your fortunes. Limited metrics, slow reporting and a lack of SEO writing apparatus, however |
| SEO Powersuite | Definitely the best service for tracking and reviewing the performance of your competitors. Every user needs a full license though, and the software is large, cumbersome and requires constant updates. This may slow down performance and grow wearing |
| Serpstat | Arguably the most comprehensive free software, and handy for keywords – this tool will help locate the best keywords and not overuse them. Alas, the database is smaller, and you won't be able to monitor backlinks or use SEO writing tools, or track social media profiles |
| WebCEO | Does not charge for additional accounts, offers free backlink data and updates the keyword database with every query. Also among the cheapest offerings around. The learning curve is steep with virtually no support or training though, and does not offer the opportunity to target a specific audience |
These services also offer free trials. It's worth experimenting with different software and deciding which is likeliest to satisfy your business needs in the longer term – as well as discovering which formats you find the most user-friendly.
If you'd like to discuss your marketing needs in more detail, including the necessity (or otherwise) of SEMrush subscription, feel free to contact Creative.onl. Our team would be delighted to talk you through the best approach for your business.