Ever since it launched in 2005, YouTube has become a major component of the online landscape. The site enjoys over two billion users in 2021, having come a long way from the days of "Charlie bit my finger" and "dramatic hamster."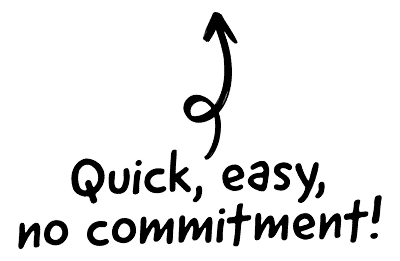 Today, YouTube is a part of the business world as much as it's a source of entertainment. As the host site – or content creator – could remove a critical video at any time, many businesses consider downloading content they deem indispensable. Leaving a company at the mercy of YouTube's whims is potentially risky.
Why would you download an MP4 video from YouTube?
Let's picture a hypothetical scenario. You regularly use a helpful explainer video on YouTube to train new staff in your business, and you hear that the creator is erasing their entire digital footprint. You may be keen to download this content before it's gone for good. After all, if the creator no longer has a YouTube account, the video will no longer exist online.
This is just one reason why you may want to download a video from YouTube. Third-party online content can disappear in an instant, either at the behest of the creator or due to violations of new rules and standards instigated by YouTube. If you consider a YouTube video indispensable to your business, downloading a backup copy may be tempting.
Is it free to download or convert YouTube videos?
This very much depends on how you go about it – you'll need to use third-party software to download a YouTube video. Doing so contravenes the terms and conditions of using YouTube, so if you're keen to remain firmly on the side of the rule-abiding, it's best to reconsider your plans to extract any content from the site.
Throughout this guide, we'll discuss how you can go about downloading videos from YouTube, including discussing the various pieces of software that allow you to do so. Some will enable you to download and convert YouTube videos at no charge, while others require a subscription package.
Warning and disclaimer
Please be aware that this information will be provided for informational purposes only and should be used as such. We do not condone the downloading of YouTube videos or any other action that contravenes the terms and conditions of the site. See the section of our article about the legality of this.
How to download a YouTube video as an MP4
Follow these four steps if you're ready to download YouTube videos as an MP4.
How to download a YouTube video as MP4
Ask yourself if you really need to download the file

As discussed previously, it is against the Ts and Cs of YouTube to download videos, even though countless people do so. 

YouTube has never personally taken legal action against anybody for downloading videos (though, as we'll discuss later, the copyright holder of the content might). Even so, you risk a ban or suspension of your account if YouTube discovers that you are downloading videos. This could be disastrous for a business.

Install a YouTube video downloader

If you're willing to take the risk and download videos from YouTube, you'll need third-party software to do so. You cannot download a video from within YouTube.

Scroll down this page to find a list of potential download and conversion software options. Some of these are free, and others require a license to use.

Download your YouTube video

Follow the prompts on your software to download the video. You'll need to enter the video's URL into your third-party tool in most cases. 

A high-quality downloader will allow you to choose the resolution of the video and what format you'd like to download in. You may need a separate converter to get the video into your preferred MP4 format if you use a free downloader. 

Use your YouTube video carefully

Finally, yet another reminder that downloading YouTube videos is not something you should broadcast to the world. If you have extracted audio or video files from the site, keep it to yourself. If you make any attempt to monetise any copyright-protected content you have pulled from YouTube, you leave yourself open to legal action.
YouTube to MP4 downloader vs converter – what's the difference?
When looking to repurpose YouTube videos, you'll have a raft of software options. You'll notice a theme emerging here – some will be downloaders, some will be converters, and many will be both. What's the difference?
As the name suggests, a downloader focuses on extracting the video from YouTube's server and onto your hard drive. Usually, a downloader will offer a raft of options for the video. You'll be able to choose your video quality (which will impact the size of the file) and which format you'd like to download in.
A converter, meanwhile, will offer more opportunities for what to do with your video. Perhaps you wish to burn the video to a disc (be careful of the legal implications of such a practice – more on that shortly). Alternatively, you may just want the audio from the video in a high-resolution MP3 file. Whatever you need, a convertor will make this possible.
Best YouTube to MP4 tools compared
If you're looking to get cracking on downloading and converting YouTube videos, here are some of the most popular pieces of software for such action.
| | |
| --- | --- |
| SnapDownloader | This software allows downloads of all qualities, from low-res to 8K, in MP4 – you'll need a converter for any other video format. You can also extract audio in MP3 format. SnapDownloader is free for 24 hours, after which you'll need to pay a one-off fee for a lifetime license. |
| VideoProc | You can download videos in up to 4K resolution for free using this software. You'll need to pay if you also need conversion services, though you can always find a free alternative |
| WinX HD Video Converter Deluxe | A genuine market leader in ripping video and converting file types with a raft of options, albeit capping footage at 4K quality. The paid version is costlier than most rivals, though |
Be aware – any of these sites could be pulled at any moment, especially those that offer their services for free. If these tools are used to violate a video's copyright, whether hosted on YouTube or elsewhere, legal action may follow.
YouTube to MP4 free online vs paid software – pros and cons
As we have mentioned above, there are plenty of choices when it comes to YouTube downloading software. Given a choice between paid software or free, most of us will immediately gravitate toward the latter. Why pay for something that you can acquire for free?
Before you make your decision, let's review the key components that will play into your decision. This will help you decide if you're prepared to accept the risks that come with free software or if you'd be more comfortable paying a modest sum.
| Factor | Good to know… |
| --- | --- |
| Cost | This is an obvious win for free software. Paying nothing is always preferable to paying something, especially for a comparable service |
| Security | Any kind of software download comes at a risk, but this goes double for free programs. Check the security of any freeware, ensuring it will not infect your hard drive or network with an array of malware |
| Ease of Use | Simplicity is in the eye of the beholder, but paid software has a greater vested interest in making life easier for a layperson. Paid software may also have a superior UX design thanks to a lack of advertising |
| Flexibility | Ensure your software allows you to download and convert YouTube videos. Some programs only offer one of these services – and some free software will not support downloading from YouTube at all |
| Video Quality | If you're looking for the latest and greatest 8K image quality, you may need to pay for it |
As always, the choice is ultimately yours to make as a business. Do think about the pros and cons before blindly downloading and installing a free piece of software, though. If you choose poorly, you may end up paying a lot more in computer repairs than you will need to invest in a software license.
Is it legal to download YouTube videos?
Having discussed how to download videos from YouTube, we should address the elephant in the room that has been previously hinted at. Just because you can do so, does it mean that you should?
Downloading videos from YouTube is verboten under the terms of service that any user agrees to when signing up. These Ts & Cs state, in no uncertain terms, that YouTube videos must not be downloaded without the consent of the site. This makes downloading videos a contravention of the rules of YouTube, though, which is not necessarily a legal concern. The topic of copyright ownership is a thornier issue.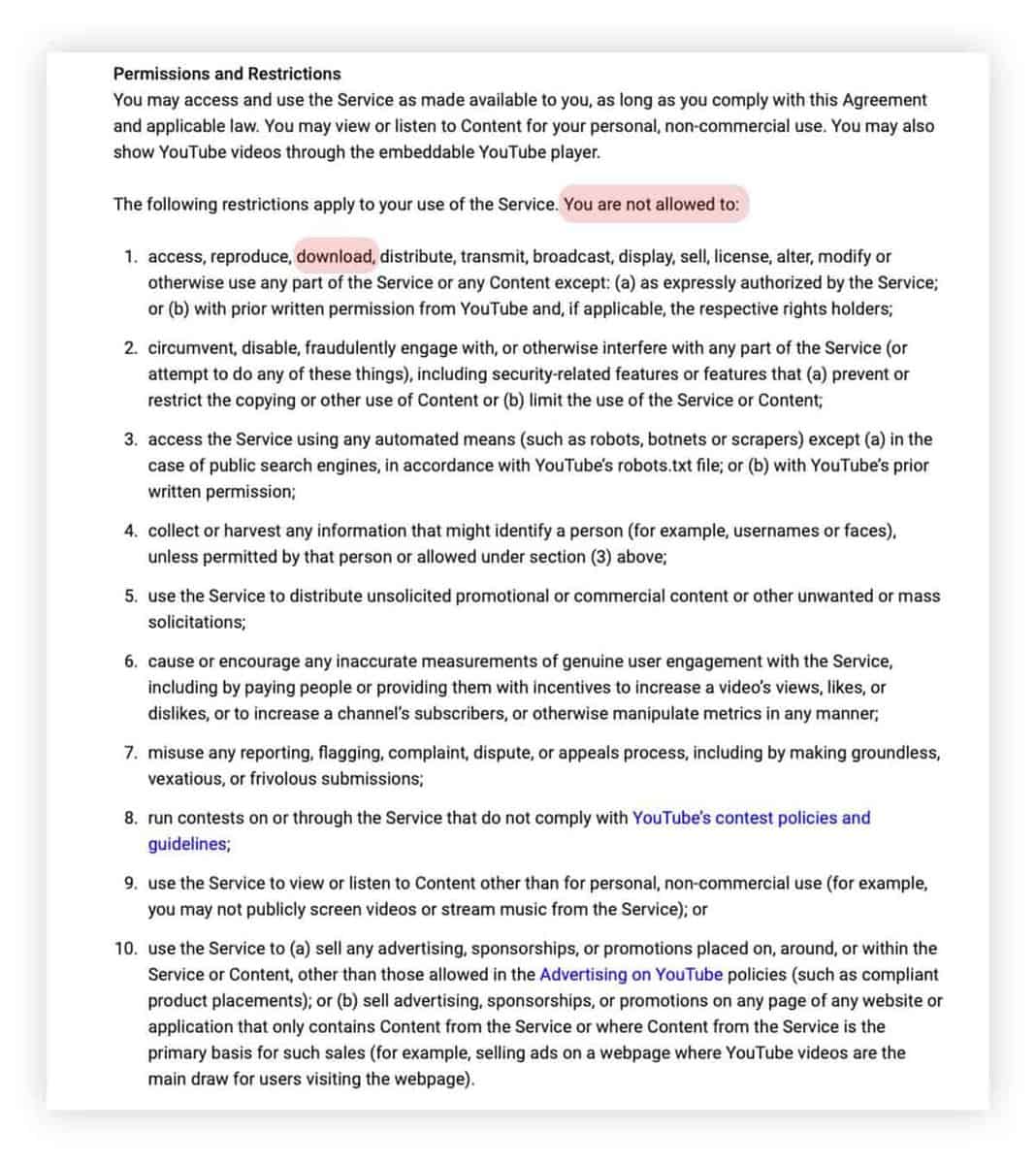 The ownership rights of any video uploaded to YouTube remain with the creator. However, a limited use license is also granted to YouTube when anybody chooses to host content on the site. In essence, though, it is illegal to download copyright-protected content without permission.
To avoid doubt, unless a video has been created for the public domain or explicitly declares that it operates under a creative commons policy, it will be copyright-protected. This copyright defaults to the creator, with any third-party looking to file a copyright claim needing to prove their right to do so.
So, if you want to download a video, you require the legal permission of the content creator. This may be granted (usually in exchange for full credit) or declined. If you have the copyright holder's approval, the video will be legal to download, but you'll still violate YouTube's terms of service. YouTube retains rights over copies of content, even when the original creator has cancelled their account. The video may no longer appear in searches, but it's filed and saved on YouTube's server. This means the site still has a claim to the content.
The copyright holder can also act against you for using content without their permission. This is extremely common in anybody that uses copyright-protected music on a video. Major record labels are famously litigious and have entire teams dedicated to trawling the web seeking out violations of their copyright.
If you plan to download a YouTube video, always seek permission from the copyright holder. Give serious consideration to removing any licensed soundtrack before repurposing the content, too. This could save you a great deal of aggravation – and cease and desist letters.
FAQ
How to convert YouTube to MP4?
MP4 is the native format of YouTube, though the site also accepts other video formats. If you wish to download a YouTube video as an MP4, you'll need external software. Be aware that this will break the rules of YouTube and place your account at risk.
How to download a YouTube video to MP4?
YouTube does not allow users to download videos from the site as an MP4. If you're willing to break the rules laid out by the site, install a third-party piece of software that will download a video for you. Most of these tools default to MP4. 
What is the best YouTube to MP4 converter?
"Best" is a subjective term. There are lots of different YouTube to MP4 converters on the market. Some are free to use, while others require a paid license. Typically, if you're willing to pay for the tool, you'll enjoy more flexibility and options.
How to download mp3 songs from YouTube?
Many third-party YouTube downloaders offer the opportunity to make an audio-only MP3 rip of a song on YouTube. Be aware, though, it's likely that the music will be copyright-protected, and you risk attracting the wrath of a record label. This could result in legal action, as you will be breaking copyright law by downloading a song from YouTube. 
How to download YouTube playlist as mp3?
Much like downloading videos and audio tracks, playlist downloading abilities are at the behest of the software you choose. Many paid-for downloading tools will have a playlist option, in addition to allowing you to download audio-only MP3 files. If this is not the case, look for a downloader that supports batch audio downloads and extract each playlist element individually.
How to download YouTube videos as mp3?
If you are only looking for the audio of a YouTube video, not the images, find downloading software that offers MP3 extraction. Many paid-for tools will offer this service, and an MP3 will download faster – and as a much smaller file – than an MP4.
How to convert MKV files to mp4 files using YouTube downloader?
Not all YouTube downloaders are also file converters. You may need to find a second piece of software that will convert an MKV to an MP4. Most licensed downloading tools will allow you to choose what format your video is downloaded in, though.