New techniques are being designed all of the time to help business owners perfect their business practices, whether that is to better streamline processes and eliminate superfluous tasks and actions, test your design to ensure its commercial value, or to identify and locate issues within the production line that are causing bottlenecks or issues with delivery.
One of the most effective techniques to arise in recent times is the 'Design Sprint'.
Get our free book
Design strategy for business leaders: an executive guide to commercially successful design
Learn more →
Originally devised by Jake Knapp at GV (formerly, Google Ventures) a Design Sprint is a dedicated five-day process of actively solving major issues, new challenges, or refining and improving current business processes.
A Design Sprint is just one application of design thinking, which we've discussed previously.
It is a very effective way of brainstorming and testing new, well thought out ideas with end customers as swiftly as possible to overcome current challenges or to clarify and decide on the correct path to take, moving forward.
You could say that the Design Sprint takes the best elements of effective business strategy, innovation and behavioural science, and puts it together into a condensed, usable, step-by-step form that gets results – fast!
Starting your Design Sprint process
Your Design Sprint working group will help you to deliver results by fast-tracking potentially weeks or months of work into five days of intense focus. You can effectively road-test solutions and ideas on paper before committing to an idea or investing your finances into an untested solution.
You will need to book out five days in your calendar and form your working group in advance of your start date. Your working group should be made up of the following representatives:
The decider/supervisor: This is the person who calls the shots. Their final decision will influence the outcomes of the Sprint Design.
Customer service/UX expert: Your direct link to your customers, this person will understand your end customer, who they are and what they want.
Financial expert: A financial representative that will work out the costs of your project and your expected ROI.
The designer: This will be the person responsible for designing your product or service and can help you realise the end vision of your project.
The facilitator: This will be your overseer and timekeeper. They will be responsible for keeping the momentum moving forward and your plans on track. They should have no bias about the end result of your project.
The marketer: This will be your marketing expert who will be able to take your results and weave it into a marketing message to reach your customers.
The Tech expert: This will be the person that understands how to build and deliver your solution.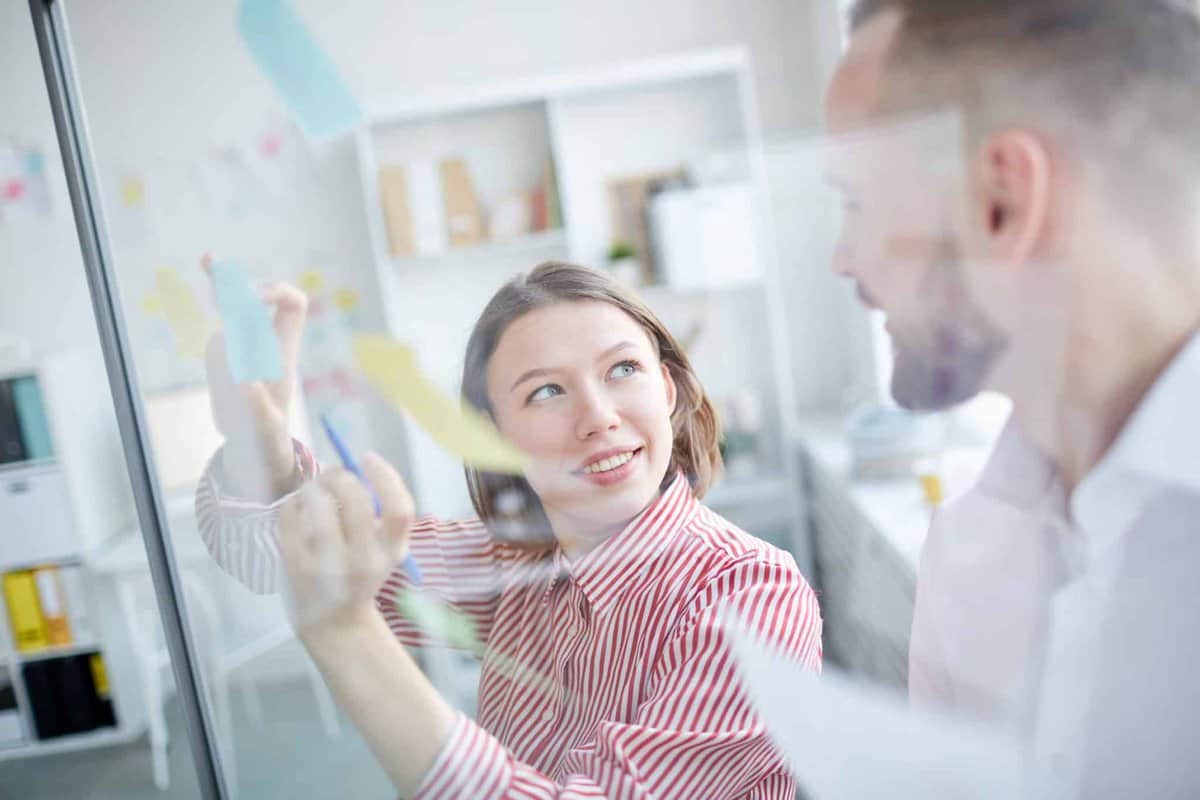 Your five-day plan of action
The five-day Design Sprint should be held in isolation away from interruptions and distractions. No phones or gadgets should be used during your brainstorming sessions so that your chosen team can remain focussed on the goal in hand.
You should hold your sprint in a comfortable room with a large whiteboard, notepads and post-it notes so that you can sketch out and compare different ideas and solutions on paper. Your sprint will dedicate a day to focus on one area, as follows:
1. Monday: Understand the problem
Map out your challenge and decide on a point of focus. Establish your end goal (what do you want to achieve?).
Discuss your customer's pain points. What issues do they have and how does your product or service resolve them? What issues are your customers experiencing with your product or service? Map your customer journey and uncover any problems that are being reported. Can we turn existing problems into opportunities?
2. Tuesday: Brainstorm and sketch out ideas and solutions on paper
Note down your rough ideas to help inspire your thoughts. Think about the end goals you want to achieve and note down potential opportunities, inspirations and paths to take.
Draw out solutions in sketch form and see if you can think of and sketch out different variations or directions this idea can take you. Pick your favourite ideas/solutions and spend 30 minutes creating an end to end sketch to create a viable solution. 
3. Wednesday: Review and discuss ideas
And reject ones that are the least feasible. Work on turning your most viable idea into a testable hypothesis. 
Use your collective mind to decide on the best solution to take forward to a prototype. If your team cannot agree, avoid any bias by setting up a gallery of the sketches on the wall.
The facilitator can set this up along with a voting system that will allow the best design to come to light. A good way to do this is to issue three dot stickers to your team.
Each team member can then vote for the sketch they find most interesting. Voting should take place in silence to avoid any influence from other team members.
The winning sketch can then be taken forward to create a prototype. The decider will be responsible for a final decision should voting produce two winners.
4. Thursday: Piece together a workable prototype to bring to your customers
Spend the day working together to create a prototype for testing. You will want your prototype to be good enough so that your human test subjects can understand it, but you don't need to go into very great detail and waste time over-perfecting it.
You can create your prototype mock-up using a combination of either Keynote or Sketch and then putting into a prototyping software programme such as Invision to create a fast solution for your next stage.
5. Friday: Present and test your prototype with real-life test subjects and record their response
For those familiar with the Nielsen model, you will only need to test your prototype out on five real-life human subjects to get the results that you need. According to this theory, you will already have identified 85% of the problems after listening to five people.
Your test subjects should be interviewed in a real-world environment while your team watches proceedings from a different room. Your group can go over and analyse the recording of your test session together and note down how your solution has resolved or addressed the issue or challenge you identified.
What you can conclude and take away
Your Design Sprint project is an effective way to narrow down and identify challenges in your business processes that can be resolved and effectively tested on real humans in as little as five days.
You can build and develop your company products and services based on real findings and a solid understanding of what your end customer wants and expects from your product or service. 
Ultimately, a Design Sprint projects is an easily-repeatable method of streamlining and improving your business processes at very little cost to yourself in terms of time or money.
If you are a solo-entrepreneur, a small business owner operating a lean structure, or you simply don't have the staff available to help you with your Design Sprint project, then you can choose to work with our design team at Creative.onl.  
We can assist you with our comprehensive range of products and services and we are here to help.