If you're running a business in the modern world, accepting payments is crucial. Epos Now is a UK-based company that might have caught your eye while researching payment processing solutions. But is it a good choice? Let's review what Epos Now offers, including its features, fees, pros, cons and some alternatives in the market.
Get quotes for card processing products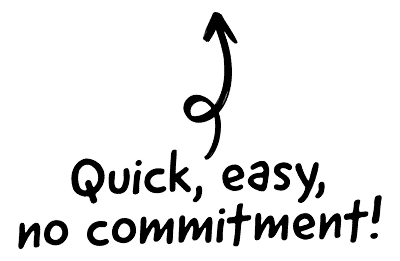 Overview of Epos Now – what's on offer?
Founded in 2011, Epos Now has grown rapidly to become a leading point of sale (POS) and payment processing solution. It offers cloud-based software, providing versatile POS systems suitable for retail and hospitality sectors. With over 30,000 businesses using their services, it has made a significant impact on the market.
Epos Now's offerings are comprehensive. Its POS systems feature simple yet sophisticated interfaces that can be customised to your business needs. The system integrates with leading payment processors, making it easy to accept payments in various forms. It's compatible with traditional chip and PIN, contactless, and mobile payments.

The CRM platform to grow your business
Great for entrepreneurs
Powerful data analytics
Manage sales and data

Seamlessly connect data, teams, and customers
Cutting-edge marketing
Ideal for teams or solo use
Measure sales conversions

Powerful web builder and advanced business tools
Great for startups
Powerful web page builder
E-commerce available

Supercharged content planning
Great for marketing
Better than lists or sheets
Manage social media

Create a new website in 10 minutes. Easy.
Launch your website fast
Powerful data intuitive
No coding skills needed
Moreover, Epos Now allows for robust inventory management, real-time analytics, and business reporting. Its cloud-based nature means that you can access your system from anywhere. This is perfect for owners who want to keep tabs on their business remotely. It also provides 24/7 customer support, ensuring that any issues are resolved swiftly.
Pros and cons of Epos Now
Like any service, Epos Now comes with its own set of advantages and drawbacks.
Pros:
Versatile Payment Options: Epos Now's compatibility with various payment processors allows businesses to accept a wide range of payments.
Cloud-based: Real-time access to data from anywhere is an enormous advantage for business owners who are constantly on the move.
Excellent Customer Support: Its 24/7 customer support ensures that businesses never get stuck.
Integration Capabilities: Epos Now integrates with several third-party applications, including accounting software like Xero and Quickbooks.
Ease of Use: The interface is user-friendly, and the system is easy to learn, reducing the learning curve for new staff.
Cons:
Potential Hidden Fees: Some customers have complained about unexpected fees. It's important to clarify all costs upfront.
Complex Pricing Structure: The pricing structure can be a bit complicated to understand and varies significantly based on the level of service and add-ons chosen.
Limited Customisation: While Epos Now offers some customisation, it may not be sufficient for businesses with unique needs.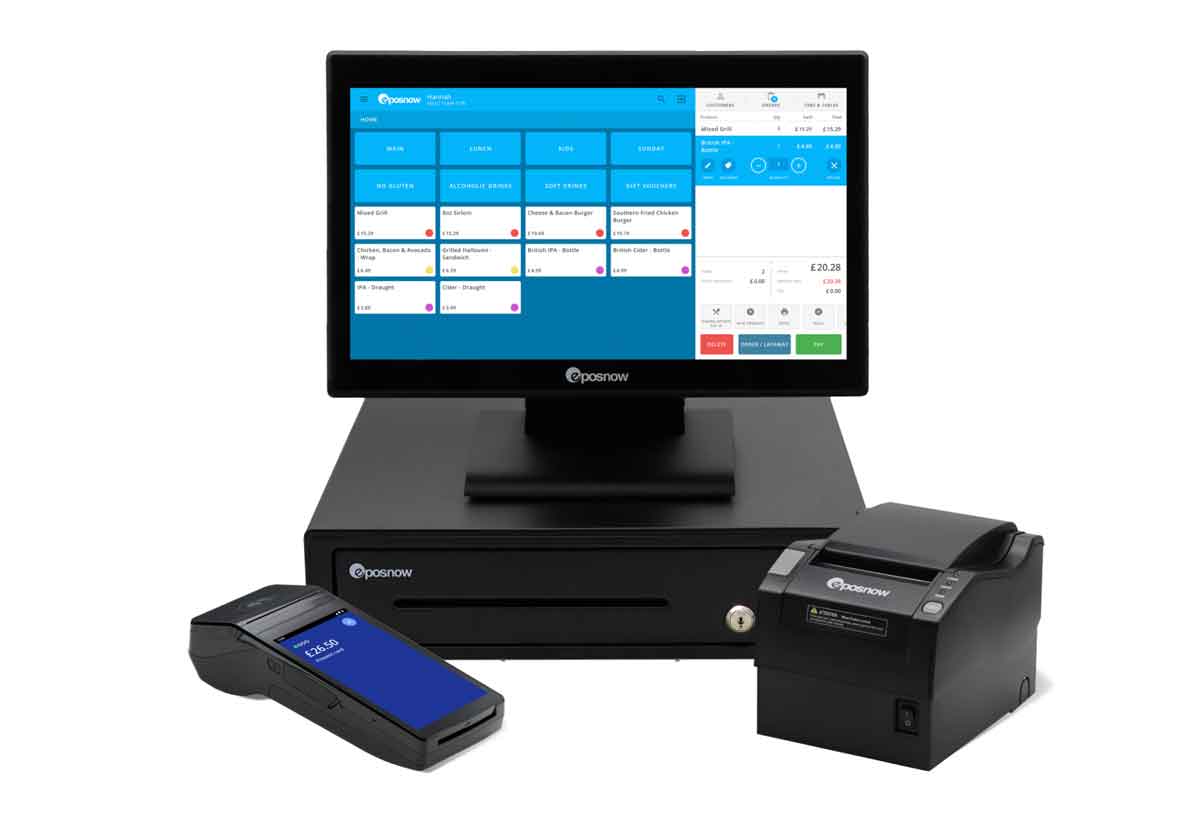 Epos Now products and services guide
Epos Now offers a range of products and services, primarily divided into two sectors: retail and hospitality.
The retail system includes all features needed to run a retail business smoothly. It manages inventory, tracks sales, and integrates with popular e-commerce platforms like Shopify and WooCommerce. Moreover, it provides valuable sales insights and allows for loyalty program management.
The hospitality system is designed for bars, restaurants, and cafes. It provides table management, kitchen display systems, and tracks ingredient levels. It can even handle complex bill splits and offer multi-site support for restaurant chains.
Furthermore, Epos Now provides a back-office system, accessible from any device. This system provides real-time reports and analytics, helping businesses track performance and make data-driven decisions.
Lastly, they offer additional hardware like cash drawers, receipt printers, barcode scanners, and card machines, providing a complete POS solution.
Epos Now pricing, fees and charges explained
Epos Now operates on a software-as-a-service (SaaS) model, meaning you pay a monthly or annual fee for using their software. The cost varies depending on the sector (retail or hospitality) and the number of locations.
The basic software package starts at £25 per month, per terminal. However, the complete system, including hardware, can range from £349 to over £1,000, depending on your specific needs.
Additionally, Epos Now charges for add-on services like integrated card payments, loyalty program features, advanced reports, and more. It's crucial to understand these costs to avoid any unexpected fees.
Alternatives to Epos Now
While Epos Now is a robust solution, there are alternatives in the market worth considering. These include:
Square: Known for its simple pricing and robust feature set, Square is a strong competitor. It offers both POS software and hardware.
Zettle: Zettle (now part of PayPal) is a cost-effective solution, ideal for small businesses. It offers an easy-to-use system with integrated payment processing.
Shopify POS: If you're already using Shopify for e-commerce, their POS system could be a natural fit, offering seamless integration.
Conclusion – Is Epos Now a good choice?
In conclusion, Epos Now offers a robust and comprehensive payment processing solution. It's versatile, user-friendly, and comes with excellent customer support. While its pricing structure can be complex, the extensive features and customisation options justify the cost.
However, businesses with unique requirements or those seeking a more straightforward pricing model might want to explore alternatives like Square, Zettle, or Shopify POS. It's always best to compare options and trial systems where possible to find the best fit for your business.
FAQ – Epos Now review
What type of businesses is Epos Now best suited for?
Epos Now is ideal for small to medium-sized businesses in the retail and hospitality sectors.
Can I use Epos Now on my own hardware?
Yes, Epos Now's system is compatible with most modern devices. However, it's best to check with Epos Now for specific requirements.
Does Epos Now offer customer support?
Yes, they offer 24/7 customer support via phone, email, and live chat.
Can Epos Now integrate with my accounting software?
Yes, Epos Now integrates with popular accounting software like Xero and Quickbooks.
Does Epos Now offer a free trial?
Yes, Epos Now offers a free trial for potential customers to test their system.
Can Epos Now handle inventory management?
Yes, Epos Now offers robust inventory management features, including real-time tracking and low-stock alerts.
Can I operate Epos Now from multiple locations?
Yes, Epos Now is a cloud-based system, allowing you to operate and monitor your business from multiple locations.
Does Epos Now offer a mobile app?
Yes, Epos Now has a mobile app available for both iOS and Android devices.
Can I use Epos Now for online sales?
Yes, Epos Now integrates with e-commerce platforms like Shopify and WooCommerce, allowing you to track online and in-store sales from a single system.
Are there any hidden fees with Epos Now?
Some users have reported unexpected fees. It's crucial to thoroughly understand the cost structure before committing.
Does Epos Now offer training for new users?
Yes, Epos Now offers initial setup assistance and training to ensure you're comfortable using their system.
Can Epos Now handle employee management?
Yes, Epos Now has employee management features including time-tracking, role-based access, and performance reporting.
Can I offer customer loyalty programmes with Epos Now?
Yes, Epos Now supports the creation and management of customer loyalty programmes.
How does Epos Now's pricing work?
Epos Now operates on a SaaS model, charging a monthly or annual fee for its software. Additional costs apply for hardware and add-on services.
Can I process refunds with Epos Now?
Yes, Epos Now allows you to easily process refunds and returns.
Is Epos Now PCI compliant?
Yes, Epos Now is fully PCI compliant, ensuring that customer card data is secure.
Can Epos Now handle table management for restaurants?
Yes, Epos Now's hospitality system includes table management features.
Does Epos Now offer gift cards?
Yes, Epos Now allows businesses to offer and accept gift cards.
Does Epos Now provide customer data insights?
Yes, Epos Now can generate detailed customer reports, giving businesses valuable insights into customer behaviour and preferences.
How reliable is Epos Now's system?
Epos Now's system is cloud-based and designed for reliability. However, as with any technology, occasional issues may occur. Their 24/7 customer support is available to resolve any issues promptly.