When it comes to working out how much money you should be spending on your marketing activities, you could ask, how long is a piece of string? It can be difficult to simply pull a number out of the air and for that figure to be right.
But generally speaking most successful businesses use a few strategies to help them work out how much money to dedicate to their marketing.
Let's take a look at some ways to decide on a workable budget to meet your needs. Firstly though, we should define what we mean by marketing budget – what exactly do we want to cover or include in the budget.
Get our free book
Design strategy for business leaders: an executive guide to commercially successful design
Get it now →
Your marketing budget should cover all costs needed to market your product or service, so that includes things like print advertising, promotions, demonstrations, exhibitions, public relations, social media, free product sampling or giveaways and costs to cover Google AdWords etc.
Contents
How to set a marketing budget
1. Use the 5% rule
There is a general rule-of-thumb in the marketing world that you should aim at spending between 2-5% of your sales revenue on marketing. This 5% rule has been based on years of previous marketing experience and feedback from successful companies.
While at first glance this 5% rule doesn't seem to be very generous, but when you break it down it is quite reasonable. This is because it should apply to most years, but not every year. Roughly 5% of your sales revenue should cover most of your regular ongoing marketing activities.
There may be times when you will need to spend more, such as in the early days of your company foundation when you need to invest in your day-to-day marketing activities.
Extra expenses will come from the initial set up your company website, buying software such as a good CRM package etc. and then you will need to spend a little more on upgrading your website every three to five years as technology moves on.
Get a free consultation →
Do you want free expert advice about your project?
Yes, get my appointment →
Creating your basic marketing foundation needs to be considered when first setting up as this includes:
2. Consider marketing budgets by industry
Graph: marketing budgets by industry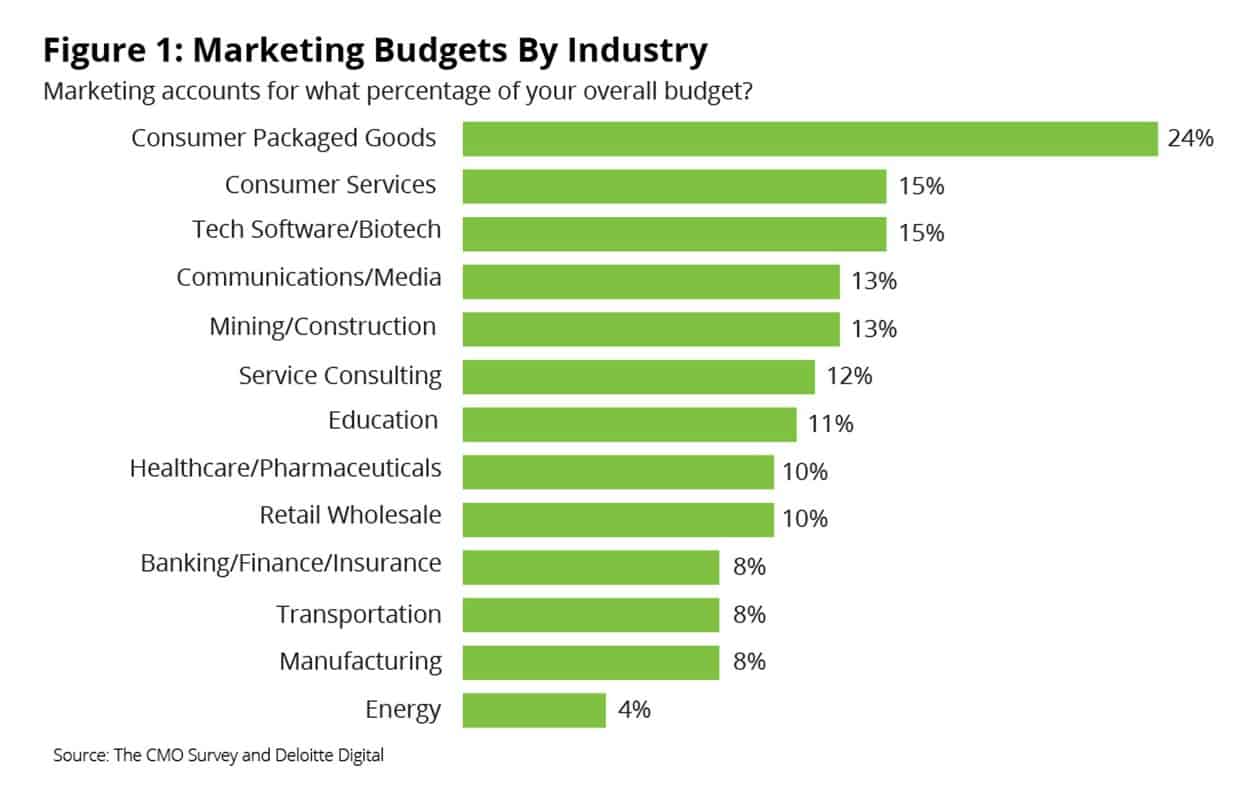 3. Consider marketing expenses by industry
Graph: marketing expenses by industry
4. Look at key marketing budget statistics
In the 'service consulting' industry, the average marketing spend is 12% of turnover (source)
69% of successful B2B marketers have a documented content strategy (source)
The content marketing industry will be worth $412 billion by 2021 (source)
9 out of 10 B2B buyers say online content has a moderate to major effect on purchasing decisions (source)
84% of CEOs and VPs use social media to make purchasing decisions (source)
80% of business decision-makers prefer to get company information from a series of articles versus an advertisement (source)
78% of companies have a team of one-to-three content specialists (source)
77% of companies say they have a content marketing strategy (source)
Companies spend 46% of their marketing budget on content creation (source)
Content marketing is a long-term game. Almost every campaign begins with a negative ROI overall, which should improve over time (source)
There are many benefits that content marketing offers that are hard to quantify numerically. Brand perception is one of these advantages (source)
5. Consider your marketing budget ROI
The old saying goes: You need to spend money to make money. However, while most companies will spend around 5% of their total revenue on their day to day marketing to maintain their position, they will up that amount to around 10% when they aim to grow and establish a greater market share of their niche.
A business should budget according to its tenure in the marketplace. So if your company sells multiple products or services, then you should allocate your advertising budget differently based on the status of each product or service you offer.
If you have well-established products or services, then you may only need to spend around 1% of their total sales on marketing them. But when launching a new product or service, you may be interested to know that other companies will spend 50% or more on marketing their new offerings until they become established.
6. Pay special attention to mobile marketing
While you need to first build a strong marketing foundation as mentioned above, don't forget that as time moves on your focus must be targeted towards the ever-growing mobile marketplace.
You should allocate a large portion of your marketing budget towards mobile marketing and especially towards your best-performing channels. This could be your company website, blog, SMS messaging or social media accounts.
Building a dedicated app for your business is another important aspect of your overall marketing strategy that you need to consider. Building an app is a lot easier, quicker and cheaper today than it was just a few short years ago.
A dedicated business app will help you to:
Create a fully customised user experience for your customers
Have an always-visible marketing channel directly to your customers
Offer easy access to your product catalogue
A quick and easy payment platform
Improve customer engagement with a low-distraction contact method
Develop customer loyalty and trust through a convenient, quick and reliable shopping channel
7. Decide on your marketing channels
It is unlikely that every marketing channel you have will be right for your marketing efforts, but for those that are effective, it can make a massive difference for your company awareness, positive customer experience and satisfaction, and therefore sales.
With mobile traffic now overtaking desktop traffic, nearly all digital growth is now coming from mobile users. But this doesn't mean you need to increase your marketing budget to cover more bases or abandon your efforts for your desk-bound devices.
It should be about striking a good balance between both channels and making your business more mobile-friendly. According to the Google Shopper Marketing Council, mobile shoppers spend more money, but 84% also use their smartphones while in-store to make informed purchasing decisions.
It can help you greatly to use services like Google Analytics to show you how your web traffic is divided between desktop and mobile. You can even get free plugins for your WordPress site, if you use one, to tell you this for free.
So, how much should you spend on marketing?
While there is no one-size-fits-all answer to this, you can simply use the 5% rule as mentioned above as a broad blanket approach to cover your marketing needs to begin with, especially if you are starting from scratch, and then dig a little deeper to plan your budget as you move forward.
The way to calculate your 5% marketing budget is as follows:
To maintain current brand awareness and visibility = total revenue x 5%
To grow your market share = total revenue x 10%
However, the above calculation is a basic rule-of-thumb. You may need to adjust this up or down according to your business overheads and available funds left after expenses.
To dig a little deeper to form an accurate marketing budget, you should analyse the way your customers engage with you. Is this through a mobile-ready website, app, social media or mobile advertising etc.
Identify your most profitable marketing channels and then dedicate more of your marketing budget towards which channels are working the best for you.
Constantly monitor your customer analytics. Look for weaknesses and remedy them. This could be by dedicating extra funding to fixing them or by restructuring your marketing funnel for example. If you spot any weaknesses you should limit your everyday marketing activities until you have resolved your issues.
Never let yourself become complacent. Be prepared to consistently test, rinse, repeat and optimise your results. By doing this you can keep your marketing budget under control and create a better ROI for your spending.
Latest insight articles →