According to psychotherapists Chloe Madanes and Tony Robbins, we are all motivated by six human needs. One of those basic needs is the need for "change" or "variety." As explained by Chloe, humans want a bit of uncertainty, adventure, or change in their lives. Without it, we get bored of our routine lives and go off craving for something new and different. This is may be why we love a change in surroundings when we go on a vacation, making sure the place is new every time!
Compare prices for graphic design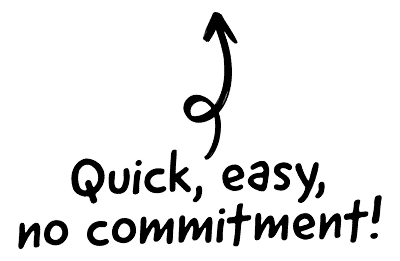 As always, the best of brands and marketers apply concepts of psychology to unlock the secrets of a human brain's demands from a product/service. It isn't easy changing a logo and surviving it because a logo is a significant part of a brand's identity. On the other hand, consumers love change and need variety. This paradox results in brands changing their logos (and much more) from time to time – but only slightly (within the JND of perception) to give them just the change they require, and still be able to identify with the brand. (Hurray! We're all happy now!)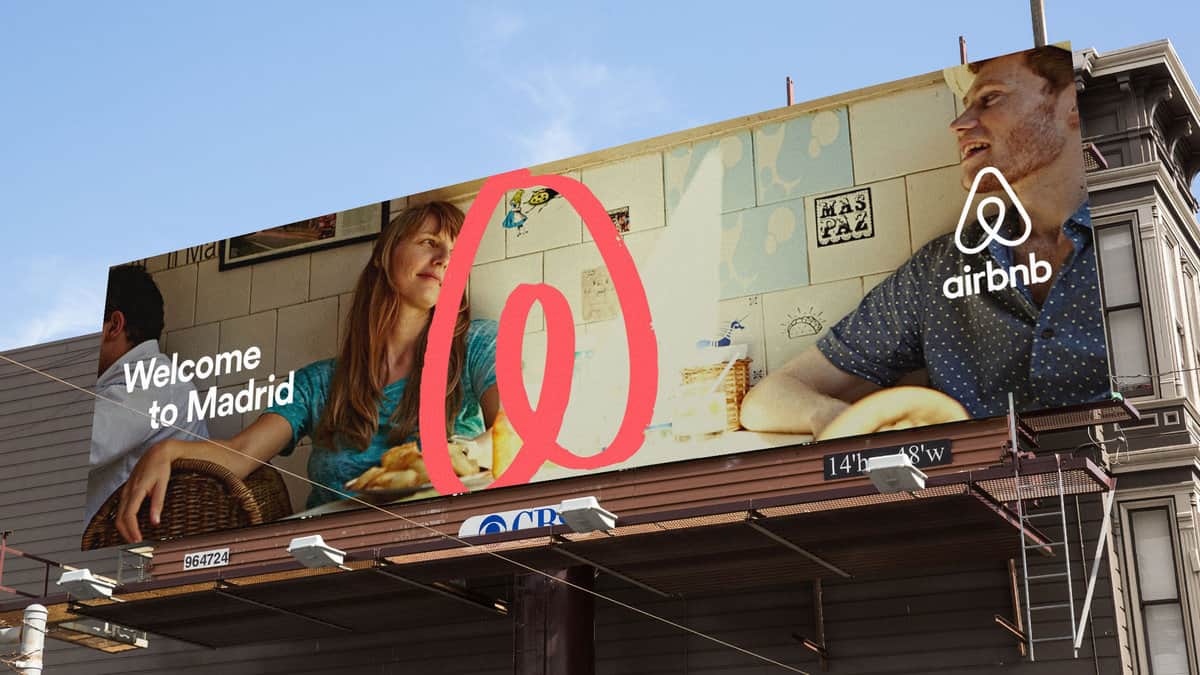 The CRM platform to grow your business
Great for entrepreneurs
Powerful data analytics
Manage sales and data

Seamlessly connect data, teams, and customers
Cutting-edge marketing
Ideal for teams or solo use
Measure sales conversions

Powerful web builder and advanced business tools
Great for startups
Powerful web page builder
E-commerce available

Supercharged content planning
Great for marketing
Better than lists or sheets
Manage social media

Create a new website in 10 minutes. Easy.
Launch your website fast
Powerful data intuitive
No coding skills needed
Here are 15 big brands that changed their logo in 2014 to give their customers the "change" they crave for, every so often. Whether it was a good idea or not, is for you to decide.
Cadillac

If you're a hard-core Caddy fan, you must have been jolted by the new Cadillac logo last year. Now, all the latest Caddys are coming with just the flag. Cadillac decided to ditch the crescent and enlarge the centre part in their redesign.
Fandango

Surprise, surprise! World's favourite theatre-ticket selling brand is also running the race of the latest logo-revamps. I truly hope this one's success. The old movie-theatre ticket design got replaced with the letter F in a negative space. The hidden ingredient: A subliminal upside-down F in the new logo.
Netflix

Ah, the reversing technique (how simple and smart)! Netflix didn't do too much to their old logo except reverse the colours. This automatically removed the red box because now the background is plain white. The clever technique resulted in a simple and flat design.
Foursquare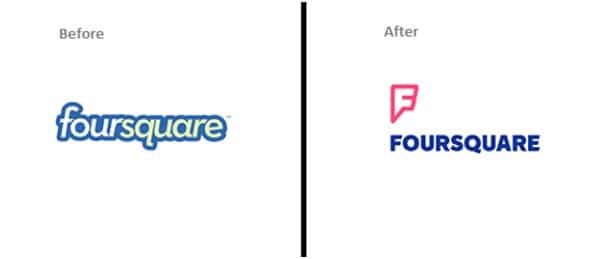 The mobile app that enables people to find restaurants, markets, or clubs of their choice has completely changed their new logo. Other than giving the new logo a flatter look, Foursquare has added another element. Instead of three colours, the new logo sticks with only two: blue and pink. The added "F" at the top resembles a map pointer, which is in line with their app's purpose.
Pizza Hut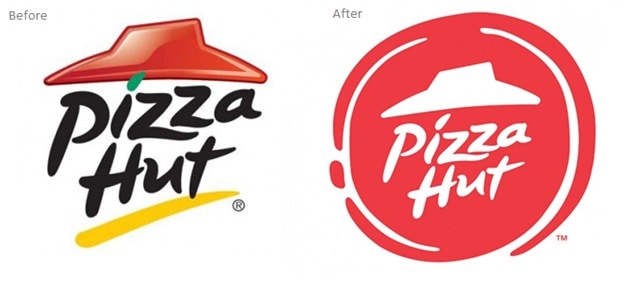 This one was surely a surprise for all. Pizza Hut, in response to the competition from Papa Jones and Domino's, decided to add new flavours to everything, including their logo. The latest logo is a flat design, unlike the old 3-dimensional roof. Stretched pizza dough with a swirl of tomato sauce has been incorporated with the old roof, except this time, the roof is white and doesn't have an outline now!
Olive Garden

Olive Garden attempted to move out of their old-fashioned designs and renovated the whole brand with a modern theme. The restaurant interiors, menu, and even their logo was renovated with the simpler and more "flat" design — which many people thought was too generic. Honestly, I thought the change was a little too abrupt and, maybe, a little too simple.
Bacardi

Here's a new design Captain Jack Sparrow would be interested in. Bacardi Ltd. didn't go for a dramatic new look. In fact, it didn't even care about the "simple" and "flat" everyone is oh-so-inspired by. The old bat has transformed into a more realistic-looking, 3-dimensional bat with a bit more vivid colour.
PayPal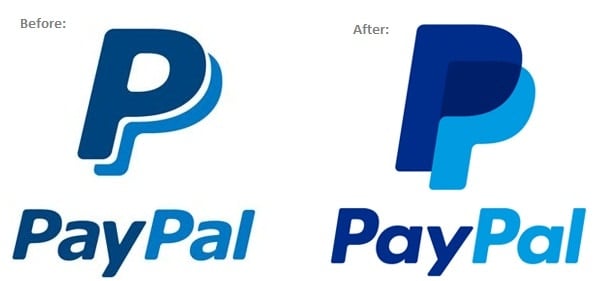 Don't ask me why they removed the cut out from the "P". I suppose PayPal decided to make their "P" a little more distinct. However, it is safe to say that the colours are more vibrant, and the overlapping P emphasises human connection more prominently in this new logo.
Reebok

Love it or hate it, Reebok has completely changed the intersecting stripes on their new logo. Instead, it is now a triangle in red, also known as a delta. Delta represents "change" in mathematics. We can see the obvious "change" in this one for sure.
Visa

The golden tip gets chucked out of the new Visa logo and gets replaced by a darker blue gradient in the VISA letters. Golden tip or not, Visa will still remain, Visa.
Lipton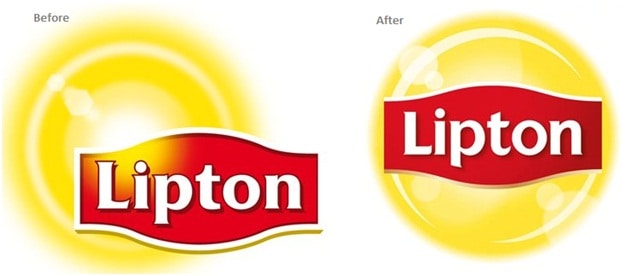 Whether the Lipton background was a bright, shiny sun or a lemon, one will never know. The white spots resemble the sunshine's reflection on a lens (possibly capturing the sun). However, many say it is a lemon. Regardless, the new logo doesn't ditch the reflection spots. Unfortunately for Lipton, the latest logo is strikingly familiar because it resembles that of a potato chips company (we can all guess which one).
Airbnb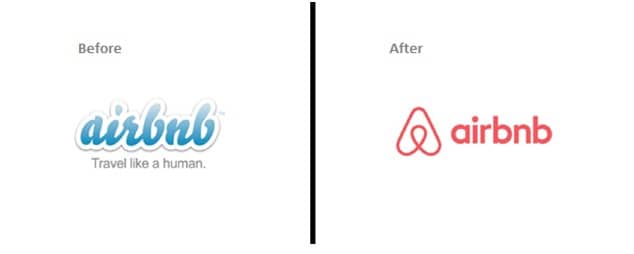 The US lodge-rental service redesigned their logo with a new symbol it is. They call their new design "Belo" and say that it represents "the universal symbol of belonging". This logo has, however, become a cause of controversy lately because some people say it has been copied off of a tech firm's logo. Others argue it looks like a certain human body part (woops!).
Mack Trucks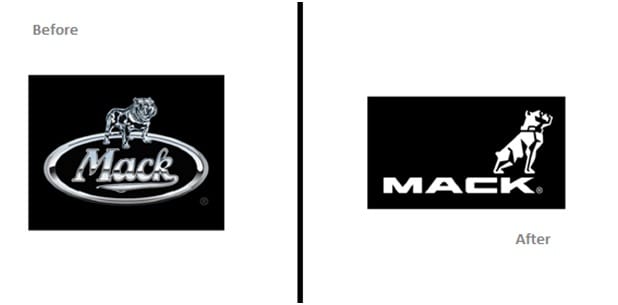 The Mack Trucks new logo is simple and flat. The 3D effect has been replaced with plain black and white colours. The dog is now facing right with a bolder and tougher poise that represents the Mack Truck Company's conviction in a quality brand.
Hershey's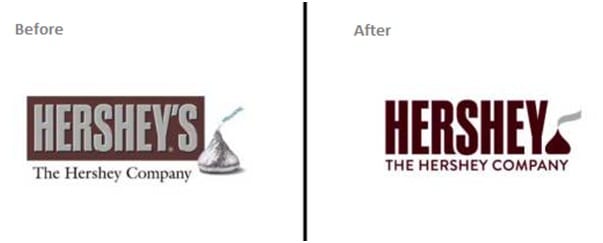 In case you didn't notice, Hershey's just went from being "Hershey's" to "Hershey" in the latest logo. The 120 year old "candy" company went for a flat design and also removed the apostrophe "s". The latest logo is more vivid, though, because of the new dark-brown colour with a white background contras
WWE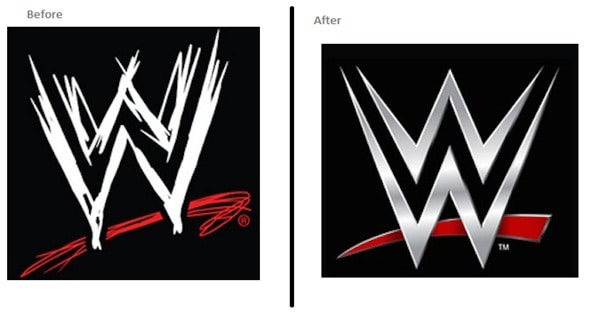 Whether or not the new WWE logo design is lacklustre, it is something only wrestling fans can determine. Many felt that the old "W" had an "edge" to it because it signified the rugged and rocky attitude of the wrestlers and its fans. The new is, however, cleaner and more professional looking.