What is Mobilegeddon? It refers to Google's latest search algorithm update, which promised to penalise websites with a poor user experience.
Compare prices for marketing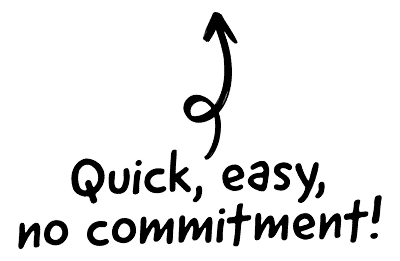 One month on from Mobilegeddon, what have we learned?
Although the impact has not yet been significant, there have been some key players affected by the release already.
After monitoring the search landscape over the course of late April into May, we have observed that a number of big brands have taken a few knocks as a result of not having fully optimised websites for mobile devices.

The CRM platform to grow your business
Great for entrepreneurs
Powerful data analytics
Manage sales and data

Seamlessly connect data, teams, and customers
Cutting-edge marketing
Ideal for teams or solo use
Measure sales conversions

Powerful web builder and advanced business tools
Great for startups
Powerful web page builder
E-commerce available

Supercharged content planning
Great for marketing
Better than lists or sheets
Manage social media

Create a new website in 10 minutes. Easy.
Launch your website fast
Powerful data intuitive
No coding skills needed
Those affected
The AA have only optimised their homepage and a handful of other pages on their website. The 'insure my car' tab on the mobile-optimised homepage takes users to the car insurance page, which unfortunately isn't optimised for mobile devices.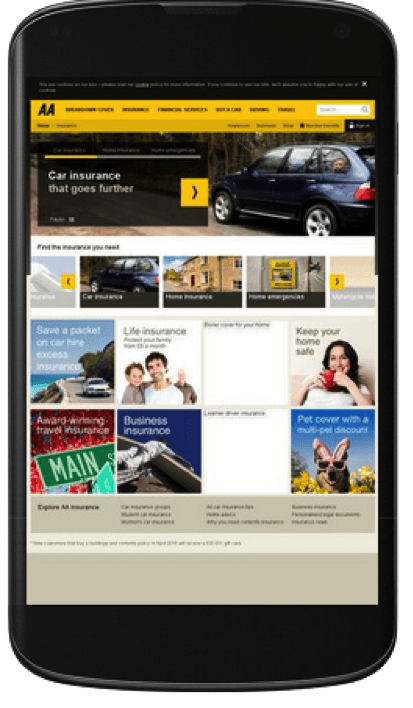 This inconsistency is likely to result in a poor user experience for mobile users, and could have a knock on effect on conversions. Having identified a UX issue on this page, we can see that Mobilegeddon has impacted upon its search visibility, along with other pages which aren't mobile optimised on the AA site.
Before the Mobilegeddon update on the 21st April, this particular page of the AA's website appeared on the first page of Google search engine results pages (SERPs) for "cheap car insurance". We can now see that the AA has been demoted to the second page. A similar impact with drops in visibility has also been seen for other search variations such as "car insurance quotes". Although we do not have access to specific analytics data, the evidence suggests that the AA are going to find it increasingly difficult to gain traffic to this page if they are not visible for "car insurance" related queries.
With that in mind, It is no surprise to see Google favouring More Than, another well known insurance brand, currently positioned at the top of search for the "cheap car insurance" term. This can be attributed to their fully responsive website which takes users to the relevant landing page shown below.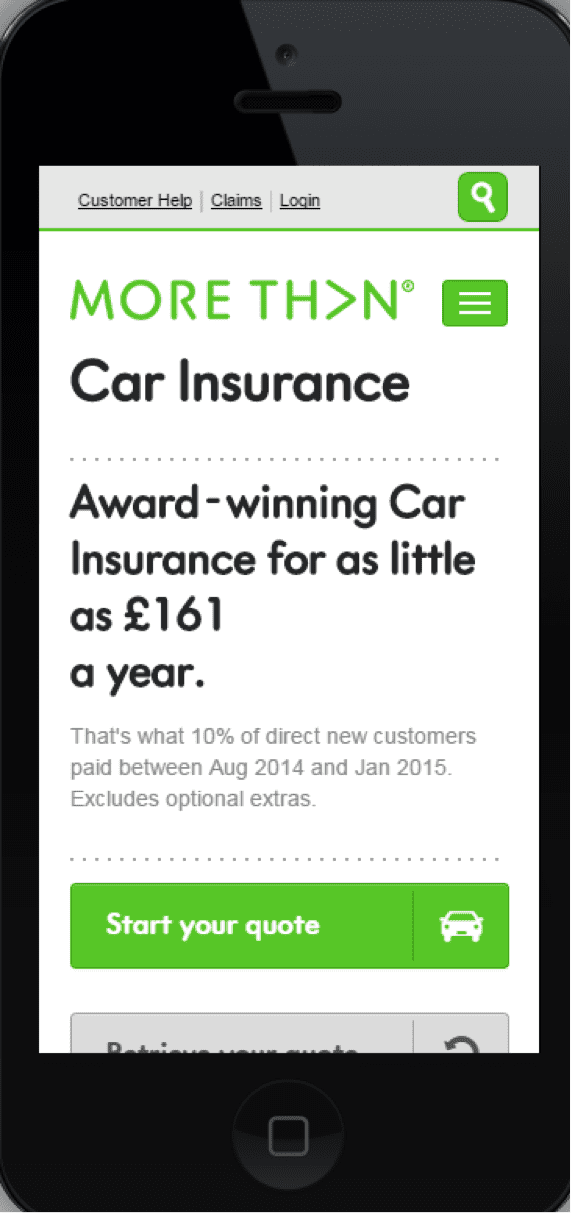 A number of other brands, such as Barclays, are experiencing the same issue with falls in search visibility. This is likely due to the fact that only parts of their website are optimised for mobile.
Where websites fail to deliver a great user experience
As highlighted above, the AA are not delivering mobile-optimised sitewide experience. This can be seen to affect their search rankings, which is likely having a knock on effect on traffic and site conversions too.
Our study of mobile searches over the past month reveals another UX gaffe courtesy of the fashion outlet Next.
Next have a mobile site m.next.co.uk alongside their desktop site www.next.co.uk. Surprisingly, Next are not currently allowing Google to index their mobile website, stifling its availability to users, who have little choice but to visit the desktop site.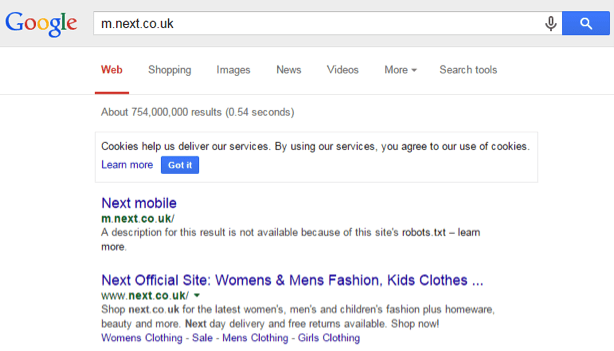 Without Next allowing the Google search bots to crawl their mobile website, there is no optimised user experience provided to existing or potential customers.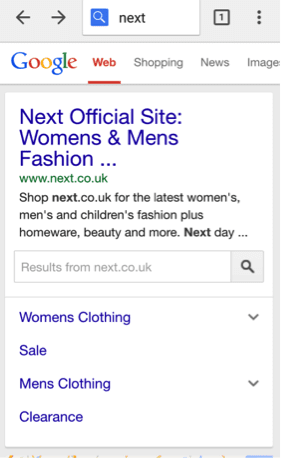 To have any success in landing on Next's mobile site, users can type "next mobile" into the results page to be presented with the option of visiting the desktop or mobile site. The problem with this is that Next are relying on users to search "next mobile" – which is very unlikely to happen.
What can we learn from Mobilegeddon?
While the full impact of Mobilegeddon has yet to be ascertained, these early indicators show that big brands are also bearing the brunt of Google's changes. As the examples from AA and Next demonstrate, simple search or UX mistakes, can result in being demoted in the SERPs by Google.
Search visibility affects UX and vice versa, as outlined within my previous post. If both factors are not working together harmoniously, businesses no longer have anywhere to hide and will generally struggle to achieve their potential online.